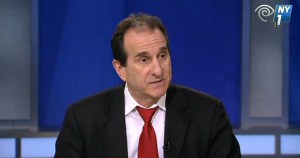 The Working Families Party says it doesn't need Gov. Andrew Cuomo.
Dan Cantor, the labor-backed party's executive director, insisted last night the party would garner enough votes to remain viable even if it ran its own left-leaning candidate against Mr. Cuomo instead of endorsing his re-election.
"It's a big task but there are a lot of citizens who are pretty knowledgeable about things and we're pretty confident, we got about 250,000 votes on the WFP line in 2012, the last statewide election," Mr. Cantor said on NY1's Inside City Hall. "That's a lot of votes, we have a lot of support out there. We believe we'll be able to maintain our ballot status."
In a second interview on YNN's Capital Tonight, Mr. Cantor pushed back strongly against the Cuomo administration's claim that the recent state budget is "very progressive."
"Thus far it has felt like not what a real progressive does," said Mr. Cantor.
The hard-left party has been bashing Mr. Cuomo since state lawmakers finalized a budget last weekend, labeling it "Cuomo's Inequality Budget" because it slashed some taxes, protected charter schools and did not create an expansive public financing system for statewide elections. Mr. Cuomo also failed to enact the Dream Act, which would give tuition assistance to undocumented immigrants, another item on the progressive wish list.
Mr. Cuomo's administration, however, has repeatedly defended the agreement, which was negotiated with both chambers of the state legislature, pointing to the expansion of education funding and other new investments. "I think you'd be hard pressed to find a more progressive budget than we've had this year," Mr. Cuomo's director of state operations, Howard Glaser, said Wednesday on Inside City Hall Wednesday when asked about the WFP criticism.
The WFP must secure at least 50,000 votes in a statewide race to keep its automatic ballot line for the next four years–no easy task if a big name like Mr. Cuomo isn't on their party line. One option that is reportedly being discussed is to run Mr. Cantor for governor. But Mr. Cantor didn't leap at the possibility last night.
"I don't know, I mean it's not exactly what I had on my bucket list, let's say, put it there," Mr. Cantor said told Capital Tonight when asked if he had any interest in running. "But there are lots of options here for us."