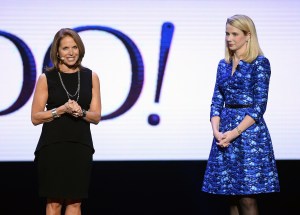 Back in ye old 1948, the hottest thing to watch on television was NBC's Kraft Television Theatre, an hour-long "televised play" that aired on Wednesday nights on NBC (and later, CBS). The show was famous for a bunch of different reasons that are still relevant today, like the fact that it was the first televised hour-long drama that would appear weekly to its unapologetic form of sponsored content ("Tonight's episode was brought to you by Cheez Whiz!") and its solicitation and employment of young playwrights.
Now that Marissa Mayer has announced that Yahoo will be joining the ranks of Netflix and Hulu in its creation of original series, she's obviously looking toward the landmark TV show for hints.
All of the new content will be free to users, supported by traditional video ads as well as new formats like sponsored landing pages—web pages that hold the video player and surround the player with an ad—for each episode.
From The New York Times:
For the comedy series, she said, Yahoo will be paying fees comparable to what cable and broadcast networks pay. That can range from $400,000 to well over $1 million per episode. But "we're planning for this, even in our early days, to be break even, if not profitable," she said.

The cereal brand Kellogg has already agreed to sponsor the Live Nation channel. And Yahoo has been working with other consumer brands like Kraft on new video advertising formats.
I can't help be reminded of that Mad Men blaxploitation parody where Don pitches "Kraft Muthafuckin' Mayonnaise." One cheese to rule them all!
But hold up for a second…did Mayer really say she'd pay "well over $1 million per episode"??? That's like, House of Cards money. Sure, it's great to have Paul Fieg of Bridesmaids and Freaks and Geeks fame on-board with Other Space, and Sin City Saints, which looks to be the story of a fictional Mark Cuban, is also interesting enough to get us to tune in. Plus they'll have Katie Couric hosting not one, but two shows? We will definitely borrow our parents' login in order to check it out! But I don't know how much advertising money is being thrown around the Internet all of a sudden that justifies Yahoo spending $1 million per episode, unless they plan on trying to cast the stars of The Big Bang Theory or something.
Tell us: What would you like to see on Yahoo's new digi-TV lineup?