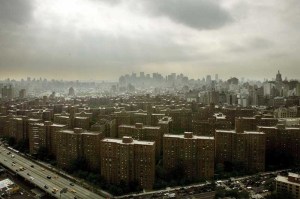 The prevailing myth of New York real estate is that even if one overpays, property can always, in the end, be made to rise to, and exceed, the costs sunk into it. It is, quite simply, a matter of hanging in, hanging on, overhauling or in the case of rent-stabilized tenants, pushing out. As that old saw about land in Manhattan goes: they're not making any more of it.
But, of course, as the debacle of Stuy Town and Peter Cooper Village illustrate, scarcity may breed success but it does not guarantee it. Not even in a booming residential real estate market like the one New York is enjoying right now.
Moreover, the impact of the last boom and bust continues to linger in New York, as illustrated by a report released today by Councilman Dan Garodnick's office. Despite the fact that the New York real estate market has seemingly rebounded entirely from the housing crash, "private equity firms and others continue to overleverage housing in New York City, with disastrous results for tenants," according to the report.
And in fact, it is precisely in real estate markets such as this one that overleveraged properties come into being, when buyers and investors take the giddy mood of the market as an indication that any price is a good one and any building's value can be "unlocked" by the right touch. Which, incidentally, often involves trying to push out rent-regulated tenants to make way for market-rate ones. Which, at a time like now when the city is struggling to create more affordable housing, makes preserving what already exists all the more important.
"I think that this frequently happens in the context of an ambitious housing market where investors see opportunities which may be inconsistent with good public policy," Mr. Garodnick told the Observer. "We saw that back in the Stuy Town deal and it continues now with the Three Borough pool and other examples on a smaller scale all around the city."
The Three Borough portfolio, comprised of 40 buildings in Bronx, Brooklyn and Northern Manhattan, filed for foreclosure at the end of 2013, highlighting that the fallout of such overleveraging does not happen only in the aftermath of financial bust.
The report suggests a number of policy changes that it says would help eradicate predatory equity, or at least minimize its impact. (Buildings often go through successive cycles of ownership and default due to the fact that new buyers take on what has, in most cases, proven to be unsustainable debt; a building is considered overleveraged when it takes on debt that is more than seven times its rental income.)
Among the prescriptions: expanding the number of buildings in the HPD's Alternative Enforcement Program, which mandates that landlords of dilapidated buildings make repairs under threat of the city doing so and placing a lien on the property. The number of units in the program is currently capped at 200—however, as this year's AEP list topped out at 187 given that more buildings did not meet the legally-mandated minimum number of violations, such a move might also require lowering the requirements to enter the program, which Mr. Garodnick said he would be open to.
Other policy proposals range from budgetary interventions, like supporting tenant organizing initiatives with greater financial resources to state-level changes such as instituting new state guidelines around the Community Reinvestment Act, which pushes banks to lend in low-income communities. While city-level proposals involve promoting responsible owners, possibly even having the city purchase foreclosed mortgages and sell them back to good landlords as well as setting new standards for receivers, who cannot currently be sued in Housing Court without approval from the Supreme Court Judge who appointed them.
The moves are all the more necessary in the current climate—a surging market with a intense need for affordable housing—argued Mr. Garodnick.
"I think that the city, as we are all focusing on affordable housing—creating new units and preserving the ones we have—beating back predatory equity has become even more important. In those situations where there's massive debt on a property, there are two ways to survive: one is to push low rent tenants out with the hope of getting more income from higher rent or reduce your cost by running your buildings into the ground and in many cases just walking away. Both situations are not good ones for the tenants and I feel that we will see this happen over and over again unless we do something."