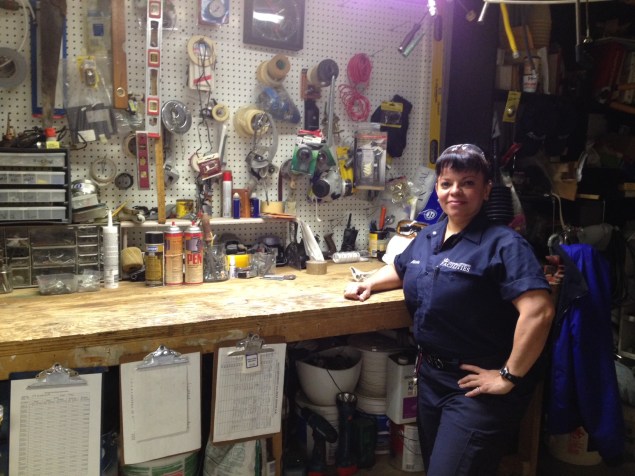 At Columbia University there are 14,826 female students, 479 female professors and four female superintendents. As for female handypeople? Just one.
"I didn't know of any others, but I thought, I can't be the only one. There must be others," said Alicia Alicea, the university's lone handywoman, describing her surprise upon recently learning that she was, in fact, unique.
Indeed, there are scarcely more of her kind in the whole of New York. According to SEIU 32BJ, the largest building employee's union, only 17 of 2,000 handypeople in the city are women. (There is good reason that handyperson sounds so horrendously cacophonous—the word goes essentially unspoken.) Women also remain rare in other building services jobs like doorman and superintendent, though both positions have a far higher percentage of female workers. New York women may be renowned for breaking glass ceilings, but you won't find many of them in the basement repairing boilers.
Like many of her corporate-ladder climbing compatriots, Ms. Alicea was drawn to her occupation not only by the better pay often found in male-dominated fields, but also by a desire for varied and stimulating work.
Initially hired by Columbia as a porter via Nontraditional Employment for Women—a non-profit that trains women for jobs in male-dominated sectors—Ms. Alicea found that her cleaning-intensive work felt a lot like the very traditional role she was then playing at home, as a 27-year-old single mother to three young daughters.
"I was like, am I just going to be a cleaner? I cleaned so much already at home. I felt like I was cleaning all the time," said Ms. Alicea, who was fortunate to find a mentor in another handywoman. After several years as a porter, during which time she went to night school to learn boiler maintenance and repair—"I kind of liked cleaning the valves and looking at that monster boiler"—Ms. Alicea applied for her mentor's job, after the handywoman got a promotion. Once hired, she found that she had a knack with hand tools and clogged toilets, having followed around her father, a superintendent, as a kid in the Bronx.
Now Ms. Alicea spends her days tending to hiccups and small mishaps at two gracious old buildings on Claremont Avenue in Morningside Heights. Among the many things that she has mastered in her more than 20 years on the job: leaky faucets, belching boilers and pipe cutting. (See also: mouse catching, lightbulb changing and dishwasher troubleshooting.)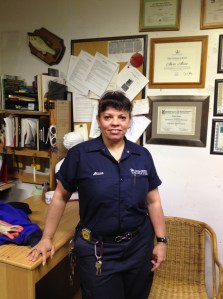 When she's not engaged in any of the above, Ms. Alicea can usually be found in the warren of small basement rooms that conjoin the two buildings, where she has an office with a large work table surrounded by tools, a classical plaster bust with a ribbon tied round its neck—one of the many pieces of discarded art that the maintenance staff has rescued from the trash—and a wall of certificates that she earned at years of extra 32BJ night school classes: standpipe and sprinkler, locksmithing, green superintendent, fire safety and multi-family building operation.
Many of the city's handywomen sport similar certificates on their walls, manifestations of a lifelong fascination with how things work.
Julia Rodriguez, who has been a handyperson at Kips Bay Court for 15 years, also started working as a porter through Nontraditional Employment for Women. In her spare time, she liked to roam the building, seeing how everything functioned. Unsure of how to pursue her interest, she used the ruse of photography to hang out by the boiler room.
"I pretended I was taking pictures of the steam room so I could learn what they were doing," Ms. Rodriguez said. "I would ask them, 'how do you change this valve, why do you do this, how do you calibrate the steam?'"
Eventually, the superintendent made her handywoman and she dropped the shutterbug pretense. Despite working in a building largely inhabited by senior citizens, Ms. Rodriguez said that she rarely receives any pushback from residents about her non-traditional role.
The biggest stumbling block with gender, she told us, was convincing new female hires that she's just as good at her job, if not better, than the men.
"I want to encourage other women. But they don't realize that women use their brains to do the job better—like if I had to move a closet door, I would use a hand-truck. The men, they just pick it up and put it on their shoulder, but then they come in later with back pain."
"Men can be rough. They try to do a job, they end up breaking a pipe," agreed Ms. Alicea. "Women will see if it can move."
Mary Kearney, who is now the resident manager at Tribeca Park after years as a handywoman, said that tenants would sometimes request her because she always left things tidy.
Having grown up following her contractor father around construction sites in Ireland, Ms. Kearny always liked to fix things with her hands.
"I've always liked architecture, building systems, seeing how things work," Ms. Kearny said. "I miss being a handywomen a bit now. It's very gratifying: when something's broken, you fix it."
"People would always compliment me, say, 'It's nice to see a lady doing this,'" she continued. "When you introduce yourself, they'd say, 'Oh that's unusual, haven't seen that before.'"
She never took it as a bad thing, the surprise.
"Whenever people think about the resident manager, the super, the handyperson, the image of a man pops up in their minds," she said matter-of-factly. "It's not a lady with a toolbelt."
Ms. Alicea also described surprise as the most frequent reaction that she encounters when dealing with new tenants or outside contractors.
"Sometimes I'll go in and fix something and when I come out and tell them it's all done, they'll say, 'Did the plumber come?' and I'll say, 'No I took care of it.'"
"Oh, it was you?"
"Yes it was me."