In the old days — before weddings were all about #tech — you had to go to an actual, physical store to compile the items on your wedding registry. Now, it's as easy as swiping left or right on an app.
Zola is a service that lets couples create customized online wedding registries. Within one registry, users can ask their guests to buy them items from any number of stores (including Zola's own collections), as well as intangible gifts like "couple's massage" or "honeymoon fund."
They can further customize the registry by adding personalized photos and notes to their guests about why they chose particular gifts. Once the gifts are purchased, couples can even decide exactly when they want the gifts to be delivered.
Six months after Gilt founder Kevin Ryan cofounded Zola in October 2013, the company announced today that they've launched an iPhone app. The app will offer all the same services as Zola's web-based counterpart, with a few new added features.
The first is called Blender, which is basically Tinder, except with spatulas and throw pillows instead of horny dudes. Using Blender, brides- and grooms-to-be can view Zola's gift collections item by item, and swipe right if they want to add an item to their registry, and left if they're not interested.
"Our Mobile Lead, Charles, is a big fan of Tinder," Zola cofounder Shan-Lyn Ma told Betabeat via email. "When we were designing the Zola iPhone app we talked about apps we loved for fun, because we believe creating a wedding registry should be fun and stress-free."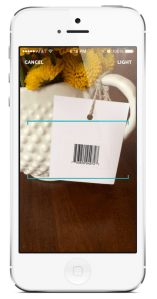 Zola's app also lets users scan the barcodes on items from anywhere — like, even your local bodega — and add the items to their registries.
"The barcode scanner will recognize millions of barcodes," Ms. Ma said. "We just scanned a bottle of Coke we had here in the office and it is now on our registry!"
If a barcode is not recognized, the app still lets users register an item by inputting its name and price.
"Ultimately our goal is to help couples register for anything their heart (or fiancé) desires," Ms. Ma said.
If guests fund a gift from a store outside Zola's collections, Zola sends that money, along with a link to the outside product, over to the couple. The couple can decide to make the purchase, or use the funds for something else. So yes, you could theoretically tell your guests your were desperately interested in that $5,000 leather couch from Restoration Hardware, and then put it towards your honeymoon in Vegas. We guess users are expected to abide by the honor system.
We asked Ms. Ma if Zola is planning on disrupting any other areas of the wedding industry — perhaps an app that lets you order a 3D-printed wedding cake?
"Right now we are squarely focused on creating the best possible wedding registry experience for couples," she said. "We launched six months ago, so we still have a long list of things we would love to shake up when it comes to wedding registries."