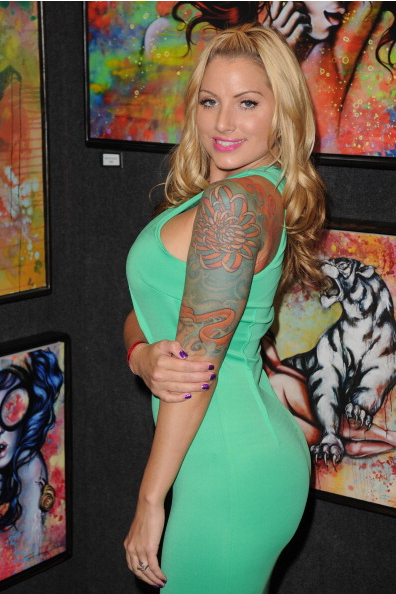 Earlier this week, Perez Hilton, of all people, broke the story that Chase Bank appears to be closing the accounts of porn stars. And now, thanks to an online petition, 10,000 civilians have spoken out in support of the sex workers — although a source tells us the porn stars aren't being targeted because of their professions.
Teagan Presley, Veronic Avluv and Layton Benton all tweeted about their issues with the bank, the New York Daily News reports. Teagan Presley's husband, Joshua Lehman, says the bank told him his personal account was being closed "because my wife is an 'infamous' adult star." Later, he said, the bank changed its story, asserting that the accounts were closed because the two had done business with a convicted felon.
The petition's signatories include men and women from Belgium, the U.K., Finland, Sweden, Japan and more. From the petition:
"If Chase Bank has such a problem with the adult film industry, why don't they go through all their customers' accounts and close all the ones that purchase adult materials? That would have a greater affect [sic] on the pornography industry. These customers are keeping pornographers in business, and many porn stars are simply trying to make a living and support their families like everyone else. No one is saying they're good role models, but it's unfair to target them when no profession is perfect."
Solid points. There's just one problem: a source close to the issue says that Chase isn't making a concerted effort to close the accounts of people who work in the adult film industry.
Chase isn't allowed to comment on any consumer accounts, the source said, but the issue only concerns "a small handful of people" and there is "no policy that would prohibit adult film stars" from holding accounts with Chase.
So it could just be a coincidence that these few people had their accounts closed and work in the adult film industry.