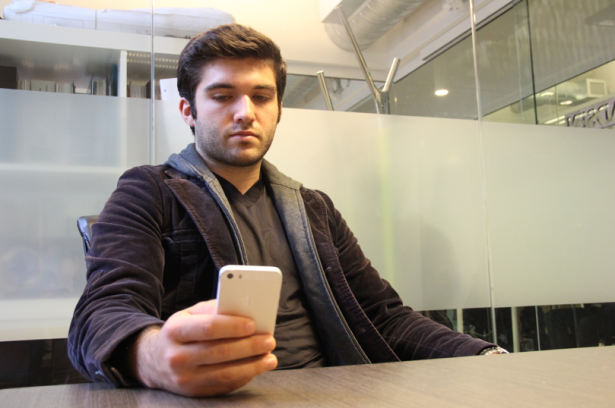 John Meyer isn't sure if he'll go back to school in the fall.
Currently finishing up his freshman year at NYU's Polytechnic School of Engineering, the 19-year-old's course load hasn't taught him much he didn't already know. After all, Mr. Meyer's been developing apps — some of them hugely successful — since the App Store launched in 2008, and has been using his earnings to support himself since his sophomore year of high school.
Now, he's certain his latest project — a news app called Fresco, which launched today — is going to revolutionize the journalism industry.
"If the thing gets really big, that's a huge company to look after and lead and expand upon," Mr. Meyer told Betabeat. "I don't know what's going to happen at the end of the summer."
If Fresco "gets big at all," he said, he won't go back to school in the fall.
We asked how his parents felt about his choice.
"My dad really understands a lot, but my mom's like, just very, very old school," he said. "When I told her there's a high chance I'm probably not going to go back at least for the fall semester, she just started crying."
Making "Absurd" Amounts of Money — In High School
When we set out to meet the guy billed as a "19-year-old tech guru," we were expecting to meet someone like the Carver on Silicon Valley — some snooty, obnoxious teen with over-hyped coding skills. Instead, we met a personable, well-dressed young man who was confident but not cocky, and who'd accomplished about a thousand times more than the average college freshman.
Mr. Meyer started experimenting with app development as soon as the App Store launched in July 2008, the summer before his freshman year at Long Island's Paul D. Schrieber High School. At the time, there weren't many learning materials out there for beginners, so Mr. Meyer taught himself to code by watching instructional YouTube videos. By the end of the summer, he submitted his first creation to the App Store — an app that let users play sound clips from that viral "Charlie bit me" YouTube video.
Already, he was making waves in the tech world.
"I ended up getting in trouble for [the app] later on," he told us. "A year later I'm in class, and I get an email from this angry lawyer from the parents — they're trying to go after me."
The parents and their lawyer threatened to sue him and take him to court in England, so Mr. Meyer ended up having to settle outside of court for $5,000.
"I had basically begged them, I'm 16 — this is just, like, a fun experiment," he said. "They were just not taking it. It was crazy."
The same year, Mr. Meyer developed what he's certain was the first iPhone flashlight app. The iPhone 4 was the first iPhone to come equipped with a camera flash; when he got his hands on one, he stayed up till 5 a.m. tinkering with the phone to see if he could program it to make the flash stay on, and act as a flashlight. He succeeded, and called the app Just Light.
It earned him around $130,000.
"That got to number six overall in the App Store, and it just made an absurd amount of money for what it was," he said. "It was probably 24 hours worth of work, and I made more money on that than any other app I've spent six months on."
At the end of high school, he developed another successful app called Perfect Shot, which lets your iPhone's camera detect the exact millisecond when everyone in a photo is looking and smiling at the camera, and waits until then to take the picture. After its launch last October, it ended up on the App Store's home page in 17 different countries, and got 60,000 downloads in three days.
Midway through high school, Mr. Meyer realized that app development could make for a viable career path, so he started his first company, TapMedia.
"Since it began, it's now produced over 40 apps," he told us. "We've had over 4 million downloads. We've had, like, a few really cool successes — like we've been to the App Store's top 25 section like four times. It's really cool."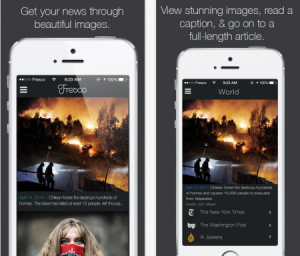 Fresco — Changing How We Produce and Consume News
Mr. Meyer was at Apple's developer conference last June when he got the idea for Fresco.
"I was thinking about the areas in society that have really progressed with technology, but one thing I really believe hasn't moved a ton is news and journalism," he said. "Yes, it's moved to the Internet, and yes, it's moved to our smartphones, but it's still the same experience of weeding through full length articles or watching TV."
"Hasn't Circa already tried to make the news adaptable to smartphones?" we asked.
"Circa's still not used mainstream," Mr. Meyer responded confidently. "If I ask anyone in the tech community they know what it is, but if I ask someone at NYU, they have no idea what it is."
Mr. Meyer pulled out his iPhone to give us a demo of his app, which he's been working on since Feb. 1. On Fresco, users take in news events through a stream of high-quality photos. Tap a photo, and Fresco gives you an informative caption, plus links to full-length articles from other news sources, which you can read within the app.
Right now he's sourcing images from AP, but Mr. Meyer hopes to eventually recruit photojournalists around the world to send their photos to Fresco. He also hopes to publish photos from ordinary Fresco users, should they happen to be near a breaking news event. Then, he plans to license those photos out to other major news organizations at much lower prices than powerhouses like AP, Getty and Reuters currently charge.
"It ends up being a really amazing consumer app," he said, "and in a way that could [also] hugely benefit major news organizations, which are struggling financially and are looking for every way possible to distinguish themselves from other ones."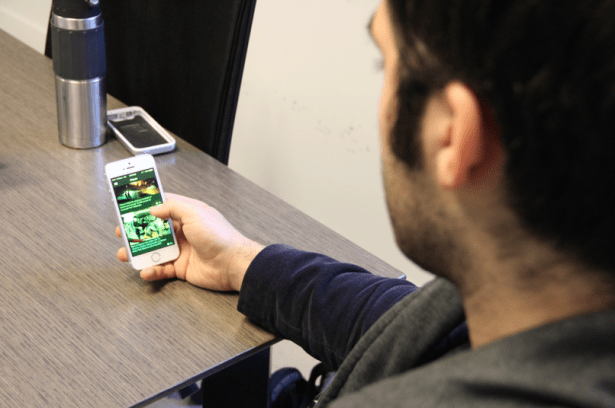 We Don't Know How He Does It
Bringing the app to life wasn't easy. When he founded the company, Mr. Meyer — who's been self-sufficient since high school — had to fund everything out-of-pocket. That's hard when you have to pay two other employees, as well as your tuition bill for NYU.
"For a whole month or two I had, like, no money," he said. "It was really one of the most crazy experiences. I was still living in a dorm, but I could barely buy food."
He made it through by taking on various programming jobs on the side. One of them, an app called Tabb, is "an Uber for drinks in clubs and bars," Mr. Meyer explained. Three other NYU students came up with the original idea, but approached Mr. Meyer because they had no idea how to actually build the product.
"These three guys have tons of connections in the club and bar industry, so they can make that work, and I can obviously make the app work, so it's a perfect relationship," he said. "That's where I'm getting my revenue source right now — I'm putting most of the money into Fresco. It's working out perfectly."
He's also involved with a company called IQ4, which is trying to create a better version of LinkedIn. It'll hopefully better showcase jobseekers' portfolios to potential employers. Mr. Meyer has been working on designing their platform.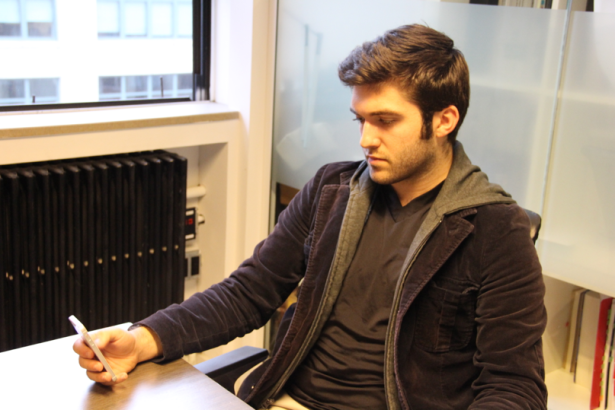 Trading in College for a Bicoastal Lifestyle — Maybe
When he's not working on side projects or spending time with his girlfriend, Mr. Meyer said he devotes most of his time to Fresco.
With Fresco now in the App Store, he's hoping it'll be a contender for a design award at Apple's developer conference in June.
He's also hoping to attract the attention of big investors. Mr. Meyer has already met a few times with a major New York venture capitalist, whose name he requested we keep private, for now. The V.C. was apparently drawn to Fresco's crowdsourcing element. Now that Fresco's officially launched, Mr. Meyer plans to meet with the V.C. again and hopefully make more progress.
For now, Mr. Meyer is teetering on the precipice of leaving his structured college schedule for the lifestyle of a bicoastal tech entrepreneur. Based on advice from experienced startup people, Mr. Meyer knows that if Fresco gets big and gets enough funding, it'll be worth it to work back and forth between San Francisco and New York.
"In San Francisco you've got way more startup people and way more sources of funding, and New York is a lot more relevant in the actual journalism area," he said. "Of course my parents want [me to go back and forth]. My mom was totally against me moving out of New York."
But despite having to contend with his parents' wishes, Mr. Meyer can't help but follow his entrepreneurial spirit.
"If all goes well, [Fresco] could be the size of Circa, where you've got at least 10 or 20 employees doing multiple differing things," Mr. Meyer said, planning out loud for the future. "If we've got millions of people using us, we've got to have a much larger team of editors, publisher relations people, constantly working with licensing stuff, and obviously I still have yet to get an investment. It's just another startup thing you've got to do."