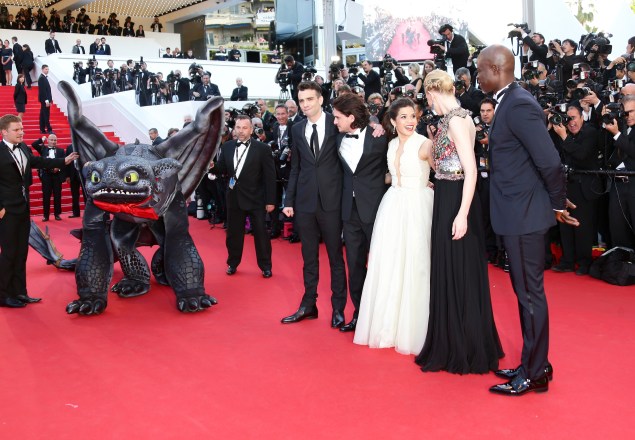 CANNES, France — Cannes may be focused on the films vying for the Palme d'Or, but it's just as intent on celebrating the movies that aren't even playing here. Lionsgate dropped some serious coin on a huge party for The Hunger Games: Mockingjay Part 1 on Saturday night at a €250 million mansion nestled in the hills of Cap d'Antibes—the home of recently departed Russian oligarch Boris Berezovsky. Thousands of guests were greeted at the door by flanking rows of models dressed in black-feathered formal wear, sporting raccoon-eye mascara and emo pouts on their faces. Behind the main house, on the expansive grounds that plunged down to the seaside, stood an enormous tented party space filled with a half-dozen chandeliers and throbbing techno music, where revelers gobbled down asparagus-and-shrimp risotto out of little beggar bowls.
The night before, back on the Croisette, Jeffrey Katzenberg and Dreamworks were busy tub-thumping their latest animated family franchise—and feeding guests classic kiddie grub like penne in truffled cream sauce, washed down with a tall glass of Moet. How to Train Your Dragon 2 had its world premiere here, bringing stars like Cate Blanchett to the red carpet proceedings, inspiring formalwear revelers to don plastic Viking helmets, and occasioning a big beach bash afterwards where artwork from the movie decorated the walls of a makeshift discotheque. Katzenberg, who over the weekend also became an Officer of the Order of Arts and Letters thanks to the French government, has been a master at using the Riviera bacchanal for self-promotion—in the past 20 years since co-founding Dreamworks, he has made this film festival his official launching pad for everything from previews of Shark Tale and Bee Movie to the global debut of Shrek 2.
Opening weekend is always a luxe clusterfuck here, with Ferraris clogging the streets and throngs of Euro-hotties precariously balanced on stiletto heels. Midnight at the J.W. Marriott's main lobby exemplified the festival's typical culture clash of austere art and crass hedonism: casino patrons and nubile partygoers with honey-brown tans in tight cocktail dresses blithely sashayed past the seated and quietly chatty 84-year-old filmmaking legend Frederick Wiseman (in town with his 3-hour dissection of London's National Gallery).
Inside the Palais des Festivals, films kept unspooling. Friday afternoon was rough for the cinerati: Turkish director Nuri Bilge Ceylan unleashed his 196-minute domestic drama Winter Sleep, an austere look at human foibles set at a resort hotel nestled in the Anatolian mountains, which turned out to be an emotionally brutal endurance contest both for the characters and the audience. Thankfully, festival programmers deigned to throw the press the perfect amuse-bouche afterwards, with the delirious screening of Damian Szifron's Wild Tales. A hilarious collection of six shorts all centered around revenge, this wickedly funny omnibus features humanity at its worst, including a road-rage incident that turns into a fiery face-off; a roadside diner bloodbath; and a wedding where a jilted newlywed transforms into a fantastically terrifying bridezilla.
By far, though, the best film yet has been Mr. Turner, Mike Leigh's biopic of the 18th century British Romantic painter J.M.W. Turner as well as a brilliant mediation on creative inspiration and its eccentric, almost misanthropic forms. At a press lunch on the Carlton Beach, as journalists drank rosé and ate oysters, the 71-year-old Leigh did his best to talk over the din. "Terrible sound," he laughed. "I can't even hear myself. I'm also going deaf."
One of the most impressive aspects of the sumptuous, meticulously recreated and deeply evocative period picture was its surprisingly minuscule budget: $15 million. "We made it for far less money than we wanted to," said Leigh. "I have mixed feelings about it. I kind of think we really should have morally made a bad movie so we could say, 'See? If you had given us enough money, it would have been great!'"
Credit for the film's success must go in no small part to Timothy Spall, who plays the titular artist brilliantly, portraying Turner as a grunt-prone, socially stunted boor with beguiling, hypnotic empathy. Spall has commented on his role by explaining that geniuses tend to be oddball sociopaths. Leigh begged to differ. "I can't necessarily underwrite all of Timothy's generalizations," said Leigh. "He is prone to a certain amount of hyperbole."
Leigh prepped for his film-about-art by watching all the films-about-art he could track down. "There are good, bad and indifferent ones," he said, citing Alexander Korda's 1936 film Rembrandt as one of his favorites. "For me, the interesting potential is to make a film that really is about people and life, and not just a two-dimensional abstraction of the idea of a genius." When asked for his thoughts on the late Derek Jarman's Carravagio, Leigh's face clouded. "I liked immensely Derek Jarman, but Carravagio is one of the most boring films I've ever seen in my life," he said. "It's mind-numbingly boring." Gorgeously photographed, though, yes? "Well, it is," he admitted. "But so fucking what?"