Two Trees has already prevailed when it comes to winning city approval for the Domino Sugar redevelopment, but the developer hasn't stopped wooing the public. After opening Havemeyer Park last summer, a temporary green space at the site with a bike park, farmer's market and movie screenings, the developer has announced that it will not only reinstate the park for a second year, but has also recruited artists Aakash Nihalani, Hellbent and Rubin to create a series of large, geometrically influenced murals along Kent Street in Williamsburg.
Done in collaboration with Brooklyn Street Art, the murals, a.k.a. DOMINO Walls, is just one part of an art presentation at the Domino Sugar site, with works by Kara Walker currently displayed, and the Tipi Project pop-up community art debuting later this summer.
"Their work has elevated and defined art in the streets and public space, and it's been a pleasure to see such excitement from the community," said Lisa Kim, director of cultural affairs for Two Trees, which earned city approval for the massive redevelopment project this year after agreeing to build additional affordable housing at the site.
Perhaps the most minimalistic mural of the three, Mr. Nihalani's 240-foot work is like a window to the sky. He "breaks through the construction fences' monotone expanse" of green with geometric blocks of sky blue. Instead of attempting to hide the construction fence, Mr. Nihalani's mural reimagines it.
Hellbent, a Swedish artist known for his use of bright colors and vibrant pattern has created a 476-foot mural, the largest of the three. Using lace and quilted pattern stencils, Hellbent plays with geometric shapes and makes the green construction fence a part of his mural. He contrasts brightly colored zigzag stripes with the hunter green of the fence along most of his expansive mural.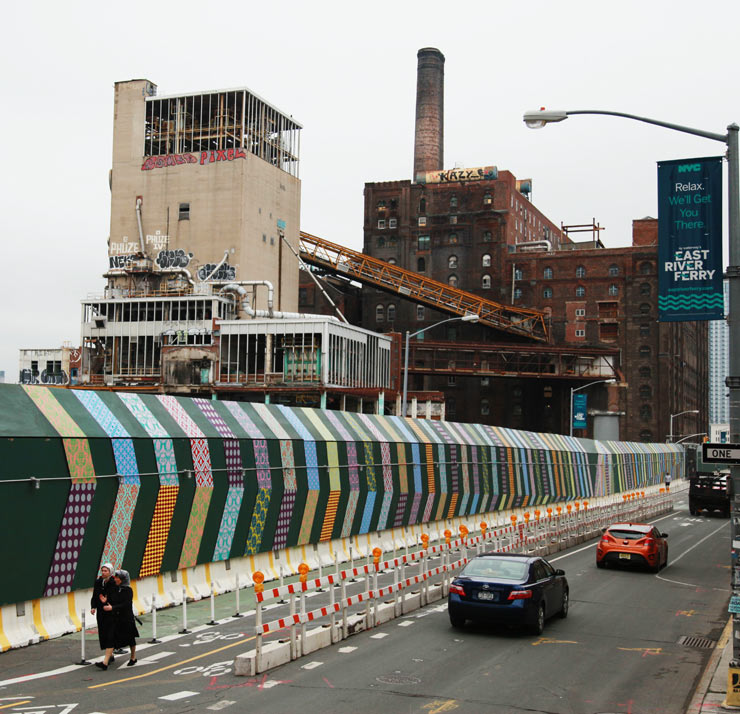 A graffiti writer, Rubin's blend of muted neutrals and bright primary colors comes to life in a striking, 200-foot mural. Rubin leaves no inch of the fence unpainted—the monotonous green is now covered with intricate geometric shapes that look like a mock-up of the city skyline across the river.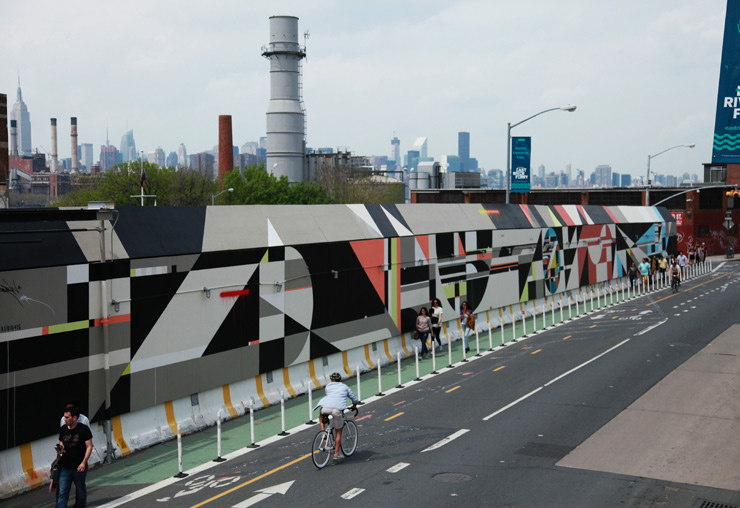 But of course, as with all varieties of street art, the murals come with an expiration date: the murals, along with the construction fences that they're painted on, will be coming down once the restoration work is finished.