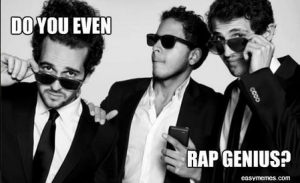 Earlier this year, I took a leave of absence from college to go work for the cofounder of Rap Genius, Mahbod Moghadam. I lived with him in his house — the "Rap Genius Mansion," I started calling it — in Bel-Air, Los Angeles, for a month.
There are a lot of negative misconceptions about Rap Genius, but there's a reason why they have a $15 million Series A investment and the backing of some of the biggest names in the game. They've done an incredible job of putting together a collection of the most passionate, talented startup people that I've ever been around. Seeing the way that its three cofounders — Tom Lehman, Ilan Zechory, and Mahbod — moved helped me learn in a way that college never could. This is a very serious company with a very bright future ahead of them, and I was incredibly fortunate to be a small part of it.
Anyways, interning there gave me a ton of cool experiences, and people make experiences, so here are some of them.
Isaiah Rashad
On one of my first nights living in the mansion, TDE (Top Dawg Entertainment, Kendrick Lamar's record label) filmed a music video there. I was alone in the house, but my duties included taking care of guests, so I helped them set up and fed them. The artist they were filming was Isaiah Rashad — TDE's newest signee — for his new song, "Menthol."
The female songstress featured on the song, Jean Deaux, was also there that night. She brought a bunch of her friends and we all hung out. We were all around the same age: 18, 19, 20. That group of people would go on to form the foundation of my group of friends for that month: there was Kehlani, a singer from Oakland who got her start as a finalist on America's Got Talent; the homie Lyfe Harris, a singer, designer, and video director; and this big Midwestern Irish white dude who totally stood out for obvious reasons and called himself "Paperham Lincoln." Each had their own different style and hustle, and we all connected over our age and motivation.
Ab-Soul
One night, after work, Kehlani had some people over (me, Jean Deaux, Lyfe Harris, a couple others). We were sitting in her bedroom when Kehlani walked in and told us that Ab-Soul —another rapper from TDE — was in her living room.
Ab-Soul's charming way of interacting with people was something I paid close attention to. He already knew Kehlani and Jean, but he warmly introduced himself to everyone else, therefore gaining the admiration and social feel-good of the situation. He then sat on the couch, closed up his body language, and continuously rolled and smoked the backwoods blunts he is so famous for. When he left, he once again personally said goodbye to everyone, even remembering their names. That way, he got the best of the situation: He wasn't rude, he was charming, but he didn't have to talk to a single person all night.
Mahbod Moghadam
When you're on Keeping Up With The Kardashians, when you have well-documented feuds with figures like Mark Zuckerberg and Warren Buffett, and when getting a brain tumor removed nets you international headlines, there's no word for you other than "celebrity." Simply living with Mahbod got me featured and quoted in Gawker and Bloomberg Businessweek, and we fielded at least three different inquiries for a reality TV show during my time there.
There are a lot of negative misconceptions about Mahbod, but ask anyone who's ever met him: he's incredibly grounded and down-to-earth for someone of his stature. Marc Andreesen, the inventor of the Internet browser, said that Mahbod was the most brilliant community creator since Caterina Fake of Flickr, and I believe it — we'd go to Whole Foods, the cashiers knew and loved him. We'd go get coffee, same deal. And that persona is what built the Rap Genius community — I remember Mahbod told me he'd talk to anyone, even a no-name high school kid with a blog, about Rap Genius.
Mahbod says a lot of stuff in interviews, and that's his way of both marketing Rap Genius and just being funny. As a media figurehead of the company, he's performing, and it's working by garnering opinions and attention. It's crazy, because sometimes your public image is the exact opposite of your private image. Mahbod, far from being a "douchebag" like he is often labeled, is approachable, charming, and just plain cool. He's also incredibly healthy — his gym regimen and diet inspired me the entire time I was there.
Vic Mensa
After LA, Mahbod and I flew across the country to live in an apartment suite in Rap Genius's waterfront Brooklyn headquarters for another month. As I said before, part of my duties as a Rap Genius intern were entertaining guests who would make verified annotations on the site. I brought in people like the late, great Bert Burykill, VICE's prison correspondent (RIP), and young authors like Mira Gonzalez,Jordan Castro, and Spencer Madsen.
Vic Mensa — who I knew from the song "Cocoa Butter Kisses" by Chance the Rapper — is really cool with Rap Genius, and he stayed in my apartment suite with his manager for a couple days. His manager was friendly, had a business-like demeanor, and watched episodes of Entourage on repeat. They worked during the day, partied at night, and then worked after they partied. I read two books in the three days they lived there.
Stephen Baldwin
I don't want to go into any more detail, but one night Mahbod and I ended up hanging out in a room with a bunch of TV stars, models, Kanye West's minister, and Stephen Baldwin. I didn't recognize any of them, so I just made small talk. I asked Stephen about his tattoos and he told me that he toured with the skateboard ministry. I asked him if that was what he did for a living. He said no, but that he would bring me skateboard videos when he stopped by the Rap Genius office.
On the way home, I asked about the identities of our new friends. Mahbod incredulously said, "You didn't know who those people were?" When I got home, I Wikipedia'd a lot of them on my phone. I laughed to myself, alone in my room, then went to sleep.
—
My internship ended in late March. I went back to Cleveland to work on a student accelerator program I founded, LightHouse Ohio. That, and writing, and a couple other projects of mine will take all my time from now until the end of summer. Then I'm going back to school.
There were certainly sacrifices involved in taking a leave of absence. I lose guaranteed dorm housing for the rest of my time at college, and my family is losing some of our financial aid package. But a chance to live with and be mentored by one of the founders of Rap Genius was something I couldn't pass up. Taking a leave — though its connotation often invokes shades of grey and health issues – was the right decision for me, and now it's the right decision to go back to school. Here, in Cleveland, I feel rejuvenated, relaxed, ready for the Fall. Better.
Zach Schwartz (@zach_two_times) has been published in Vice, Thought Catalog, HTMLGiant, and more; all his writing can be found at www.zachtwotimes.com