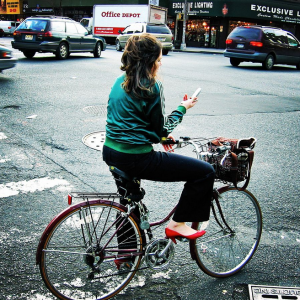 If you thought the idea of tracking down an iPhone thief with a hammer was total lunacy, know this: in a new survey, nearly 70 percent of people said they'd willingly put themselves in danger to recover their stolen phone.
The stats come from Phone Theft in America, a report released today by mobile security company Lookout. Conducted in March 2014, the comprehensive survey measures things like where, when and how phones are most likely to be nabbed, and how much money theft victims would hypothetically pay to retrieve all the data on their stolen device.
Nearly half of all phone thefts — 44 percent — occur when victims leave their phones behind in public settings. 14 percent happen from burglars breaking into victims' houses and cars, and 11 percent from thieves snatching the phones off victims' physical bodies.
40 percent of thefts occur in the afternoon, while only 18 percent happen between 10 p.m. and 5 a.m, the survey said. Apparently, it's connected to the fact that most phones are stolen from public places — people must have a tendency to go out for lunch, and then leave their iPhones behind on the sticky Chipotle tables.
People must be storing some steamy sexts on their phones, because 50 percent of people said they'd pay $500 to retrieve their stolen phone's data, and a third of respondents said they'd pay $1,000. Personally, we'd just be embarrassed for a thief to know exactly how much money we spend on Seamless.
68 percent of people said they'd put themselves in danger to get their stolen phones back — and women were nearly just as likely (66 percent) as males (72 percent) to want to get up and track down thieves.
Alicia diVittorio, Lookout's head of security communications, offered some advice on what to do if you become a victim of phone theft — an occurrence that doubled from 2012 to 2013.
"Immediately report the incident to the police and provide them with as much information as possible," she told Betabeat in an email. "Next, contact your mobile carrier to file a report or insurance claim. Do not under any circumstances pursue a phone thief on your own. Vigilantism is never the answer."