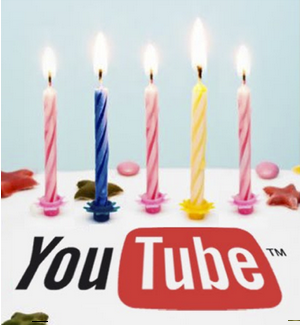 It was nine years ago that YouTube offered the public a beta test of its site, since that time a lot has changed. While its worth noting YouTube was not the first video hosting platform, they were the one that managed to bring it to the masses and as a result, the platform has had a profound impact on media, advertising, politics, music, pop-culture, and individuals across the globe.
1) YouTube Changed the Watercooler Conversation
Odds are that some time this week a co-worker came up to you and asked, "have you seen the video of high school kid doing the moonwalk at his talent show?"
Or more commonly, have you seen this cute cat video, or this new viral video?
The watercooler used to be the domain of last night's football game, or prime time TV, but today its more often than not replaced with talk of the latest viral video.
Even video that aired on TV isn't where most people end up watching things. Miley Cyrus Twerking, Tom Cruise jumping on Oprah's couch, the incriminating Donald Sterling audio tapes. They all aired on TV, but were seared into memory through our repeat watches on YouTube.
2) YouTube Was the Smartest Investment Google Ever Made
In 2006 YouTube was acquired by Google for $1.65 billion dollars. At the time people thought it was the dumbest move that Google had ever made. YouTube was being hammered with lawsuits.
There was rampant speculation that YouTube was months from going under—unable to cover the heavy bandwidth costs and lawsuits coming in from the biggest media conglomerates from around the world. It makes sense, in 2007 it was estimated that YouTube used as much bandwidth as the entire Internet in 2000.
For years YouTube was plagued by rumors that it would be shuttered because of high overhead, lawsuits, and lack of advertising.
Now, YouTube is profitable and one of the greatest assets at Google's disposal. The platform is the second largest search engine. YouTube is capturing the attention of over 1 billion visitors to the site each month, and people are creating and promoting content at a furious pace. Today over 100 hours of video are uploaded to YouTube each minute.
3) YouTube redefined celebrity
'YouTube famous' is now part of our cultural lexicon, used in reference to individuals with massive fanbases who create and distribute content outside radio, tv, and movies.
While Twitter is the platform most often associated with celebrity adoption, YouTube is the platform that's created them.
The platform has empowered  individuals who have continued to operate outside the traditional model entirely and manage to draw fans in the millions. The Phil Defrancos, Charles Trippys, and Tyler Oakleys.
They're this generation's Jon Stewart, Mark Hoppus, and Neil Patrick Harris.
4) YouTube Changed TV & Film
YouTube changed our attention spans, opened up the world to anyone willing to put himself or herself out there – paving the way for the likes of vine and instagram video.
With thousands of videos being uploaded every second, and over 100 hours uploaded each minute its clear content distribution has been become available to everyone.
At the same time competition is fierce.
A generation of filmmakers, studios, networks and production houses are being left behind as they've shown an inability to adapt to social video. Major networks and studios attempted to move into the space with YouTube's $100 million in grants two years ago, but the majority crashed and burned.
Traditional Hollywood has shown they can't adapt, so many are buying their way in. Only time will tell how that works out.
Meanwhile, this generation of YouTubers has proven to be adept at long-form and short-form. They can create content for TV & the web, Movies and the web, and even documentaries.
Camp Takota, The Vlogumentary, Annoying Orange, and Burnham are just the beginning.
5) YouTube Changed The Way We Enjoy Gaming
By the time YouTube arrived gaming was already a multi-billion dollar industry. It's clear people loved gaming, but YouTube showed that people loved watching it too.
Machinima (the production style, not the MCN) became mainstream after YouTube arrived, and today a cursory look at the top channels on YouTube reveals an abundance of gaming inspired content. Data about the sheer volume of video game content on YouTube is limited, but back in June of 2011, YouTube revealed that over 35,000 Minecraft-related videos were uploaded that month alone.
PewDiePie, who's channel is largely comprised of gameplay commentary has racked up over 27 millions subscribers and nearly 4.5 billion views. YouTube is on the verge of buying Twitch.TV, and the top brands on YouTube are gaming companies.
6) YouTube Saved The Music Industry
YouTube has become the hub of music discovery—a nielsen study revealed 64 percent of teens and young adults use YouTube to discover new music.
Bieber and Journey's new singer were discovered on the platform.
YouTube revived the music video which was on the brink of disappearing entirely and gave bands an opportunity to make a name for themselves (and make money) through videos once more.
In 2005, the year before YouTube's launch, MTV and VH1 were cluttered with the likes of the Ashlee Simpson Show, Laguna Beach, Viva La Bam, Date My Mom, My Fair Brady, and Breaking Bonaduce. Music videos were being phased out.
With YouTube, music videos became relevant once again and brought in ad dollars for musicians.
Ok Go exploded on to the scene and soon brands brands flocked to artists and happily foot the bill for music videos in order to be to be aligned with the hottest artists. Now OK Go music videos are pieces of branded content, and they're hardly alone.
It's allowed new artists to emerge, build fan bases and make a living independent of the established record labels.
The rise of streaming music services and torrents lead to the proliferation of free music. YouTube allowed artists to make more money giving away their music. In 2009 Vevo was formed on the platform, and by 2012 had paid out over $200 million to artists.
7) YouTube Pushed Advertising to Become Entertainment
Five years before the launch of YouTube, BMW launched 'The BMW film series'. The series of eight short films by high-profile directors were produced for, and released online, introducing branded content to the digital age.
The move made waves within the advertising world, but it would be years before other brands would follow suit.
With the launch of YouTube, digital video was accessible, it was cheap, and it was highly shareable.  It quickly became apparent to advertisers what content people cared about and what content had previously been propped up by TV.
EepyBird's Coke and Mentosvideo showed that consumers can create branded content that engaged users as well as any ad agency and this led to the proliferation of the viral video. As a result we got some great entertainment (and plenty of duds) along the way. There wasSmirnoff Tea Partay,Dynamite Surfing, and countless others.
Today, brands are still struggling to find the secret formula for success.
The ad opportunities YouTube opened up has lead to the lifestyle filmmaker, your Casey Neistat's of the world.
Rather than pitching to receive dollars to make films, individuals are simply going out and creating what they want. Production costs have dropped dramatically—anyone can pick up an HD GoPro or shoot video with their phone for a couple hundred dollars. YouTube allowed anyone with the desire and hard work to build an audience with relative ease.
Build it and they will come.
8) YouTube Connected People
YouTube has shown us that people matter more than production value and emotions more than special effects. The most successful YouTube channels have managed to grow without 6 or 7 figure production budgets, and many are individuals making videos from home with a camera anyone could buy from their local Best Buy.
The rise and appeal of vloggers, Kony2012, and even Chris Crocker show a desire to connect to each other. They generate reactions, and they drive us to dig deeper and peer into another person's world (for better or worse).
This has lead to a number of positive and negative outcomes. People can be cruel and too often people who share their thoughts with the world on YouTube end up being berated by trolls and anonymous commenters —a trend synonymous with YouTube.
But despite the bad, a lot of good has come from these connections as well. YouTube's allowed us to look at the lives of those we know nothing about and not just news broadcasters, politicians, and movie stars.
9) YouTube Democratized Education
YouTube has become the 'go-to' destination for self-education.
Want to learn how topresent like Steve Jobs, learn tobreakdance, orhow to code? It's available for free on YouTube.
There are channels dedicated to covering most any topic under the sun—from educational talks to documentaries, to how-to's, the opportunities for learning are virtually limitless.
Videos from TED showcase some of the most amazing speakers and thinkers of our time, accessible to anyone for free, not just those that can afford the $4,000 – $8,000 price tag to attend in person.
If you're interested in science, there are plenty of videos exploring that as well, with channels such as MinutePhysics, NumberPhile, and AsapScience standing out for their ability to both educate and entertain.
Khan Academy provides tutorials on everything from Algebra to Biology and beyond. Available in over a dozen languages, providing " a world-class education for anyone, anywhere."
—
The way we consume content and information has changed dramatically over the last 9 years. The ease and accessibility of YouTube has launched careers, lead to millions of hours of procrastination, and broken down and rebuilt entire industries. While its worth noting, YouTube wasn't the first digital video platform, it was the platform that brought it to the masses.
Happy ninth birthday YouTube.
Brendan Gahan (@brendangahan) is a YouTube expert helping Fortune 500 brands with their YouTube influencer and community building campaigns. He was named Forbes 30 Under 30 in Marketing & Advertising and one of the 25 Top YouTube Business Power Players for 2013.