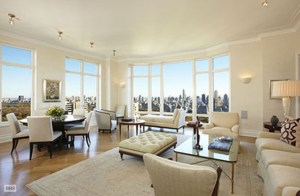 The market for luxury condos is, as the abundance of "devastatingly vast" condos and penthouse sky pool attests to, hurtling happily along. And the late-spring market appears to be even more insane than normal—multi-million condos are being snapped up within hours, sight unseen in some cases, The New York Times reports.
"I've never seen anything like it," Douglas Elliman broker John Gomes told the grey lady of the current luxury market, explaining that he had sold most of the units at 215 Sullivan, a Greenwich Village development, from his office, with the aid of floorplans and renderings. The model unit, in fact, was essentially moot since most of the units had been moved before it was even finished.
At the same time, as was the case in 2013, gaga sales are very much constrained to the lower and mid bands of the ultra-luxury market. And while $12 million to $50 million sales are nothing to scoff at, most of the market's shiniest trophies are sitting unclaimed. To wit: Steven Cohen's Beacon Court penthouse, the Pierre triplex, the $95 million Sherry-Netherland spread. Not even Leroy Schechter has been able to unload his 15 CPW combo after dropping the price from $95 million to a much more reasonable $70 million. The exception being those that drop their prices below the $50 million mark, like the 15 Central Park West unit featured in this week's Times big ticket column. That apartment—a 5,610-square-foot duplex sold by the Ullman Family Partnership for $48 million—was listed last October for $62.5 million, despite its owner having paid a mere $23.9 million in 2008.
Of course, $48 million, while it's no $62.5 million, is still very impressive. But what's even more telling than the significant trophy discount is the fact that it is the most expensive unit sold in the superstar building since Sandy Weill's $88 million penthouse. Which set off the entire trophy craze to begin with and was, as has long been speculated, most likely a maneuver on the part of fertilizer billionaire Dmitry Rybovlovlev, whose divorce from his longtime wife will almost certainly be the most expensive in the history of the world. Not that others haven't tried to cross the $50 million mark.
In defense of eternally-hopeful trophy sellers, now that closings are coming in at One57, it will likely only be a matter of time before the much-touted $90 million-plus penthouses hit city records. However, the many stagnant listings in the $50-million-plus category, and the swiftness with which luxury condos in the $20 million, $30 million and even $40 million range are being plucked up, should serve as a lesson to anyone considering listing a 5,000-square-foot duplex penthouse that "redefines luxury."