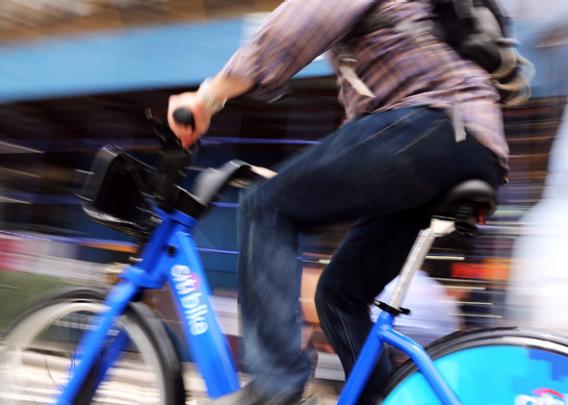 If there's one thing New Yorkers like, it's variety.
We demand choices when it comes to food, pleasure, entertainment and leisure. But there's another thing, even more characteristic of New York culture than the 30 different purveyors of General Tso's Chicken on any given block. That's transportation.
As New Yorkers, we cherish our array of options when it comes to getting around. Is it raining? Jump in a cab versus the subway to avoid that wet dog smell. Need to get across town? Take a bus. The L-Train can be a serious gamble; like sushi from a bodega.
While there are many options to choose from, nothing beats navigating summertime in the city by bicycle.
Citi Bike–New York's loved, loathed and loudly blue bicycle for rent–is turning one-year-old and boy, has it been an eventful first year. The city's first and only bike sharing system has experienced high, low and utterly weird moments throughout the year. Let's pedal down memory lane and recount this debut year through some of the stranger headlines regarding Citi Bike:
May 17th, 2013 via Gothamist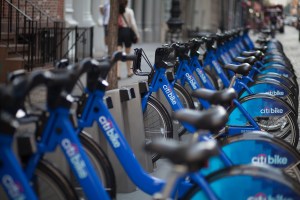 Something (Or Someone!) has Already Pooped on a Citi Bike Station           
Even before the opening day, local residents were figuratively and literally giving the bike sharing company shit.
May 27, 2013 via Brooklyn Daily
Southern Brooklyn Dodges 'CitiBike' Bullet         
Citi Bike's opening day saw little drama. But the cry babies of Brooklyn were already complaining for and against the bike sharing system. Some saw the bikes as a nuisance while others wanted more stations.
May 31, 2013 via The Wall Street Journal
Editorial Board Member and passenger on the Mayflower, Dorothy Rabinowitz, spoke out against the dangers of biking in the city. But then again, Rabinowitz is also skeptical of modern gizmos like cellular doo-hickeys.
Actually, though, a woman was tragically killed while on a Citi Bike near Astor Place.
June 5, 2013  via Gawker
Citi Bike is a Nazi-Muslim Plan to Fire Bomb New York City       
When Frontpage Mag's Daniel Greenfield found out that former Mayor Bloomberg's transportation commissioner, Janette Sadik-Khan, was the granddaughter of a former Nazi collaborator, he knew something was up. Mr. Greenfield then realized the only probable explanation for such a scenario–the whole Citi Bike system was just a terrorist plot to bomb the city via bicycle.
June 10, 2013 via Gothamist
Williamsburg Jews Don't Oppose Citi Bikes, Just Scantily Clad Hipsters Who Ride Them           
Last year saw Williamsburg's large populations of hipsters and Hasidic Jews put up their dukes for a battle of the bike. Some extremists within the Hasidic community claimed that biking was contrary to Jewish culture. But others were fine with the bikes; it was just the skimpy attire that went with biking on a hot summer day that wasn't kosher.
June 20, 2013 via New York
Citi Bike Now Being Used as SoulCycle for Homeless People         
New York comedian, Instagram personality and nudist, Fabrizio "The Fat Jew" Goldstein, found a use for Citi Bike stations when the bikes weren't in use. Mr. Goldstein offered SoulCycle classes for the city's homeless population.
August 21, 2013 via The New York Times
Riding Away From a Bar Crawl with Citi Bikes      
Because the legal fees from a DUI are far greater than a BUI. But for good measure, listen to the advice of 30-year-old buzzed biking expert, Shawn: "I've never blackout Citi Biked." What he means to say is that he might have blackout Citi Biked, he just doesn't remember it.
September 6, 2013  via Hollywood.com
Leonardo DiCaprio Effing Loves to Citi Bike         
Amongst other celebs, Mr. DiCaprio was sighted riding the popular bikes multiple times. Leo, however, rides while making some questionable fashion statements–like these 1990s cargo pants, and a sporty fanny pack.
September 11, 2013  via Deadspin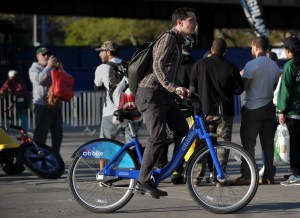 Here's a Guy Doing Some BMX Tricks with a Heavy-Ass Citi Bike         
During the first year, Citi Bike received a lot of flack for the clunky frame. However, guys like Animal New York's Tyrone Williams proved the dissenters wrong and busted some friggity-fresh moves on the tank-like bikes.
September 16, 2013 via Slate
The Official Transportation of the Apocalypse     
"A Citi Bike would have made perfect sense in Cormac McCarthy's The Road," writes Paul Ford. Makes total sense. The bikes are heavy and durable so that they can handle the fiery landscape of post-apocalyptic earth, duh.
October 20, 2013  via New York
Delia Ephron Cannot Stand How Blue Citi Bikes Are                 
Forget the safety issues, the socialist plots for world domination or the rhinoceros-like frames. According to The New York Times writer, Delia Ephron, these bikes are just too damn blue!
November 8, 2013 via the Observer
City Counting Citi Bike Calories in Pints of Cherry Garcia Ice Cream
Who are we kidding? Of course we are going to make this list.
December 9, 2013  via DigiDay
Soil Your Pants? Citi Bike's Got You Covered         
While #PANTSFORPAUL never made it to the trending topics list, this publicity stunt by Citi Bike garnered the company some positive press. Although, they still spelled the poor guy's name wrong.
January 28, 2014 via Bedford + Bowery
In the Projects, Citi Bike Hasn't Exactly Kicked Into High Gear
According to Citi Bike Program Director, Justin Ginsburg, "Riders are mostly white, male, and live in households with incomes of six-figures." Make a low-rider option and that dearth of ridership might change.
March 4, 2014 via Gothamist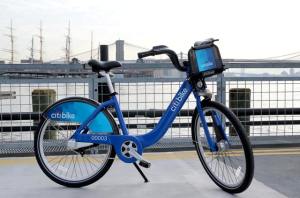 Kickstarter Project Will Make Citi Bike Riding As Lazy As Possible
In response to the sluggish top speeds of Citi Bikes, a Kickstarter campaign decided to fix that. In came Jeff Guida's invention of a portable motor which aims to propel the rider through the city streets because "pedaling is for plebes."
March 21, 2014 via WNYC
Citi Bike's Winter of Discontent
Sounds like a Robert Frost poem. No for real though, that winter sucked. But Citi Bikers still continued to ride.
April 8, 2014 via The Huffington Post
Webby Nominees Range From Citi Bike to Jay Z
That's right. Citi bike was nominated for a Webby alongside the rap game's king of cool, the jigga man.
After navigating some bumpy terrain in the first year, things are starting to look up for Citi Bike. In response to a financial crisis that the company is experiencing, rumors of a new bailout have surfaced. The bike-sharing system might just last long enough to see the apocalypse that they were apparently created to endure.
And with the summer months upon us, what better way to helm the tourist-ridden waves of summertime New York? It sure beats traveling with that malodorous stench of piss, which the summer heat brings to the subways.
(And no, we didn't forget this)
[protected-iframe id="a351429d124cf5a34c4838ba6d547445-35584880-41847290″ info="http://live.wsj.com/public/page/embed-C6D8BBCE_B405_4D3C_A381_4CA50BDD8D4D.html" width="512″ height="288″ frameborder="0″ scrolling="no"]