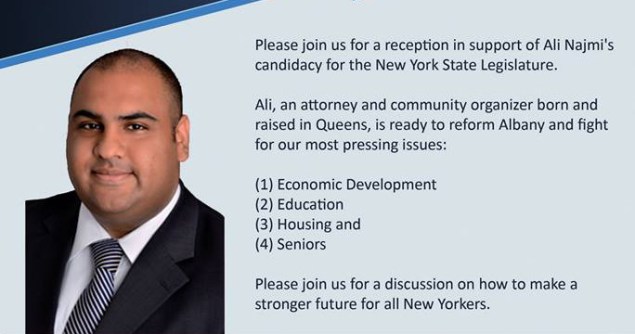 A local attorney and activist is set to challenge Assemblyman David Weprin.
Ali Najmi, an attorney and Democratic activist who once worked as a staffer for Mr. Weprin's brother, is likely to challenge the Democratic incumbent, sources familiar with Mr. Najmi's thinking told the Observer.
Mr. Najmi, sources said, is hoping to capitalize on the demographic shifts of the eastern Queens-based district to knock off Mr. Weprin, an assemblyman since 2010 and a councilman before that. The district was redrawn in 2012 to include a large South Asian population.
"Ali has the ability to raise money and has troops but is a bit unproven," said one Queens Democrat allied with Mr. Najmi.
Mr. Najmi, who declined to comment, is hosting a Manhattan fund-raiser on May 19 to boost his probable bid.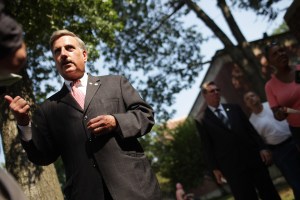 If he challenges Mr. Weprin in the Democratic primary, Mr. Najmi will have to overcome the full force of the Queens Democratic Party and low voter turnout that is likely to benefit the better-known incumbent. Mr. Weprin and his brother Mark, a city councilman, are close to the organization and have marshaled significant local establishment support already. At a campaign kickoff event in March, Queens Borough President Melinda Katz and several members of Congress endorsed Mr. Weprin.
But some Najmi boosters believe that Mr. Najmi may be able to run a competitive campaign against Mr. Weprin nonetheless.
New Yorkers for Clean, Safe and Livable Streets, a prominent animal rights group that helped propel Mayor Bill de Blasio to victory last year, has begun a Twitter campaign against Mr. Weprin after he introduced legislation that would curb the city's power to end the controversial horse-drawn carriage industry. And while the Queens South Asian community doesn't turn out in large numbers to vote, it boasts many affluent members who could contribute to Mr. Najmi's campaign coffers.
Mr. Weprin, who ran and lost races for Congress and city comptroller in recent years, has a war chest north of $150,000, however. And some South Asian groups have already backed Mr. Weprin.
"Assemblyman Weprin wishes him the best of luck," said Eugene Noh, a spokesman for Mr. Weprin. "He's a believer in the democratic process."
The Queens Times Ledger first reported that Mr. Najmi had his eye on a Queens elected office.