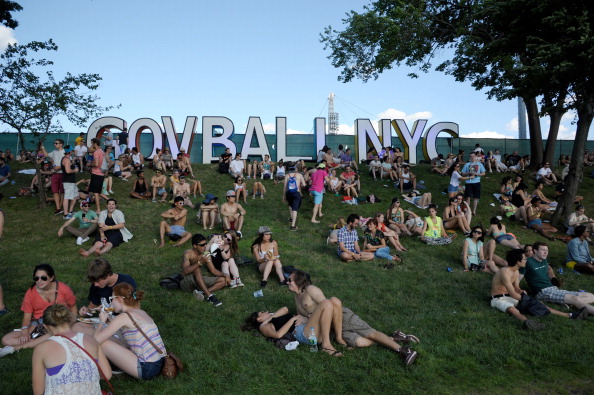 Festival: The Governors Ball (Fri June 6 to Sun June 8)
Food: 4/5 Sushi or vegan, burgers or tacos, it's all here
Bathroom: Air-conditioned bathroom trailers.
Mud: B (could be ok or very Bad)
With hopes for no rain this year, junior Rolling Stone subscribers are again eager to shuttle and ferry in to this three-day, four-stage festival publicized as "one big party." This year's blockbuster lineup  includes OutKast, Jack White with The Strokes, Vampire Weekend, Foster The People, J. Cole and Earl Sweatshirt. Don't worry about dressing to impress. (the Govball website lays down this law: "Bring your foot spray—it will get funky.") Governors Ball on Randall's Island is all about comfortable cotton basics—a $15 tee and jean shorts, or a denim vest over a loose dress. The wise weather-watching attender should pair with tall rain boots to trek through any mud. You'll want clean hands to eat at one of the many food trucks—tacos, cheesesteaks, sushi—that will offer vegetarian, vegan, and gluten-free options to go with the Miller Lite beer. VIP ticket holders get special access to GO Burger and Hill Country Barbecue Market; non-VIP meanderers will be grilled. And even better? This is the first year that cabanas ($30,000 per cabana for 16 VIP guests) are available next to the main stage; light buffet catering, beverage service, and access to massage therapists await the über-VIPs who buy in. For those less fortunate, tuck a hoodie for the nighttime cold and an emergency plastic poncho into your crossbody bag.
Festival: Vision Festival 19 (Wed June 11 to Sun June 15)
Food: 2/5 (Reason: Homemade but limited to a small selection of vegetarian food and desserts each night. Beer and wine available)
Bathroom: Yes. Event is indoors.
Mud: A. Event is indoors.
If you're tired of anything Manhattan, the five-day Vision Festival in Boerum Hill, Brooklyn will be fresh sight for your bored eyes and music to your ears. This is the 19th year, organized by Arts for Art (a not-for-profit, multicultural organization that rejects commercial sponsors), the festival features and promotes diversity and avant-garde improvisation in music. This year it will honor 75-year-old Charles Gayle, the humble and mostly self-taught free jazz musician whom connoisseurs respect for his decades of gifted playing on the streets and at Knitting Factory. The event will also honor artist Jeff Schlanger, the visual improvisor who has interpreted music into painting for countless years and Roy Campbell Jr. and Amiri Baraka who both passed away on Jan. 9 of this year. VIP tickets for $270 include preferred seating in Roulette, the art deco theatre that intimately seats 365 people. Homemade vegetarian food and desserts, along with beer and wine, will be sold by volunteers for the cost of a few subway rides. The offbeat art that Vision champions has always been valuable—the respect for it has just been hard-won.
Festival: Celebrate Brooklyn! (Wed June 4 to Sat Aug 9)
Food: 3/5 (Reason: All light little eats—concessions like fries, grillied broccoli, and cookies. Not so much variety.)
Bathroom: Structural public restrooms. Portable toilets ("porta sans") available as well.
Mud: A and B. (Reason: It's a 10-week festival. Weather will vary. June 4 is variable clouds w/ shower – 72 degrees. And last day is expected to be 84 degrees.)
This is the 36th season for Celebrate Brooklyn! at the Prospect Park Bandshell, providing free and ticketed performing arts shows all summer long. The opening night gala kicks off on June 4 with a sunset dinner honoring Kenneth Adams (President & CEO, Empire State Development; Commissioner, New York State Department of Economic Development); tickets ($375+) and table packages ($5,000+) which  include reserved seating to that night's concert by electric R&B lady Janelle Monáe and entrance to the after-party with DJ Spinna. Several of the ticketed benefit shows have already sold out, so hurry to secure online tickets to see The National, Neutral Milk Hotel, and Nick Cave & The Bad Seeds. Robert Glasper Experiment featuring Brooklyn's own charismatic crowd-pleaser Talib Kweli will be the go-to show for Independence Day weekend—so plan ahead. Purchasing membership tickets gains you access to "friends' seating" in the front rows on a first-come basis. Arriving early is key: Bike over and let a bike valet take care of your ride.
Festival: SummerStage (Tue June 3 to Sun Aug 24)
Food: 1/4 (Reason: It's hotdogs or pretzels only in the park, bring a picnic then enjoy listening to free music in the splendor of Central Park.)
Bathroom: Portable toilets outside the entrance.
Mud: B. (Reason: Festival is summer-long. Depends on an event's date.)
Aptly named, SummerStage is NYC's largest free, performing arts festival held every summer across all five boroughs at 14 different parks. City Parks Foundation will again coordinate a diverse range of artists to provide New Yorkers with a memorable, enriched and connected summer experience. (Over 100 events are free; only a few are ticketed benefit shows.) Membership starts at $150 for 2; it includes presale info for benefit concerts, express entrance to free shows, and access to reserved bleacher seating. Get ready to enjoy the summer lineup: gifted soul singer Allen Stone; Metropolitan Opera stars; Mobb Deep; Grammy-winning Tasha Cobbs in a Motown Gospel revue; Musiq Soulchild; and Conor Oberst and Gavin DeGraw for two separate benefits. SummerStage will conclude with the Charlie Parker Jazz Festival in Harlem and East Village.
Festival: Electric Zoo (Fri Aug 29 to Sun Aug 31)
Food: 3/5 (Reason: Street-vendor food. Beer and wine. Mixed drinks only in VIP.)
Bathroom: Yes, and VIP air-conditioned bathrooms.
Mud: B (Could be very, very Bad if it rains because this festival is just about dancing)
Electric Zoo, on Randall's Island, is considered one of the best electronic dance music (EDM) festivals to attend. This year's Zoo, over Labor Day weekend, will feature regulars like David Guetta, Dada Life, and Nicky Romero on the main stages. If you sorely missed Victor Calderone or Laidback Luke last year because they were scheduled on the last day of the festival (which was cancelled because of two MDMA-related deaths in the crowd and swamp mud) then get ready to jump up and down in plastic yellow sunglasses—lightning never strikes twice. This year's event will host an international crowd of 150,000+ ragers who will no doubt enthusiastically wave their Skittles-colored arm candy, pull off neon tank tops bought at eclectic mall stores and sweat uncontrollably through vibrant waterproof eyeliner. Risk-averse concert organizers, mindful of last year's downer, plan to up security measures with drug-sniffing dogs and more plainclothes security officers. Note: If you have to bring prescription medicine, you must have a prescription note for it with you. Also, there is a strict bag size limit; so stick with a normal-size Marc by Marc Jacobs nylon backpack—nothing crazy.