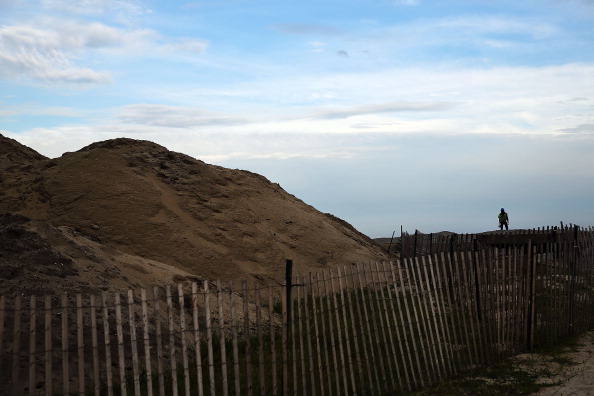 Thinking about heading to the Rockaways this summer? You might want to reconsider.
Visitors will face huge sand dunes and area closures as a result of the second phase of the sand-replenishment effort, which aims to replace roughly 3.5 million cubic yards of sand to the Superstorm Sandy-battered peninsula.
The second phase of the project, which began in April after a series of delays, has already added 700,000 cubic yards of sand to the beaches– creating dunes which tower 16 feet above sea level and force people to traverse across temporary walkways.
"Residents of Rockaway must reconcile with the fact that for the future, there will be high berms or dunes to provide storm risk-reduction," Army Corps spokesman Dan Falt told DNAinfo.
Additionally, in some areas of the beach swimming will be prohibited until June.
The area around 123rd Street in Rockaway Park will be especially hit Memorial Day weekend — Mr. Falt said beachgoers can anticipate closures of up to 1,000 feet.
"It's unfortunate, but if we want to get things done we have to tolerate it," Eddy Pastore, a local activist with Friends of Rockaway Beach, said. "This is going to be a lost summer."
May we recommend Coney Island instead?