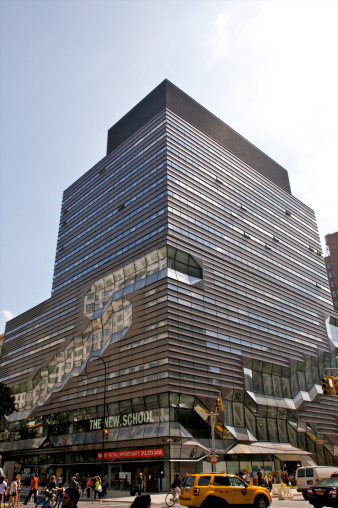 Congratulations! You've been accepted to the [insert new New School's name here] School!
The New School is considering a new name for itself in a rebranding effort that could see the school's title changed by next year.
Officials are in talks of dubbing the institutions Parsons, after the "biggest money maker among the eight colleges that make up The New School," according to the New York Post. As a leading fashion design school, Parsons played host to the popular television series, Project Runway. The show's emcee and school's chair, Tim Gunn, is credited for placing Parsons in the spotlight and giving the school a makeover.
Last year, the school hired a research firm that has been busy conducting interviews with prospective and current students the past five months. The school will draw conclusions from the data collect for further rebranding campaign.
The New School adopted its current title after a rebranding campaign in 2005, lead by then-president Bob Kerrey in attempts of uniting the eight separate schools into one institution. But some felt that the 2005 rebranding did not accurately portray the school's culture and when Mr. Kerrey was replaced by David Van Zandt, Mr. Zandt "promised a more data-driven and inclusive leadership style," according to DNAinfo.
Maybe they should turn to Reddit?
Update:
The New School is not considering the name "Parsons." The school released the following statement today:
The claim reported yesterday in the New York Post that the entire university will adopt the name Parsons is inaccurate. That name change is not under consideration.

We are immensely proud of our excellent design school Parsons, which is a leading comprehensive art and design school with programs across the fields of fine arts, media, technology, communications, built environments, and management. The New School is the only university in the world with a top comprehensive design school nested among strong academic and professional programs in the social sciences, humanities, and performing arts.

The New School has nearly a century of history in New York City and more than 10,000 undergraduate and graduate students and is dedicated to the principles of creativity, challenging the status quo and engagement with the world around us. Recently, the university created a mission and vision statement that clearly expresses its identity and goals. Guided by this vision, we are now in the early stages of exploring how our messaging and communications best express this vision for our university, our community, and our future.