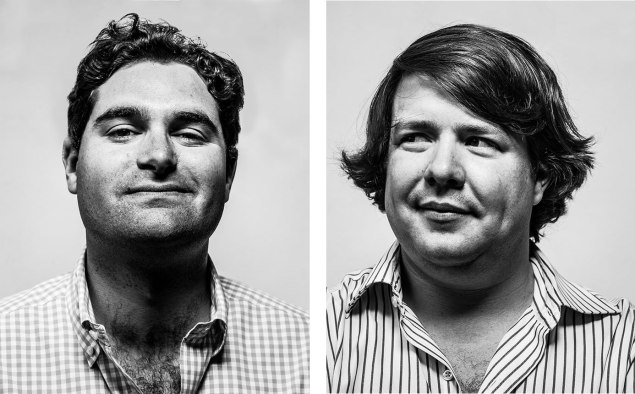 As a college student at the University of Richmond, Blair Brandt, the 26-year-old CEO of Next Step Realty, spent a summer working for an independent Florida realtor named Christian Angle. Mr. Brandt had been counting on an investment banking internship in New York City, a course toward which he had steered since his days at the Deerfield Academy. But when the financial crisis caused Lazard to cancel its internship program, he found himself at home in Palm Beach, Fla.
At his mother's behest, a dejected Mr. Brandt attended a cocktail party where he met Mr. Angle, a smooth talker who could transition seamlessly between idle chitchat and a cunning pitch. Impressed with the realtor's savvy, Mr. Brandt was nonetheless initially interested primarily in Mr. Angle's beautiful assistant, following her doggedly around the party. But when it turned out that she was moving to London, he settled for her job, from which he advanced swiftly to a junior agent position.
Relatively new in town, Mr. Angle, whom Mr. Brandt describes as "a hustler from Boston," had been selling mostly homes that pass in that community for modest—priced around $1 million—and struggling to transition to the oceanfront palaces that house the upper class.
"Palm Beach is a small town, and he couldn't get to that next level of the market," Mr. Brandt told us recently when the Observer visited Next Step's East Village storefront. "He was smart and he was a hard worker. But he didn't really know anyone. People liked him, but they didn't trust him. Then I started introducing him to the people that I know."
With Mr. Brandt vouching for him among the Palm Beach glitterati, Mr. Angle notched several multimillion-dollar contracts, earning a badge of legitimacy in the process.
Mr. Brandt earned $50,000 in commissions that summer, but sales of his own proved elusive. "I was too young," he said. "Ultimately, people weren't going to trust me to handle deals like that."
How, he wondered, could he build relationships with the sorts of clients who were likely, one day, to shop for luxury real estate?
"When I was thinking of starting Next Step, I thought about all the things that an agency like Corcoran was doing, because they have luxury clients," Mr. Brandt said. "And I thought: We're going to provide the same exact level of service to kids right out of college who aren't there yet but might be in that category eventually."
Jason Briggs, a family friend of Mr. Brandt and an early Next Step investor, provided an illuminating case study. Brushed off by a dozen brokers during his search for his first place in Manhattan, in the 1990s, Mr. Briggs, who comes from a well-to-do family and has worked in finance and real estate development, has to date enlisted the agent who ultimately assisted him for $30 million worth of transactions.
"There are hundreds of Jasons a summer," Mr. Brandt said. "And there is a lot we're willing to do for you when the future is long."
Next Step opened its flagship office in a Midtown penthouse just over a year ago, charging clients a fee of 12 to 13 percent of lease value—a slight discount from the standard 15 percent. In addition to the East Village locale, the company has planted its flag at a regal Upper East Side townhouse. Having serviced an estimated 1,000 members of the class of 2013, the team, composed mostly of people in their mid-twenties, in touch with the desires of recent graduates, has doubled in size, to 40 members.
A substantial investment has been made in concierge-style services. A Porsche and a Range Rover emblazoned with Next Step's logo ferry clients on apartment tours, and the company hosts open-bar rooftop cocktail parties. Warm-weather gatherings in the Hamptons and Nantucket are serviced, for a select few, by a charter plane. Renters receive opulent housewarming gift baskets, and some get sponsored housewarming parties. Agents keep an entertainment budget to fill downtime between showings.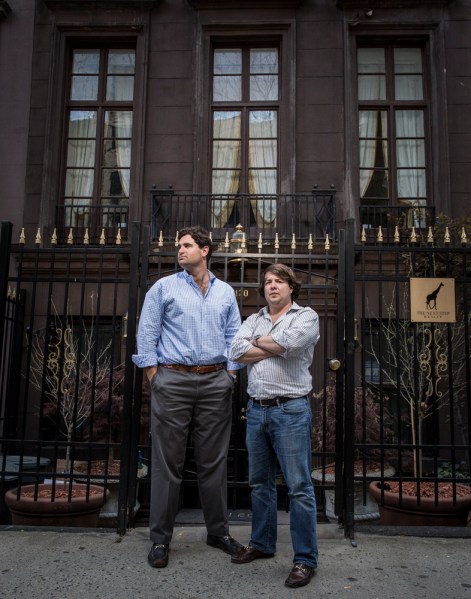 Among New York brokerages, Next Step's social media following trails only Douglas Elliman's and Corcoran's, and the company's Instagram account, as well as one belonging to 31-year-old COO Field Hucks, showcases a julep-flavored lifestyle. On view are beautiful blond girls and a Yacht Week rave, a Town & Country spread reminiscent of Cruel Intentions and sundown revelry at a Nantucket pool party.
The content of Mr. Hucks' account, which bears the tagline "Everything is not for everybody," falls somewhere between marketing brilliance and a public relations disaster. A short, husky fellow partial to Wayfarers and the kind of shaggy, "wings" hairstyle favored by lacrosse players, Mr. Hucks clearly has a lot of fun.
He appears to be rarely without drink in hand and to spend a fair amount of time in or near hot tubs. In one photo, taken at the Surf Lodge, a club in Montauk, he flashes double middle fingers. On another, a shot of a half-dozen pairs of buckle loafers, he comments, "99 problems but a Gucci ain't 1!" A graduate of the ultra-elite Woodberry Forest boarding school in Virginia, he chronicles on Instagram a kind of sustained celebration of unexamined privilege, a motif to some extent reflected on the company's website, where employee bios make an odd inventory of prep schools, vacationlands and Connecticut towns: Darien, the Kent School, Deerfield and the Tabor Academy, Fire Island, Bordeaux and Greenwich.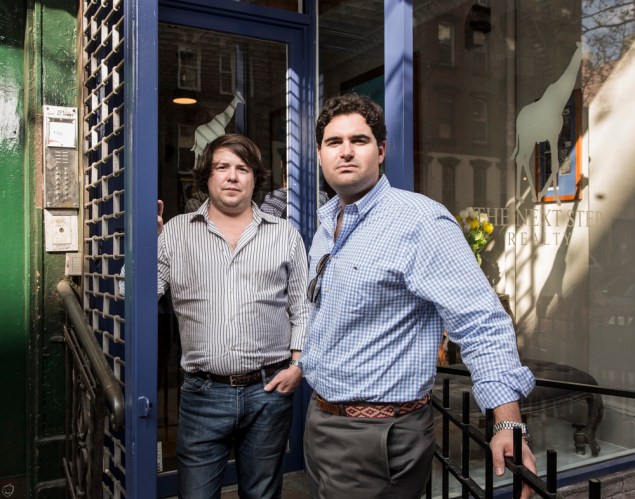 Despite his age, Mr. Brandt has a poised and commanding presence. More than 6 feet tall, with dark hair and frequent stubble, he has the well-fed appearance of a seasoned executive. Had he not been too busy running a laundry business in college to participate in Greek life, Mr. Brandt, with his warm, jovial demeanor and sharp organizational sense, would have made an excellent fraternity president. When we met, he wore a half-zip sweater over a turquoise polo shirt with dark slacks and loafers, looking ready for the back nine.
"Eventually, we want using Next Step to be like a rite of passage," he said. "We want people to feel like they're part of a tradition, like they're joining a club."
In fact, many of Next Step's customers already belong to an exclusive club. The company draws heavily from the Ivy League, the NESCAC and the sorts of sub-Mason-Dixon schools inclined to brand themselves the Harvards of the South: Duke, Vanderbilt, the University of Virginia and the like.
"A lot of kids aren't totally ready to be done with college yet," Mr. Brandt said. "We don't want to hit them over the head with an intimidating picture of New York. We want to present something relaxed and welcoming."
At the East Village office, the mood felt downright suburban. A soundtrack of reggae and mellow country tunes unspooled at low volume from unseen speakers, and the soft fragrance of Molton Brown products suffused the air. Silver Apple laptops rested atop industrial-chic furniture from ABC Home and Restoration Hardware. On the walls hung paintings donated by a Nantucket investor of sailing vessels and a cigarette boat christened Baby Bootlegger.
Next Step's logo, a giraffe in silhouette, adorned hand towels and matchbooks. The giraffe, Mr. Brandt explained, is an "elegant, preppy animal," which takes larger steps than any other. A scene in American Pie had inspired the company's name.
"Companies are personifications of their owners," Mr. Brandt said. "We're preppy guys. This feels like home to me."
On a recent Saturday morning, we met Christian Emanuel, a 2010 graduate of New York University who has been a broker at Next Step for a year, at the company's headquarters. We would be looking for an apartment for Eleanor and Jess, two blond seniors from the College of William and Mary, accompanied by Eleanor's parents and Jess' boyfriend, Max. Both had landed jobs in Midtown—Eleanor in finance, Jess in marketing—and Mr. Emanuel's show sheet held one- and two-bedroom listings ranging from $3,500 to $4,500.
The nuclear search party piled into a black Suburban piloted by a tan, dark-suited driver with an accent of indeterminate origin, while we joined Mr. Emanuel in an Uber car for the southeastern journey. (Next Step has a corporate partnership with Uber; the Range Rover and Porsche, evidently, had been otherwise committed.)
Our first, stop, a slightly musty affair in Gramercy with good light but little in the way of sheen, offered insufficient common space. "If I have people over, I don't just want to be in my bedroom," said Jess, liberally accessorized in pink. "No!" Eleanor agreed. "That's really college."
Next up was the Grayson building in Murray Hill, which has a gym, a finished roof deck and en suite washers/dryers and had been upgraded recently with high-end kitchens and finishes. The search party grew palpably more optimistic. Mr. Emanuel offered helpful square-footage comparisons and neighborhood notes.
But Eleanor, a boisterous young woman wearing a David Yurman bracelet, seemed scarcely in need of guidance, charging from unit to unit and making on-the-fly analyses of likely summer cooling costs, to her mother's evident approval. Jess, who like Eleanor grew up in suburban Pittsburgh, was more timid. "I was offered a job in New York and in Schaumburg, Ill.," she said. "I feel like I've kind of lived in a bubble my whole life, so I took the one in New York. I would have had a lot more money there, but it's like Max says, 'There's no point in saving money at this point in your life.'"
Max, who works in wealth management, proved the tour's savviest scout. After more than two hours with Mr. Emanuel, the group revealed that they had already visited the next apartment on the schedule, acting on a tip from Max. Jess and Eleanor had decided to take it. (Mr. Brandt emphasized that his firm had been on the right track; Next Step simply made a scheduling error, he said, in allowing clients enough free time during their stay in New York for extracurricular viewings.)
A tour later in the afternoon, led by broker Christie LaRusso, was more successful. The Observer rode shotgun in yet another black SUV, while Ms. LaRusso chatted in the back with Jen, Jess and Robin, all graduates of George Washington University. The talk, of lip gloss, electronic cigarettes and Bloc Party tickets, was racing and difficult to follow. Jen, a repeat customer, had used Ms. LaRusso a year earlier to help her find a Hell's Kitchen apartment within walking distance of her job at CBS. Jess, a Fordham Law student, and Robin, an employee of UBS, had been sharing an apartment near Union Square.
Before working with Next Step, Jen had dealt with a Corcoran agent, a "nasty little guy" she found condescending and indifferent, while Ms. LaRusso had proven warm, diligent and accommodating.
The first apartment on the tour, Ms. LaRusso said, was "sick."
A newly renovated three-bedroom in Gramercy, with hardwood floors and a massive outdoor space, was, as the rawboned listing agent from Bold New York observed, "pretty much bigger than most apartments in the city." A decision was made, and whoops of joy arose. IPhone cameras were employed and Instagram accounts updated. It was difficult to deny that the apartment was, indeed, "insane."
A momentary concern about financing—the rent was $6,500, and one roommate's father was out of reach at the Masters tournament—evaporated after a generous offer and a mad dash to Wells Fargo for a cashier's check.
The sun was beginning to wane on the first warm day of spring, and a toast on a rooftop bar seemed the only appropriate course of action. One roommate suggested that they reconvene at 230 Fifth, a vaguely Malaysian-themed investment bankers' haunt with a view of the Empire State Building.
Yes, the young ladies agreed. That would be just the thing.