While the New Museum's associate director, Massimiliano Gioni, was planning his 2013 Venice Biennale exhibition, "The Encyclopedic Palace," he met up with the artist Camille Henrot, who at the time was doing a residency at Washington, D.C.'s Smithsonian. "She told me about this project she was doing, about the myths of origins and the desire to try and describe the world and the universe," he said. "That completely collided with what I was doing. It was a funny moment, because I felt there was somebody else who was as crazy, who had embarked on a similar project as what I was embarking on with Venice."
Ms. Henrot, 35, ended up making Grosse Fatigue (2013), a captivating 13-minute video that begins on her computer desktop and, through cascading series of windows, takes an idiosyncratic tour through the collections of the Smithsonian and Wikipedia, as a voice-over, accompanied by a hip-hop beat, tells a series of creation tales. "She captured a very specific aesthetic of today, of a sort of digital condition, whatever that means," Mr. Gioni said, adding, "It was clearly a milestone in her work." The piece won her the Silver Lion, which goes to the show's most promising young artist, and later that year, she was nominated for the Guggenheim's Hugo Boss Prize. Grosse Fatigue is now the centerpiece of Ms. Henrot's exhibition at the New Museum. It's her first show in New York, the city she has called home since 2012.
Ms. Henrot is probably best known for her crisply edited, discipline-blurring videos  (four will be at the New Museum), but when I visited her Dumbo studio last month, she and two assistants were working on ikebana arrangements, which she has been making for the past few years. Ferns, blooms and bulbs were arrayed about, and a weighty photo book of exotic flowers sat on her desk.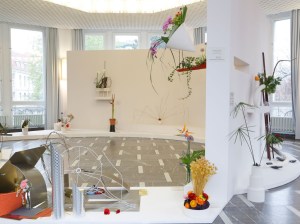 "A lot of nice coincidences led me to this project of ikebana," Ms. Henrot said. For one, "I moved here, and I had nothing in my studio." Her books were still in Paris, and her luggage ended up being held for a while in customs. (It was an unlucky result of random screening, she said, while conceding, "There were some animal parts and wine.") She had also just done a hulking plaster, concrete and steel sculpture for a show in Paris. "I had so many problems with security," she said. "Everyone was breaking my balls about the weight of the floor and security, if the sculpture kills someone."
"Making art should not be about filling security concerns and filling forms," she continued. "The artistic activity should be something which you can do in a meditative, playful atmosphere." And thus, the ikebana pieces, which are inspired by books in her library. Composing them, she considers the Latin, commercial and common names of flowers, which often come from literature, mythology or "fantasies that men have when they observe plants reproduce," as well as plants' properties and histories. The one for Moby Dick, for instance, includes sago palm (metroxylon sagu) and spear flower (doryanthes excelsa).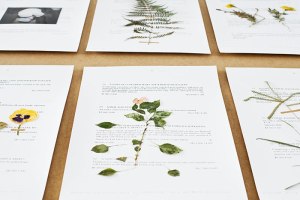 The arrangements make for electrifying, ephemeral sculptures, and depending on the season, their ingredients are not always available. The New Museum will be refreshing them throughout the run of the show, which Ms. Henrot has prepared with an ikebana master, and experts from Harvard and the New York Botanical Gardens, who have helped her identify flora she found out in nature, not knowing their exact names. Last week, she made a trip up to Wave Hill in the Bronx to collect more specimens.
Flowers also figure in her Jewels from the Personal Collection of Princess Salimah Aga Khan (2012), for which she has paired pages of that eponymous auction tome with plants that she surreptitiously snipped outside buildings on the Upper East Side. "I realized in New York flowers are being used as a wall, as a sign of protection between one class from the other," she said.
Ms. Henrot has a number of European shows in the coming months, and is planning to spend the summer in Europe, but she's also preparing, later in the year, to return, on a plankton research vessel, to the Pacific, where she shot two of her other remarkable videos, on islands that are part of the remote nation of Vanuatu. On the eve of her New Museum exhibition, she still wasn't precisely sure what it would look like. "I always leave the door open for a few pieces to add at the last minute, because it gets too boring for me if everything is planned," she said. "It's also a matter of energy. In a way, I feel the viewer can feel the energy of something that has been just made."
One in a series of 'Five Artists to Watch'; the other articles are available here.