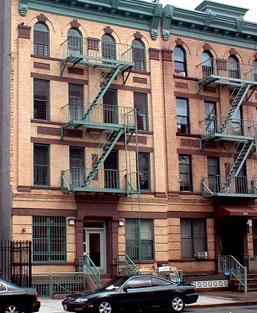 Representatives of some 130 organizations descended on City Hall yesterday in support of the Campaign 4 NY/NY Housing, a push urging Mayor de Blasio and Governor Cuomo to unite to renew the collaborative supporting housing agreement known as "NY/NY," which is currently in its third iteration (i.e. NY/NY III) since it launched in the 1990s, and which is due to expire next year.
NY/NY III is on track to create and operate some 9,000 units of supportive housing for people chronically homeless and/or in need of on-site disability support, according to the city's Housing New York ten-year plan. The agreements are thought to have birthed more than 15,000 units overall, and their dictates save New Yorkers $10,000 annually for every unit produced in taxes that would otherwise be diverted to public resources like shelters, emergency rooms, jails and psychiatric facilities.
That housing advocates would be concerned about NY/NY's expiration amid what is perhaps the city's worst homelessness crisis in history is unsurprising. Currently, the ratio of demand to available supportive units is six to one, while more than 20,000 families qualify each year for supportive homes.
"For over twenty years supportive housing has proven to be an effective solution for improving the lives of New York's homeless families and individuals while at the same time a smart, cost effective investment for the city and state," Kristin Miller, director of the Corporation for Supportive Housing, said in a release, which largely echoes Housing's laudatory appraisal of the NY/NY agreements. The campaign, however, would like to see a new agreement signed that aims to create 30,000 units of supportive housing—all of which would function as a kind of specially-designated subset of the 200,000 total units of affordable housing the de Blasio administration has promised to create/preserve—over the next decade.
All of that, of course, will cost money. The campaign is asking that $20,000 be budgeted yearly for rental and operating expenses for single-occupancy units; those occupied by families will be pricier still, and apartments do not build themselves. Though indications are that city and state officials are working toward a productive NY/NY renewal, supportive housing advocates are eager to keep the issue near the top of the proverbial docket.
"It's not a fait accompli," Nicole Branca, the deputy executive director of the Supporting Housing Network of New York, told the Observer. "There are a lot of priorities right now. And we're trying to make sure this remains a top priority. [The campaign] is to expedite the conversation."
The campaign proposes a four-point plan to realize its vision, suggesting that 15,000 units be sourced from new construction, rehabs and conversions, and that an additional 15,000 be set aside in new affordable—and even market rate—developments. The latter half would be dedicated, at least to some extent, to transitional housing with less intensive or temporary services—medical and otherwise—that could house formerly-homeless tenants who have been stabilized through residency in the city's more service-focused facilities.
"We need to make sure there's enough supply for people who maybe no longer need the social service component, but who also probably aren't going to be able to pay more than $600 or $700 in rent," Ms. Branca said.  (That bit would fit rather nicely with Housing New York's emphasis on "moving in, moving on," which raises the need to cycle a variously vulnerable population through housing options that best suit both individual and collective needs.) Doubling down on NY/NY's traditional practices, the campaign further suggests that individuals with lengthy histories of homelessness and mental illness be prioritized for supportive shelter, and that adequate funding for operating services be allocated.
This last is, in point of fact, not really a suggestion. If it does not arrange funding to run future supportive housing facilities in advance, the city may not proceed with construction. And if a new NY/NY agreement is not reached, fresh units—of which there are now 1,000 a year—will cease coming on line by next summer, exacerbating lags in an already complex and circuitous process of governance, construction, housing and care. Despite widespread official support, advocates are thus loath to allow the renewal process to go unchaperoned.
"There were 10 city and state agencies that signed onto New York/New York III," Ms. Branca said. "Now there are 12 involved. It's such a complicated agreement. There are so many agencies and we're dealing with vulnerable populations. It's not something where people can just sign on the dotted line."