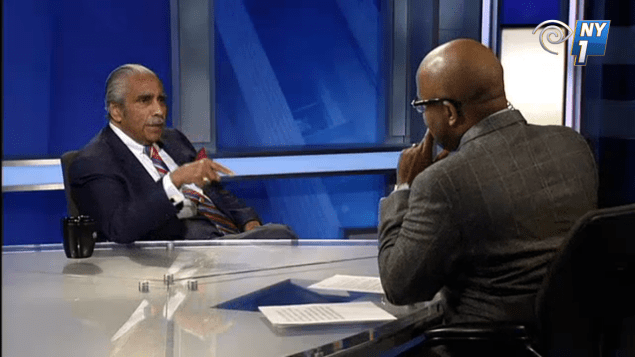 Congressman Charlie Rangel has picked up another nod in his rematch against State Senator Adriano Espaillat.
After losing the backing of the powerful teachers' union, Mr. Rangel has snagged the endorsement of the 16,000-member principals' union, the Council of School Supervisors and Administrators.
"We need Congressman Rangel to stay in Congress, where he can continue to fight for the middle class and deliver results for working families," the union's president, Ernest Logan, said in a statement to the Observer."Rep. Rangel has a wealth of experience and a record of effectiveness in passing vital, progressive legislation to help his constituents in the 13th District and all Americans. There is no better choice to keep fighting for economic justice, affordable housing, and health care reform."
The group also represents directors of city-funded day cares.
The nod comes as Mr. Rangel appears to be picking up momentum in the race. He was recently endorsed by 1199 SEIU, one of the city's most powerful unions, and is leading Mr. Espaillat by nine points, according to the race's first public poll.
Still, he is facing what many see as the most difficult fight of his political career. Thanks to demographic changes and redistricting, the 13th Congressional District is now a majority Latino and stretches from Harlem through Inwood and into parts of the Bronx. Mr. Espaillat came within 1,100 votes of ousting Mr. Rangel two years ago, and his campaign is boating about a better ground operation this time around.
Also in the running is Michael Walrond, a popular pastor and close ally of Rev. Al Sharpton, who is expected to pull some of the district's black vote.
So far endorsements of the race have been split, with Mr. Rangel winning the backing of big-name national figures, including former President Bill Clinton, and Senators Chuck Schumer and Kirsten Gillibrand. Mr. Espaillat, meanwhile, has dominated locally, with the support of City Council Speaker Melissa Mark-Viverito–who backed Mr. Rangel two years ago, as well as Comptroller Scott Stringer and former Comptroller Bill Thompson.
In a statement, Mr. Rangel said he was "proud to be supported by hardworking men and women of CSA."
"From fighting for better jobs, affordable housing and education reform, CSA always stands up for the working families of our city," he said. "I would like to thank the members of this union for their commitment to making sure that together, we can finish out President Obama's agenda in Congress – you can count on me to work tirelessly to fight for New York's working families."