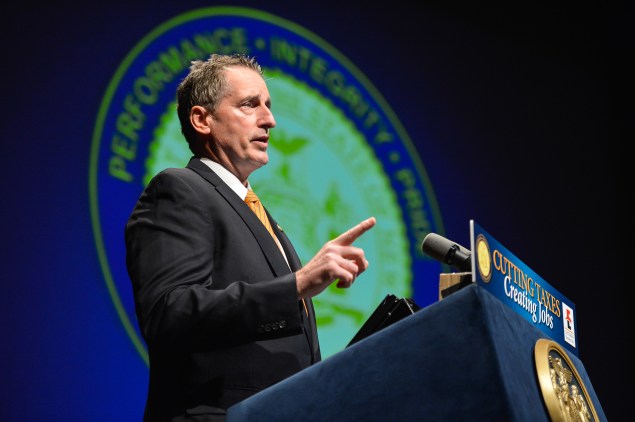 Gov. Andrew Cuomo today extolled the virtues of his administration's top deputy, Lt. Gov. Bob Duffy, who yesterday announced that he would not seek re-election with Mr. Cuomo in the fall.
"Bob has not just been a great partner in governing our state – he has also been a true friend. I have said repeatedly that asking Bob to be New York's Lieutenant Governor was the first and best decision I made since running for Governor, and that statement remains true today," Mr. Cuomo declared in a statement released earlier this morning.
In a three-page letter to Mr. Cuomo yesterday, Mr. Duffy formally ended any possibility of continuing to serve in Mr. Cuomo's administration. Mr. Duffy, formerly the mayor of Rochester, has worked on behalf of Mr. Cuomo since the start of their first term in 2011.
Long-rumored to be on his way out, Mr. Duffy cited health concerns as well as a desire to spend more time with his family as among his reasons for leaving.
"While the consistent travel is vitally important to this position, the thousands of miles per week in the car have resulted in the residual effects of constant back and leg pain. While I do not like to offer excuses for anything, I would be disingenuous if I did not state that the pain of travel has increased to the point that I cannot commit to a second term. While I appreciate your offer to reduce my travel, I do not wish to continue in this role and operate at a reduced level because I believe New Yorkers deserve a Lieutenant Governor who is able to work and travel at the pace I was able to over the past four years," wrote Mr. Duffy, who also had plenty of praise for Mr. Cuomo.
"Again, thank you for providing me with this wonderful opportunity," Mr. Duffy concluded. "I intend to serve out the remainder of my term and will step down effective December 31, 2014."
The Rochester Democrat and Chronicle first reported Mr. Duffy's retirement last night.
View Mr. Duffy's letter to Mr. Cuomo below:
Dear Governor Cuomo,

I am writing to inform you that after extensive contemplation and with mixed emotions I have decided not to seek re-election as Lieutenant Governor of New York State. This is a decision I have not arrived at lightly. I am profoundly grateful to you for providing me with this extraordinary opportunity to serve the people of New York State and to be a part of your team, which I consider to be the most accomplished administration in the nation.

I consider you not just a colleague but a friend. I am not aware of any governor-lieutenant governor relationship in our state's history that has been as close and congenial as ours. I plan to campaign for your re-election this year, and I hope to continue to contribute to the success of your administration in the future in different forms. I also will campaign for the next lieutenant governor candidate, once you make this selection.

It has been an honor to have served in this administration. I have proudly worn the lapel pin that you gave me during our first week which bears the words "Performance, Integrity, Pride – We Work For The People". That pin epitomized what you stood for and what was expected from every member of our team. You have brought a sense of pride, purpose and direction back to state government and it has been a pleasure to have been a part of it.

My decision not to run again is neither a career decision nor a political one- but rather it is a life decision. Throughout the past four years, I have traveled to every corner of New York State as part of my role. I have often traveled thousands of miles weekly because of the importance of being on the ground and reaching out to our constituents.

While the consistent travel is vitally important to this position, the thousands of miles per week in the car have resulted in the residual effects of constant back and leg pain. While I do not like to offer excuses for anything, I would be disingenuous if I did not state that the pain of travel has increased to the point that I cannot commit to a second term. While I appreciate your offer to reduce my travel, I do not wish to continue in this role and operate at a reduced level because I believe New Yorkers deserve a Lieutenant Governor who is able to work and travel at the pace I was able to over the past four years.

I am proud to have served on your team and to have been involved with assisting your administration's many accomplishments. From the formation of the ten regional economic development councils, to the passage of marriage equality, to the focus on fiscal restraint and property tax reduction, to your leadership through some of the worst natural disasters in NYS history, and to your consistent focus on the upstate economy, being part of these many historical accomplishments has certainly been a highlight of my professional career.

In many ways the most important aspect of my candidacy and service was bringing much needed attention to upstate New York. As you and I discussed many times, upstate New York was all but abandoned by past administrations and downstate received much of the focus. We have remedied that and upstate New York has received unprecedented focus and resources and has responded with growth unseen in many years. From the millions invested in Rochester and its Eastman Business Park, to negotiating the stadium lease to keep the Buffalo Bills in western New York, to the proliferation of the hugely successful nano science technology throughout the upstate region, we have planted seeds that will continue to grow and prosper for decades to come. Some of the tangible examples of this upstate focus include the resurgence of such industries as wine, yogurt, craft beer, spirits, and cider, not to mention a renewed focus on tourism and connecting the population masses of downstate with the beautiful vacation and leisure destinations of upstate. It has been an honor and a pleasure to have helped accomplish all this.

Contrary to some perceptions, we have brought more economic support to the Rochester region than we have seen in decades. Including the previously mentioned investments in Eastman Business Park, your administration has committed over $300 million, which includes the rebuilding of I-390/Kendrick Road, the continuing redevelopment of the Midtown Plaza site, and so many other projects that have helped to pump new economic life into the Rochester region.

I have been in public life since 1976 and count myself as being fortunate to have had three wonderfully rewarding careers. As a police chief, mayor and lieutenant governor, I have been privileged to serve the public and to work with countless great citizens and public officials. Each of these careers has had its own rewards and demands, but in my role as lieutenant governor, I have been required to be away from home several days each week. I have reached a point in my life where I am choosing not to be constantly traveling from my home and family. I am a life-long Rochester resident, and the Finger Lakes region is where I wish to spend the rest of my life.

I never accepted your invitation to be your running mate so that I could seek higher or other statewide office. I simply chose to run with you because you asked me, and because I chose to support you and your administration. It has never been my intention to seek a statewide political career. During the past four years I have consciously chosen not to raise money for future campaigns of my own, nor to use my position to enhance my own political future. I have simply chosen to serve you wherever needed and to assist you and our administration in any way necessary. I have never sought personal credit or attention for anything that I have done during our term, choosing only to serve you and our state.

I could not be prouder to finish my public service career alongside you. I will always treasure my four years as your Lieutenant Governor.

I want to thank you for all your friendship and support throughout the past four years. While I never sought this position, when you asked me to join your team you made a number of promises and you remain a man of your word. You truly added value to this role, which has provided me with many experiences and memories that will last a lifetime. Loyalty is a two way street, and we have both proven that throughout our term together. Our friendship and our relationship will last far beyond our four years together.

For a kid from Rochester's 10th ward who grew up in very modest circumstances to be able to serve as the first lieutenant governor from Rochester since 1858 has truly been a capstone of my professional life. Again, thank you for providing me with this wonderful opportunity. I intend to serve out the remainder of my term and will step down effective December 31, 2014.

Sincerely,

Robert J. Duffy
Lieutenant Governor
State of New York