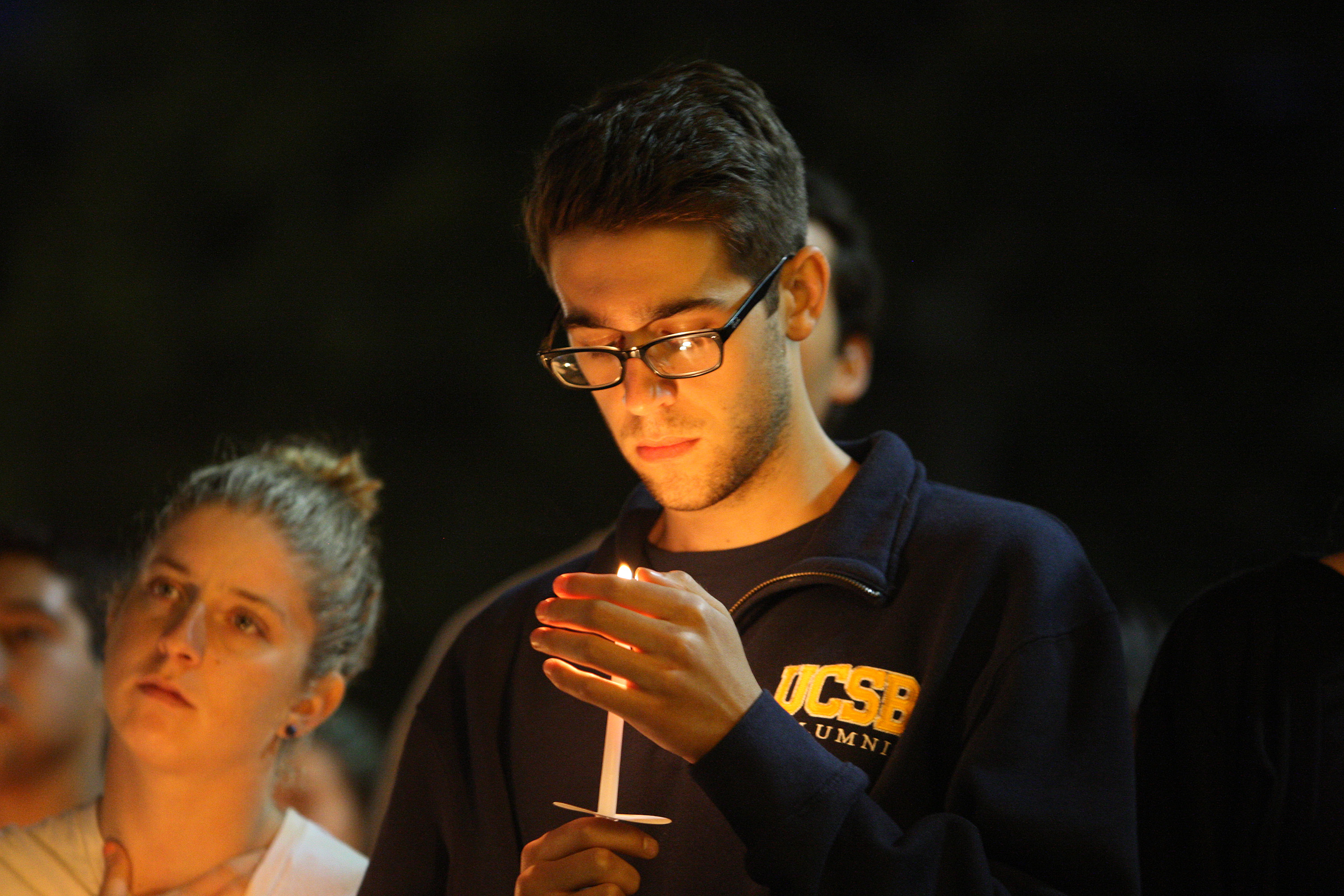 Perhaps over the busy Memorial Day holiday weekend you missed the latest mass murder.
These things sometimes fall through the cracks when the corpses don't reach double digits and, shoot, only seven died in Friday's massacre in Santa Barbara County, Calif., a carnage that included both knives and guns.
The toll included the suicidal killer who, in a recorded speech on You Tube, blamed sexual frustration. But he wasn't frustrated when he successfully bought three legal semi-automatic handguns and took them to a college campus Friday night.
And while you were picnicking or honoring dead soldiers, you might have missed a brief speech by the father of one of the victims. Richard Martinez spoke loudly and eloquently about the loss of his son, Christopher.
"You don't think it will happen to your child until it does," Mr. Martinez said. "Chris was a really great kid. Ask anyone who knew him. His death has left our family lost and broken. Why did Chris die?
"Chris died because of craven, irresponsible politicians and the N.R.A. (National Rifle Association). They talk about gun rights. What about Chris's right to live?"
So many of these bloodbaths happen around schools, the victims college kids and even first-graders. Over the last school year, I taught at three different universities in the New York area and must admit this often entered my mind.
I'd wonder on the way to campus: Will this be the day? How would I react if I heard that "Pop-pop-pop!" in the hallway outside my classroom door? Should I pack heat just in case?
One of my students, a veteran of the Iraq War who had had firearms training, was emotionally disturbed. One day while listening to her talk at length, she suddenly stopped speaking and shouted at me "Don't stare in my eyes! It disturbs me!"
After another class, while she tried to explain her struggles with writing, she told me "Something's wrong with my brain." Fortunately, there was no violence.
One of the things I teach my journalism students is selective use of quotes and how impact changes with choice. Another is how story placement affects perception.
For more on this, as they say on TV, consider two of Sunday's major talk shows, "This Week With George Stephanopoulos" on ABC and "Fox News Sunday" on Fox.
ABC gave the massacre seven minutes at the top of the show. But it avoided the strongest comments from Martinez, using only a brief snippet he said later: "Too many have died. We should say to ourselves 'Not any more!'"
On Fox, there was a 22-second tease about the massacre at the top of the show but no real report until a segment of 2 minutes and 36 seconds that began in the 28th minute.
The Fox sound bite from Martinez was slightly longer than the ABC quote, but added only: "When will this insanity stop? When will enough people stay 'Stop this madness!'"
Then Fox quickly dismissed the story in favor of long segments about the outraged outrage over the scandalous scandals (real or imagined) of President Obama's administration. (Four Americans died in Benghazi, three fewer than in Santa Barbara).
When I attended Wayne State in Detroit and, before that, St. Martin of Tours on the East Side, I can't remember any massacres. But in grade school we had Boy Scouts (Troop 4, Cobra Patrol) and they taught us to "Be Prepared." Our kits included a scout knife but never a handgun.
They also taught us lyrics to "Taps," the bugle tune that is such a mixed message, and so popular on Memorial Day. In one sense, it's about the peaceful end of a peaceful day. In another, it's about deeply mourning the dead, particularly the military, but, really, anyone's son or daughter, especially when sudden and violent.
"Day is done,
"Gone the sun
"From the lakes
"From the hills
"From the sky
"All is well
"Safely rest
"God is nigh."
Joe Lapointe spent 20 years as a sports reporter for The New York Times and worked as a segment producer for "Countdown With Keith Olbermann."  Recently, he's taught journalism at New York University, Rutgers and Long Island University-Brooklyn and will return to his hometown of Detroit next week after a quarter-century in New York.