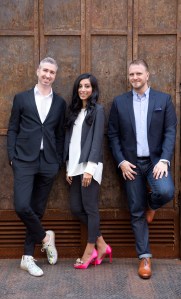 Three art PR veterans, Dan Tanzilli, Justin Conner and Noreen Ahmad, have launched their own firm, called Third Eye.
Mr. Tanzilli, 31, comes to the New York-based Third Eye after 11 years at the established art PR firm Fitz & Co., where he most recently served as vice president. He left Fitz & Co. in March. Mr. Conner, 31, who previously worked with Mr Tanzilli at Fitz & Co. and had also been an assistant editor at Interview magazine, and Ms. Ahmad, 32, who has done marketing and brand strategy at the firm LaPlaca Cohen, as well as worked in house for Lincoln Center and the Whitney Museum, have most recently been running their own respective independent consulting businesses.
In what has become a wide field of art-centered PR firms (the U.K.-based Calum Sutton recently opened a U.S. office, for instance), Third Eye hopes to distinguish itself through its partnership model (rather than a firm headed by one individual) and through making art (and PR) only one aspect of what they do.
Art, Mr. Tanzilli said, is a cornerstone of their business but not the centerpiece. At launch, the firm is representing around eight clients, some of them traditional art PR firm clients (the International Network for the Conservation of Contemporary Art – North America (INCCA-NA), the art fairs EXPO Chicago and Independent, and the galleries Gavlak and Alexander Gray Associates) and others in fashion or architecture (Michael Nelson, who makes beaded handbags in collaboration with Maasai women, and the Van Alen Institute, a nonprofit architectural organization). In addition to conventional PR services, the new firm is offering other strategies for clients, such as brand consultation and creative direction.
As of June 1, Third Eye will be based at 379 West Broadway, in Soho.