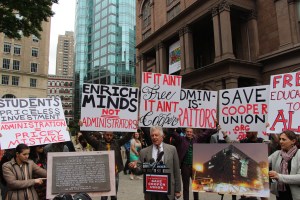 As graduates of Cooper Union, one of New York's oldest and most venerated schools of art and design, funneled out of their commencement speech at the East Village campus, the iconic statue of Peter Cooper was boarded up due to construction. Tellingly, Cooper's whiskery face was not even visible at a time when the very conviction of the institution's founder was in question. Students had gathered outside the university, rallying against its future plans.
"For 150 years, Cooper has offered a fundamentally different education model," said Hadar Cohen, a third year engineering student. Ms. Cohen was referring to Cooper Union's longstanding statute of free tuition.
Now, under new administration, incoming students have to pay for their education. But current students, incoming freshman, alumni and faculty have banded together to fight this economic amendment to the university's philosophy. After the commencement address, dissenters announced their latest plan of attack: a lawsuit.
Between 2006 and 2010, the university's fiscal security began to suffer. During this period, expenditures gradually rose from $43.7 million to $66.8 million. In cahoots with an increase in spending, fundraising for the university's new building—a towering mass of avant-garde glass and steel—sunk drastically below expectations. By 2011, Cooper Union had hired a new President, Jamshed Bharucha, who authorized over $350,000 for his own inauguration celebration, $50,000 of which went to a celebrity guest speaker, Fareed Zakaria, a broadcast journalist and not exactly a towering figure in the fields of art and design. On top of all that fiscal buffoonery, Mr. Bharacha made it clear that he was an opponent of free tuition.
Since 2013, when Cooper's Board of Trustees decided to enact paid tuition by the fall of 2014, dissenters have spoken up. With previous protests proving fruitless, the Committee to Save Cooper Union has subsequently elevated their effort against the school's proposal of paid tuition.
Once the commencement ceremony had finished, Richard Emery, the lawyer for the Committee spoke to the crowd. "Economic priority over education," said Mr. Emery, "makes mince-meat out of Peter Cooper's vision."
Students and supporters of the Committee held rally signs high—like "Enrich Minds Not Administrators" and "If It Ain't Free, It Ain't Cooper"— while other protestors spoke.
"[Since the tuition decision] I've seen more students upset and crying in my office than in my 10 years of teaching here," said Mike Essl, a professor and alumnus of Cooper Union.
In response to the Committee, the university's administration and Justin Harmon, the Vice President for Communications, released a statement. "The decision to charge tuition was tremendously difficult," the statement read, "but our first responsibility is to the students, faculty and to the future of Cooper Union." The statement proposes other modes of dealing with this disagreement as opposed to a lawsuit. "Constructive conversation," for instance.
While protests waged on, the newly minted graduates—very possibly one of the last classes to receive a tuition free education at the school—wielded leather-bound degrees as their families snapped photos. Many wore bright red signs that said, "Save Cooper Union" on top of their caps.
As for Hadar Cohen, who still has a year left at Cooper, the tuition proposal won't affect her either. The fall's incoming class will be the first to pay if the Committee's lawsuit is thwarted. But Ms. Cohen continued to distribute flyers challenging this defiance of the school's new mission.
"The broader community thinks the fight's over," said Ms. Cohen. "But it's not."