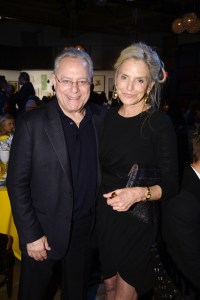 At last night's gala at Highline Stages, the Whitney Museum gave its 2014 American Art Award, designed this time around by artist Josephine Meckseper, to Roy Lichtenstein's widow Dorothy Lichtenstein, The Andy Warhol Foundation for the Visual Arts and the Maramotti Family, the latter known not only for the Max Mara line of clothing but for its philanthropic contributions to visual art, particularly the Max Mara Art Prize for women artists.
"Roy always used to be kind of shy at these things. He'd say 'thank you' and then duck away," Ms. Lichtenstein said, accepting her award. "I always feel like I'm riding on the coattails of Roy," she added, "but I like to continue his legacy."
"Dorothy's not on the coattails," Whitney director Mr. Weinberg corrected her, retaking the lectern. "She wears the coat."
He continued: "I remember going down to the meatpacking district years ago, and going to Florent [restaurant], and seeing Roy sitting in his little table in the corner where Florent had a little map of the country of Lichtenstein right there above his table, so you always knew it was Roy's table."
He then recounted to the audience the time many years ago when the Warhol Foundation stood up in defense of David Wojnarowicz's video "A Fire in My Belly," which was being threatened with censorship. The Foundation stood up to threats from the Catholic league and several Washington politicians. The foundation stated at the time, Mr. Weinberg said, "These attacks, based on ignorance, hatred and fear, have no place in America's civil society, and should certainly not dictate the actions taken by its cultural leaders."
It's probably not a coincidence that he mentioned the incident. The Whitney has just announced plans for a Wojnarowicz exhibition during its inaugural year in its new Renzo Piano-designed building at the base of the High Line.
"Most artists still struggle to make a living with their work," Warhol Foundation president Joel Wachs said. (A worthwhile reminder, given that the artists who get the most attention these days are the ones making astronomical sums.) He hopes to inspire today's artists to follow Andy Warhol's "visionary lead" in philanthropy.