Austrian artist Maria Lassnig, whose brushy, psychologically tense, sometimes darkly comic paintings affected generations of artists over the course of her 70-plus-year career, died today at a hospital in Vienna. She was 94. Her death was confirmed by one of her galleries, Hauser and Wirth, and has been reported in the European press. She has no immediate survivors.
Lone figures typically occupy Ms. Lassnig's paintings, often partially disfigured or abstracted and in the midst of all kinds of unspeakable mental and emotional trauma. Many are chilling, fleshy self-portraits. In one a plastic bag covers her head, in another she holds a gun up to her temple. A survey of them now on view at MoMA PS1 shows that, though tastes changed, her core devotion to her unflinching practice did not.
"Her importance for, and influence upon, younger artists—which included, obviously, almost anyone under the age of 90—is not simply the steadfast commitment she had to explore a certain kind of figuration over time, which took a lot of different forms, some of them abstract," said Peter Eleey, PS1's associate director, who organized the show there. "Even more so it is her example, her commitment to herself as an artist, and to a vision that she hatched really very early on."
Ms. Lassnig was born in Kappel am Krappfeld, Austria, in 1919, and attended Vienna's Academy of Fine Arts during the Second World War. One of the first paintings she made after the fall of Hitler, Mr. Eleey pointed out, was an expressive self-portrait that set a model for her unrelenting examination of the human body over the next 70 years. "You see that same gaze and poise even in her most recent work," he said.
Her commitment to abject, discomfiting paintings won her critics in some quarters of the art world, which periodically gravitated away from painting. She said that, after moving to New York in 1968, she was not greeted warmly, telling an interviewer for Frieze in 2006, "They wouldn't even show my work, said it was trash. And my upstairs neighbour in the loft said to me: you just can't paint."
Ms. Lassnig's reputation grew steadily over time, cresting in recent decades, as many young artists gravitated toward expressionist painting. In 1980 she moved to Vienna to chair the painting department at the school where she had trained, becoming the first woman to hold the position. That same year she represented Austria at the Venice Biennale, with Valie Export. Last year she won that exhibition's top prize, the Golden Lion.
"She was a giant," Hauser & Wirth's co-founder, Iwan Wirth, who began collecting her work in the 1990s, told Gallerist. "She was a strong believer in painting, a strong believer in the avant-garde." Hauser & Wirth began showing her in the early 2000s, and in 2009 published her diaries, which spanned from 1943 through 1997 and were edited by Hans Ulrich Obrist. Mr. Wirth, who visited with her a few weeks ago, said that she had been working until February, and had been planning a show at the gallery for next year.
Her New York dealer, Friedrich Petzel, called her "an incredible inspiration for artists, poets, scholars, filmmakers and art lovers here and in Europe" in a statement. "She 'inhabited' her work more than any artist I have ever met," he wrote.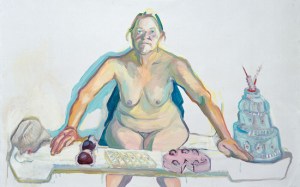 Despite frequent shows in Europe, New York was slow to embrace her. Until the Petzel gallery started showing her in 2002, she had not had a solo show in the city since 1989, her lone one-person exhibition here that decade. Mr. Eleey said that when he first proposed the current PS1 show to her a few years back she was skeptical. "Why would you want to do this?" she asked him. "No one likes my work in New York."
At one point, late in their planning of the PS1 exhibition, Mr. Eleey said, "It sounded like she almost didn't think the show was tough enough, and gradually, in the course of our installation and eventually its opening, I think she came to realize, much to her surprise, that it conveyed her toughness."
She had actually first come here in 1968, from Paris, in search of new opportunities. "She moved to New York, in part, because someone told her if you want to succeed as a woman artist it's where you had to go," Mr. Eleey said. "She was not wrong. It just took 30, 40 years for that to happen."