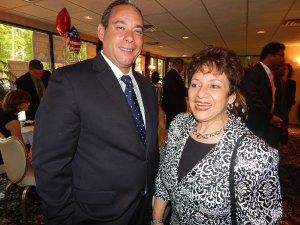 In a brace of bantering Hoboken hob-nobbers, Phil Cohen, Line A freeholder candidate from Hoboken, stepped forward and very confidently extended his hand in greeting.
Moments later, Cheryl Blodgett steered PolitickerNJ to a man in crowd a couple of body lengths away from Cohen.
It was incumbent Freeholder Anthony Romano of Hoboken, who's trying to logroll his way back into office against the exceedingly slippery surface of Line A and the Hudson County Democratic Organization (HCDO).
If there was any doubt about where Jersey City Mayor Steve Fulop has his emphasis right now, all one had to do last week was look at his power projection platform near the front door of Casino in the Park alongside his HCDO-backed Freeholder challenger Gerard Balmir.
Balmir wants to eliminate incumbent Freeholder Jeff Dublin, a remnant of the hosed-off Jerry Healy era.
As the Fulop-recharged HCDO looks to scrub Dub (and Romano) out of office, they also critically want to get rid of incumbent Freeholder Director Jose Munoz, arguably the toughest renegade out on the Hudson ballot in next Tuesday's Democratic Primary.
West New York Caridad Rodriguez – a former assemblywoman – is the person tasked with that job.
A longtime ally of U.S. Rep. Albio Sires (D-8), Rodriguez emerged as the consensus pick by state Sen. Nick Sacco (D-32), West New York Mayor Felix Roque.
Munoz ran afoul of the Hudson County Democratic Organization (HCDO) when the feds used him to tape record politicians in a corruption probe, including Roque, whom Munoz implicated in a federal hacking conspiracy.
Roque beat the hacking charges and now – alongside the establishment he once opposed – seeks revenge by eradicating Munoz from public office.
Munoz has run an aggressive campaign in trying to stay in power, launching eight mail pieces at his tormentors, mostly seeking to align Rodriguez with Roque.
"Now, his loyal Commissioner, friend and political ally freeholder candidate Caridad Rodriguez is learning through her teacher to LIE to you as well," the freeholder said today in a release. "I asked for a debate and Caridad Rodriguez refused. Now that's a proven truth. All these cowardly, untruthful, unsigned letters sent to the public and now this nonsense about a Tea Party – what other lies does my opponent's campaign want you to believe?"
Rodriguez was initially scheduled to hold a press conference this afternoon accusing Munoz of membership in an area Tea Party group, but she never went through with the attack.
Sources in the Rodriguez campaign insist they really don't need to go negative on Munoz, who despite his impressive attempts at self-preservation, has the challenge of trying to run against a line buttressed by popular incumbent Sires.
Moreover, incumbent Weehawken Mayor Richard Turner's slate has opposition, forcing a work rate there and creating a dynamic that further strengthens the establishment-backed Rodriguez.
As for the constant Munoz barrage against Rodriguez's association with his nemesis Roque, Rodriguez Campaign Manager Pablo Fonseca said, "His peers exonerated him and he was found not guilty in a court of law. That speaks volumes. Commissioner Rodriguez has had a great history serving the people of West New York and we are going to continue to take our message to the voters."
Fonseca said the campaign has knocked on 10,000 doors.
Her campaign financed four mailers, plus three from Sires and another two from the HCDO.