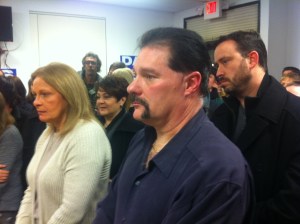 Given his massive monetary advantages over his opponent, incumbent Mayor Mark Smith's inability to stay out of a runoff election in Bayonne prompted immediate establishment comparisons to Perth Amboy's Wilda Diaz taking out Joe Vas in 2008; and Paterson's Jeff Jones dropping Jose "Joey" Torres in 2010.
This past Tuesday night, Smith clung to a 48.7% to 47.3% lead over challenger Jimmy Davis, despite posting a $252,775 closing balance in his 11 day pre-election report, which didn't include his ticket mates' accounting.
Police Captain Davis reported $3,774 in his account.
Facing a runoff election on June 10th, the Davis campaign is using election Night's David and Goliath storyline to step up desperately needed fundraising efforts.
"We're getting phone calls fast and furious and inquiries from within the county and around the state," said Davis campaign manager Joe DeMarco.
The operative said Davis is vigorously pursuing contacts to get money " to finish the job we started three months ago."
So far, the Davis team has talked to state Sen. Nick Sacco (D-32) and state Sen. Ray Lesniak (D-20) about support.
There's interest.
There's also an interesting back story if Lesniak engages.
He opposed Smith's campaign manager, Assemblyman Jason O'Donnell (D-31), for the state party chairmanship last year.
Lesniak's effort to oust O'Donnell prompted the party to seek current Chairman John Currie as a compromise.
Sources say that while rumblings continue about the role U.S. Sen. Bob Menendez (D-NJ) might play in the runoff, Menendez intends to stay out of the fray.
Smith and Menendez aren't friendly, going back to the mayor's decision, while serving as Hudson County Democratic Organization (HCDO) chairman, to back Nia Gill over the Essex machine-supported Donald Payne, Jr., thereby complicating the U.S. Senator's Essex County politics in an election year.
A source close to Davis said the campaign does not have a strong expectation of the May 13th election's third candidate, Ray Zanowic, backing them.
"But we don't need him," was the conclusion.