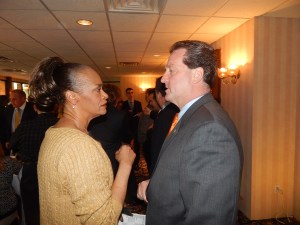 JERSEY CITY – The trick at the Hudson County Democratic Organization's (HCDO) dinner tonight was going to be to see where on the giant, turgidly moving carousel of Hudson County humanity the two Bayonne mayoral combatants lingered longest.
Incumbent Mayor Mark Smith hangs by a perilous percentage point over challenger Jimmy Davis, in a runoff to be decided on June 10th. To the hardest observers of this surprise bonus contest, the well-quaffed people in the room tonight might have smiled in the direction of the outsized personality from South Hudson even as they nursed piranha-like intentions.
Smith's wounded, say the circling glances.
To his allies he was simply caught off guard: the jovial victim of everyone in the state making Bayonne a low priority.
Nursing drinks and deprived – but for a West New York Democratic Primary for freeholder – of a 2007-sized contest, Hudson Dems in the room waited for Smith and Davis to make their grand entrances, craning for a better vantage point on the two rival principals.
First it was Smith who appeared at Casino in the Park: big, garrulous, charismatic, planting a smooch on a cheek here, grabbing an arm there and yanking someone nearly off the carpet into a bear hug – the life of the party.
He was out the door in ten minutes.
"He's going to a high school event in Bayonne," an ally explained. "Please don't draw any conclusions from that."
A year ago, Smith served as the chairman of the HCDO.
Now he's battling to stay alive in his hometown.
"We're going to finish it," said the mayor, ebullient and confident.
"We're going to win," he added.
He at least had one very avid loyal backer in the room tonight: Hudson County Executive Tom DeGise.
"Overconfidence," said DeGise, when asked to explain why Smith's massive war-chest and record in office couldn't sink Davis.
Officially running for another term in 2015, the county executive said he staunchly stands with Smith.
"Hey, now," someone interjected, a DeGise partisan, as PolitickerNJ attempted to ask a follow-up question of DeGise concerning the Bayonne mayor's contest. "We're here to talk about Tom's re-election."
If anyone ever doubted whether Smith endorsing Nia Gill instead of the Essex County-establishment favored Donald Payne, Jr. bothered U.S. Sen. Bob Menendez (D-NJ), Davis immediately upon entering Casino in the Park found himself swarmed by Menendez allies.
Intense?
Davis in showing up tonight looked like he had just jumped off a stool after having been told that he needed a knockout in this, the final round.
"The people of Bayonne will decide," said the challenger.
A moment later, PolitickerNJ asked him who invited him to tonight's event honoring state Sen. Nick Sacco (D-32).
"Nick Sacco," Davis answered.
He walked into the big room and stayed there.
The guest of honor, Sacco himself entered to some fanfare: Jersey City Mayor Steve Fulop and Speaker Vinny Prieto (D-32) greeted him with zest.
Having just helped his Newark mayoral candidate to victory on the other side of the river, Fulop had the misfortune now of trying to coolly maintain his appearance as a statewide political fencing instructor who dared to go into Newark and leave his mark on the cheeks of the establishment – while simultaneously chained to Bayonne.
He had carved out a portion of rug near the front door in Casino in the Park that put him in prime position to have to be seen with everyone, minimizing the worry of getting trapped in a corner politically and literally.
"You don't understand," a Smith ally told PolitickerNJ, apparently unconsciously aping Marlon Brando's taxi cab line from On the Waterfront but with the same exact inflection and irritation.
"Fulop needs Smith to win to contain Sacco," the source insisted. "That's why he needs to stay with Smith."
Whatever his grimacing political affiliation with the Bayonne mayor (remember, a year ago the two hated each other), the optics of the evening confirmed Fulop's absolute cemented association with his freeholder candidate, Gerard Balmir, who's looking to take down incumbent Freeholder Jeff Dublin in two weeks.
Dublin was close to the defeated Healy.
So was Smith.
Now Fulop and Smith are together, sources say, in part because Laborers boss Ray Pocino backs Balmir in exchange for the Jersey City mayor playing nice with Smith.
"But it's more complex than that," an insider teased.
Fulop had fun with the mood.
When he went to the stage he commanded, "Everyone with Davis sit on the right of the room, and everyone with Smith, sit on the left."
The room stagnated.
One thing was clear through the muck of the packed banquet hall: Davis wants to beat Smith, and Smith wants to beat Davis.
In Bayonne.
Also glimpsed at Casino in the Park tonight: West New York Commissioner Caridad Rodriguez, who's going after the organization-discarded Jose Munoz; Assemblyman Raj Mukherji (D-33), Weehawken Mayor Richard Turner, Menendez Statewide Director Paul Brubaker, U.S. Rep. Cory Booker (D-NJ) political minder Mark Matzen, Democratic State Party Chairman John Currie, East Orange Mayor Lester Taylor, Monmouth County Democratic Chairman Vin Gopal, Hudson County Sheriff Frank Schillari, West New York Mayor Felix Roque, Sacco operative Joey Muniz, Tommy Bertoli from Fulopworld, and Hudson County Freeholder Junior Maldonado.
Re-elected last week against no opposition, Mayor Brian P. Stack simultaneously assumed the oath of office in Union City.