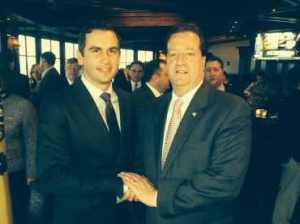 NEWARK – Bayonne's down with Baraka.
Formerly the foes of Jersey City Mayor Steve Fulop, who stood with the Hudson County Democratic Organization's (HCDO) 2013 blockade against the upstart councilman turned winning mayor, Bayonne Mayor Mark Smith and Assemblyman Jason O'Donnell (D-31) stand with him now in support of mayoral candidate Ras Baraka in neighboring Newark.
Both men donated heavily to the Baraka Team, according to the team's 11 day pre-Election Day report.
O'Donnell gave $36,900 to the Baraka Team and Smith the same amount, for a combined $73,800 contribution.
There's some history here, going back to 2012 when Smith – at that time the chairman of the HCDO – supported Nia Gill for Congress in a Democratic Primary the face of pressure by Essex County Executive Joe DiVincenzo.
DiVincenzo wanted Hudson to back his candidate, the ultimately successful U.S. Rep. Donald Payne, Jr. (D-10).
Alert to Smith's then-impending choice of Gill, DiVincenzo rang up U.S. Sen. Bob Menendez (D-NJ) and implored him to take charge of Hudson.
Menendez blitzed Smith, but the Bayonne mayor refused to desist, and announced his support for Gill.
It's no accident that Smith and O'Donnell are both close to DiVincenzo's longtime Essex County political nemesis, state Sen. Dick Codey (D-27), a former senate president and governor.
There are other interesting connecting points in the Smith and O'Donnell donation to Baraka.
A firefighter by trade, infuriated by Republican Gov. Chris Christie's DiVincenzo-backed overhaul of public sector union pensions and benefits, O'Donnell served as state Sen. Barbara Buono's (the 2013 Democratic nominee for governor) choice as Democratic State Party chairman before the DiVincenzo-George Norcross III alliance intervened and dumped him.
Norcross and DiVincenzo are all-in with Baraka's opponent in the Newark mayor's race, former state Assistant Attorney General Shavar Jeffries.
As rising star Fulop and the Norcross-ousted Codey team up on the ground Tuesday, Election Day, in Newark, part of their larger statewide calculation at that ground zero race includes building a base, partially out of the scraps of human capital left over from the Buono campaign, in part with their own combined bases, and largely with public sector labor, to take on DiVincenzo/Norcross and presumably Senate President Steve Sweeney (D-3), the establishment's early frontrunner to succeed Christie as governor.
After unsuccessfully trying to block Fulop from becoming mayor of Jersey City, Smith got dropkicked by the HCDO and looked like political roadkill upon redelivery to local politics in Bayonne.
He was heading into 2014, an election year.
There was heavy post JC buzz about Fulop backing a challenger to Smith to eradicate him from Hudson politics.
But Smith stood tall locally, Fulop decided against taking him on, and now Smith and his main Bayonne ally and campaign manager O'Donnell are all in with Fulop as part of the anti-Democratic Party establishment candidacy of Baraka.
Ironically, after failing to reach a contract, the local teachers' union backs Smith's opponent, Jimmy Davis, in Tuesday's Bayonne mayoral election.
The Baraka Team raised $243,955 reported in their 11 day pre-Election Day report, and have $169,184 cash on hand.