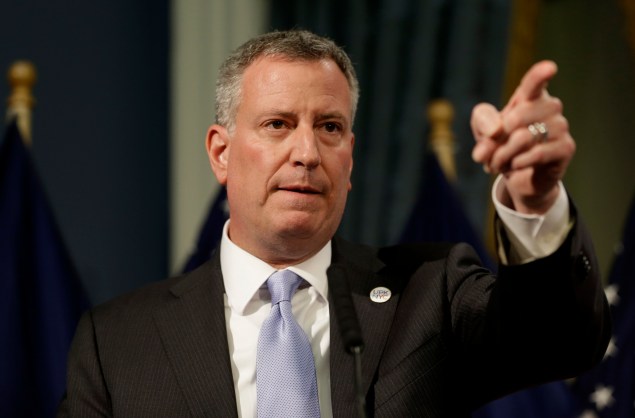 Mayor Bill de Blasio said today he has no regrets about holding an extensive press conference declaring Long Island College Hospital saved, even as the Brooklyn hospital announced last week it was shuttering all but its emergency department.
Mr. de Blasio told reporters that he believed health care at the hospital would be preserved, despite reports that a full-service hospital would not remain at the Cobble Hill location.
"I'm convinced health care will be saved. I don't have any question about that," Mr. de Blasio defiantly told reporters at an unrelated press conference. "I know there's still negotiations going on, the details being worked out—but I want to remind you, some of you may have been with us, in those hot days of last summer … there were days when it was going to be padlocked, done, no more health care, period."
"People wanted to make sure there would be health care available to them starting with emergency capacity. The plan brokered by the judge includes health care including that emergency capacity," Mr. de Blasio continued. "So right now I think we were absolutely right to say … we managed to preserve health care for the long-term, final details pending, but I feel good about where it's going."
Mr. de Blasio in February held a marathon press conference at City Hall touting the so-called "historic" agreement to save the cash-strapped hospital operated by the State University of New York. The deal quickly collapsed, however, when the private partner, Brooklyn Health Partners, failed to come up with the necessary down payment.
The latest partner, developer Peebles Corp., will move forward on a plan to convert a significant portion of the hospital to housing, an outcome Mr. de Blasio and his supporters originally decried.
The hospital became a flash point in last year's mayoral race when Mr. de Blasio, then a long-shot contender, was arrested while protesting the potential closure of the facility. The arrest, observers say, helped catapult Mr. de Blasio in the crowded Democratic primary.