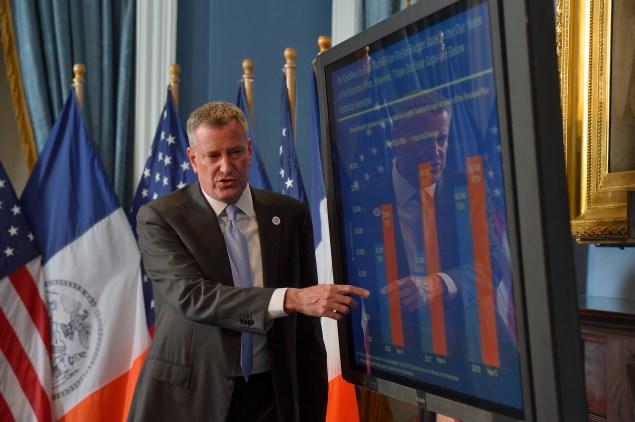 Mayor Bill de Blasio didn't always like crunching numbers, but forced to balance a $74-billion city budget, he says he's embracing his accounting skills.
During today's unveiling of his executive budget for the next fiscal year, a reporter asked Mr. de Blasio whether he considers himself a "numbers guy."
"I emphatically tried to have stayed away from accounting," the mayor responded. "I think I am traditional in this sense. I didn't seek to learn about this field in my spare time. But I put it through the prism–and I don't want to sound hackneyed but I think it's true–I put it through the prism of someone sitting around their kitchen table balancing their household budget."
Unlike his technocratic, data-minded predecessor, Michael Bloomberg, Mr. de Blasio is generally more comfortable with sweeping statements than nitty-gritty specifics. While Mr. Bloomberg seemed to genuinely enjoy leading the press through PowerPoint presentations filled with graphs and slides, Mr. de Blasio appears more cautious at the podium, frequently inviting staffers to answer questions and cracking fewer jokes than his usual press conferences.
Mr. de Blasio went on to note the potential dangers to the city if his budget failed to acknowledge unexpected events that could upset the economy and revenue streams.
"I got to tell you: It becomes real clear real quick when you look at the reality of this city, how careful you have to be. This is a cautious document on purpose. We see what happened in recent years; we see some of the threats. And we know we have to be in a careful stance to protect against future disruptions so we can keep moving the pieces we have to move," he said.
Again describing himself as a "traditionalist," Mr. de Blasio further cited the city's recent $5.5-billion contract agreement with the teachers' union as an example of this cautious mindset.
"I haven't always articulated it so perfectly in the past, but again I'm a traditionalist in the sense of I dislike things like a labor contract hanging out there, creating uncertainty–that always rubbed me the wrong way. And I said to my colleagues, 'Let's do everything we know how to do to get this done as quickly as possible.' They surpassed my every expectation in the speed in which they achieved it," Mr. de blasio said. "But I think that you have to have certainty."
As far as today's budget is concerned, Mr. de Blasio said he couldn't be happier with the foundation it presented for future years of city governance.
"This is something that now we can bank on for the remainder of our time in office in this term," he said, still speaking in response to the "numbers guy" question. "And we hope that in the future, whoever is in office can bank on it  as well."