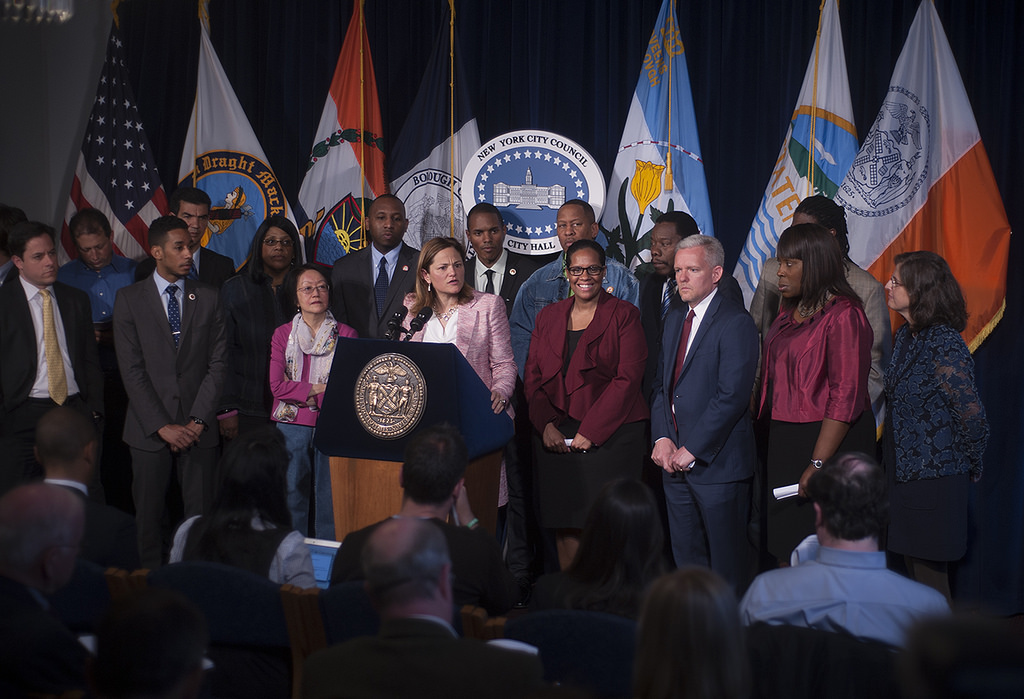 Mayor Bill de Blasio today repeated his opposition to City Council member items, setting himself up for a showdown in the coming months with council members, who rely on the millions of dollars to fund senior centers, parks and other projects in their districts, boosting their reputations in the process.
Answering questions today after presenting the first executive budget of his tenure, Mr. de Blasio doubled down on his stance against to the funding, which has been the source of considerable fraud and abuse in recent years.
"Look, the council and I agree to disagree. We have a different perspective on this," declared Mr. de Blasio. "I do think it's time to end member items. I think that's the smart path going forward. But I also respect that the council has its own prerogatives and I respect them as a legislative body and we have to work in partnership. So we'll continue to work on that issue. But I think this may just be one of the areas of respective disagreement."
Executive budgets do not typically include member items, which are added to the pot during negotiations between the mayor's office and council members before a final budget deal is reached in the last weeks of June.
Mr. de Blasio declined to say with certainty today that the money would be eliminated, instead insisting the funding was the subject of ongoing discussion.
"At this moment, again, there's a continuing process going on," he said. "The council is asserting their desire to continue it as it is. And we respect that and we'll continue to have discussions."
City Council Speaker Melissa Mark-Viverito and her members have been discussing ways to overhaul the member item system so that money is doled out more fairly, following charges that the previous speaker used the cash to reward her allies and punish critics.
Despite a largely positive public reaction from members, the budget deal omits many of the additions they'd identified as top priorities, including money to hire an additional 1,000 cops and free lunches for all public school students, regardless of their ability pay.
In a lengthy statement reacting to the mayor's presentation, Ms. Mark-Viverito praised many of the mayor's efforts, including increasing anti-gun violence initiatives, expanding summer youth employment programs and reducing small business fines.
"The Executive Budget presented today is a strong start and represents the shared commitment between the Council and the Administration to deliver for all New Yorkers while remaining fiscally responsible," she said.
Still, she expressed disappointment that the proposals had been left out, as well as protesting the fact that the budget was not presented in a format members had proposed make it easier to understand.
"Additionally, we are greatly concerned with the lack of transparency in units of appropriation in the Executive Budget. Dividing funding for Universal Pre-Kindergarten, Elementary and Middle Schools and High Schools into smaller units of appropriation would increase accountability and transparency in a massive budget, making it easier to track categories of spending and ensure that all school funding is scheduled in the appropriate budget code," she said.