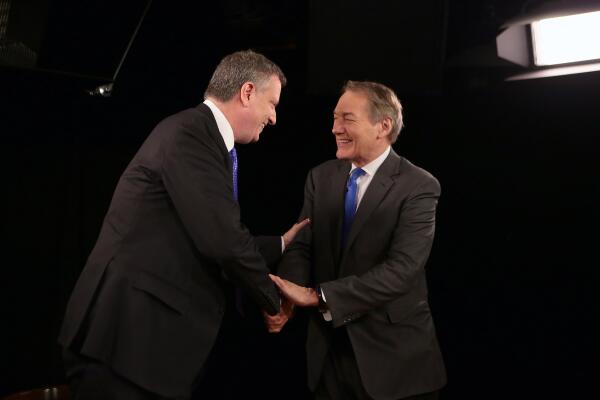 Mayor Bill de Blasio, who canceled today's big affordable housing speech to hammer out the final details of a contract with the city's teachers' union, stressed last night that he shares goals with both the real estate industry and labor unions.
In a lengthy pre-taped interview with Charlie Rose on PBS, Mr. de Blasio made the case that while he intends to demand far more concessions from the city's powerful real estate developers, he plans to make their efforts worthwhile by sparking a housing building boom.
"I think the history in New York City is of the developers, real estate community, having a fairly favorable set of ground rules from government. And we're going to be respectful and we're going to be honest brokers. But I've said very clearly, we're upping the ante and driving a harder bargain 'cause we have to get more," he told the host.
"We will get more done into these real estate transactions. We need more affordable housing, more hiring of local residents, where we need space for schools, we'll get that space built in. It will be a better set of community benefits," he added. "But on the upside for the development community, we're very devoted to moving these projects quickly, meaning I don't want some of the road blocks that existed in the past … It's in my interest, it's in the people's interest, to move those processes more quickly."
Mr. de Blasio, who has previously spoken about allowing developers to build larger buildings in exchange for more affordable units, shared others details of the plan, which he said would impact 200,000 units, covering an estimated half-million people.
"It will allow us to reach a lot of folks," he said, pointing to "a substantial commitment" to housing for seniors, one of the city's fastest growing populations, as well as housing for working families "who are amongst the most priced-out in this city." He said the plan would also focus on those at the lowest rungs of the income ladder.
"So really I think what you're going to see is a housing plan that looks like New York City, that looks like the true dynamics of our population and where we are today," he said.
Mr. de Blasio also weighed in on his relationship with the city's unions, most of which have been working under expired contracts for years. Last night, Mr. de Blasio's aides cleared his schedule for today to hammer out the details of a contract for members of the United Federation of Teachers, which is expected to include retroactive pay raises, which some have said the city can't afford.
Asked if he had any difference with the teachers' union, Mr. de Blasio seemed at a loss for words, but eventually noted that the UFT was't originally in favor of mayoral control, which he supports, and is against school co-locations "across the board." During the election, Mr. de Blasio called for a moratorium on the the practice, in which multiple schools share space in a single school building, but has since granted approval to several new ones.
Still, he stressed that what mattered more was a shift in tone dealing with the unions, after what he described as "disdain" from the last administration.
"There were things we disagreed on, but we always had tremendous amount of common language in terms of working with each other, respect, understanding that teachers are part of the solution. And I believe that fundamentally," said Mr. de Blasio.
"I think the fact is that, although I've had a very positive and a philosophically kindred dynamic with the labor movement, labor is a very diverse constituency," he continued, noting that many unions did not endorse him in the Democratic primary. "What I have said to people is, look, it's not about whether we agree on every issue, or are our interests always going to align. It's about the fact that I do honor the history and the meaning of the labor movement, and i think there's a natural partnership to make this city work."
Part of that, he argued, is that his larger goals are the same as those that sparked the labor movement in the first place.
"In the end, what I'm appealing to a lot of the leaders in labor are the very origins of why their unions exist," he said, adding that, by agreeing to make certain concessions that will help to strengthen the city, unions "have an opportunity to do something that's actually statesman-like."