'The menu is all local organic and sustainable," said our waiter, an earnest fellow with a deep Brooklyn accent as he handed us the oversize menu at the new Tavern on the Green. Perhaps I misheard him. 
Frank Sinatra was crooning aggressively from a potted plant, and a Russian couple was arguing loudly at the next table. So despite being a quiet night in Central Park, it was hard to hear. 
But when I looked at the menu, it certainly didn't seem local or sustainable. The salmon was from the Faroe Islands, approximately 3,068 miles from Central Park West and 67th Street. The squid was from Rhode Island. The quail, unevenly grilled, was definitely not part of the Atlantic Flyway migration over which birders have been so atwitter. And then there was the yellowfin tuna, a notoriously unsustainable fishery, darting from the ceviche to the entrees. 
| | |
| --- | --- |
| Two new restaurants have opened in two of the city's greatest parks in the last two months, and taken together, they illustrate a troubling reconstitution of what a New York City park is and who it should serve. | |
Had I misheard? Was I so used to those three buzzwords that I imagined them, like a phantom cell phone vibration? Or was this blithe misdirection something more sinister? 
As I exchanged glances with the Ruskies, strangers in the night, I settled on the latter. 
Two new restaurants have opened in two of the city's greatest parks in the last two months, and taken together, they illustrate a troubling reconstitution of what a New York City park is and who it should serve. The larger of the two offenders is Tavern on the Green, which reopened in Central Park in April after a $38 million renovation. It seats a whopping 700 people, but as we shall see, it is not for the masses. 
The smaller but more potent betrayal is a restaurant that opened last week after another multimillion-dollar renovation, this time of the historic limestone bandstand pavilion on the north end of Union Square. It is called, unsurprisingly, the Pavilion.
Both squander the opportunity, moreover the obligation, for public parks to serve the public. Although restaurants need not be moral agents, these are businesses on public land, paid for in part by city taxpayers. The public interest is therefore germane and not just the part of the public willing to pay $56 for a New York strip with patatas bravas and braised leeks. 
In New York, whose beaches are now open but distant, the parks are our Riviera. They are our patrimony, a chance to connect with New Yorkers who strolled the bridle paths before us, as well as with New Yorkers who, thanks to disparities of class, race or neighborhood, we might never otherwise interact. When Central Park opened (at 843 acres, the fifth largest park in the city), Frederick Law Olmsted called it "a democratic development of the highest significance." But as the new Tavern on the Green shows, it's no longer a level playing field. 
Most New Yorkers know Tavern on the Green from its late rococo period under Warner LeRoy, who took over in 1974. It wasn't any good—in fact, it was overpriced and terrible—but it was spectacular, and for nearly 40 years, it was one of the highest-grossing restaurant in the country. However, during its final years, 60 percent  of Tavern's income came from banquets and corporate events, like the one I attended in 2007 honoring Atoosa Rubenstein, then-editor of Seventeen, for being one of the year's "most intriguing" people. (Remember her, my alphakitties?)
In those days, it was all bread and circus, a menagerie of bronze beasts and topiary pachyderms, ornate crystal chandeliers hanging like Damoclean swords (which the decaying physical structure made even more menacing). Tavern was a fun house, a circle of large rooms connected by a nightmare mise en abyme of mirrored hallways, terrifying but exhilarating as the singular lime-green vision of a megalomaniac showman. It might not have been accessible to all, but it was a very real part of New York City.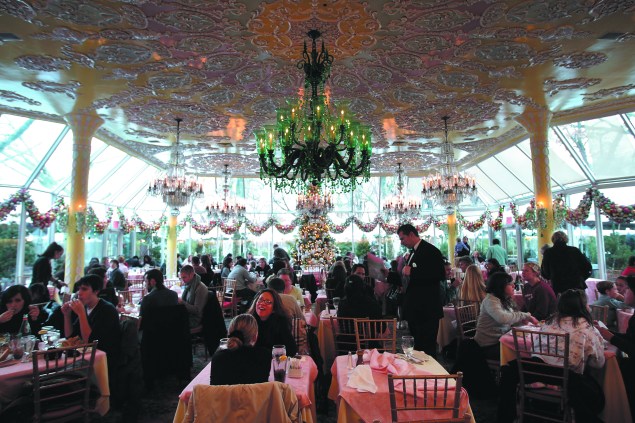 But in 2009, after the financial crisis kneecapped corporate business and the city refused to renew Tavern's concession, the LeRoy family's holding company declared bankruptcy. The fun-house lights dimmed. Bits and pieces were dismembered and auctioned off, with the regency-style Osler chandelier selling for only $26,000 but the five-foot bronze bear sculpture topping expectations at $18,000.
Soon afterward, Dean J. Poll, a concessionaire of the nearby Central Park Boathouse, won the contract for another 20-year lease, and it seemed Tavern would safely remain an enclave for the wealthy and foreign. But nine months later, Mr. Poll's deal went belly up when the restaurateur failed to reach a deal with the New York Hotel and Motel Trades Council.
| | |
| --- | --- |
| [Tavern's new owners] poured $18 million of their own funds into the building, destroying all but the original sheepfold footprint, while the taxpayers of New York City agreed to take on the remaining $19.5 million that is projected to be owed by the end of the year. You remember that deal, don't you? | |
For a moment, its future uncertain, the tantalizing possibility existed that Tavern would revert to what W. Earle Andrews, the Parks Department superintendent in 1934, described as "a place where the average citizen can sit down and eat a decent meal amid pleasant surroundings." Mayor Michael Bloomberg and Parks Commissioner Adrian Benepe invited food trucks to park there, offering accessible cuisine (if you call a $6.50 scoop of vanilla ice cream accessible).
But in 2012, along came Jim Caiola and David Salama, a pair of ambitious Philadelphia crepe-makers whose quixotic bid won out despite little experience running a high-volume operation. The couple enlisted Katy Sparks, once the chef at '90s hot spot Quilty's but since then mainly a consultant to corporate clients for Sodexo. Messrs. Caiola and Salama also struck a deal with the union: There would be no union. The Philadelphia crepe-makers poured $18 million of their own funds into the building, destroying all but the original sheepfold footprint, while the taxpayers of New York City agreed to take on the remaining $19.5 million that is projected to be owed by the end of the year. You remember that deal, don't you?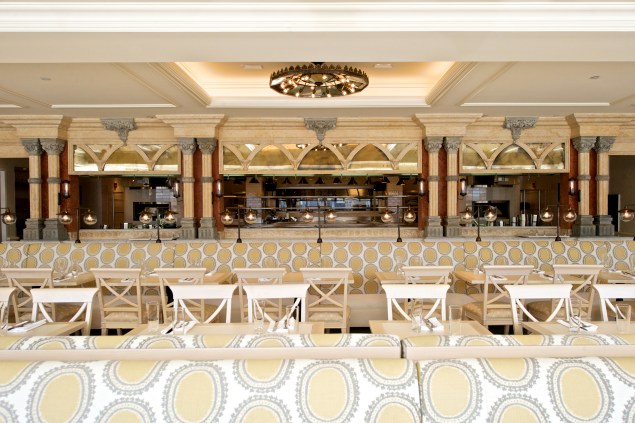 Like most concessionaires, Messrs. Caiola and Salama must pay the city either a flat fee or a percentage of total sales. Next year, they'll owe $1 million, or 6 percent of sales, but that number increases year over year. By 2033, when their lease ends, they'll owe $3.33 million per year, or 15 percent of total sales, at which point they'll have paid the city, according to projections, $38.7 million dollars. As Max Chafkin wrote in the New York Times, that works out to 600 meals per night on weeknights and double that number on weekends. Checks must average $50. So the question now is: While they—or, rather, we—built it, will we come?
| | |
| --- | --- |
| No one who cares about eating good food will go to Tavern, and because there is nothing outrageous to attract the kitsch-loving, no one who cares about bad taste will go either. | |
I'm gonna go with "no." It wasn't a secret that in its previous iteration the food at Tavern on the Green was a shonda for the goyim. Chickens, after a miserable life in a cage, were further desecrated in the broiler, then left unburied like poultry Polynices on lonely china plates. Whole books—tragedies—could be written about the sorry state of the salmon past. But people went to Tavern nonetheless, for LeRoy's lunacy was also his genius. There truly was no other room like the Crystal or Chestnut Rooms, no other asylum from good taste quite as fully realized. 
But the new Tavern on the Green is reasonable. The kitsch is gone, and the kitchen is open. There is lovely parquet de Versailles flooring, leather-covered tables, pleasant cheery banquettes and more wood paneling than a lumber trade show. It looks, in short, like any other restaurant in New York, just bigger and more corporate. The trump card of Tavern on the Green has been unwisely traded for good taste. But does it even taste good?
The good news is the food is no longer laughable. A steak sandwich on a ciabatta roll was totally fine. But like that flaccid Faroe salmon ceviche from 3,000 miles away, or a bowl of desiccated, wood-fired mussels, it falls in that dead zone of utter unremarkability. Food like this is hard to value. What should one pay for an acceptable meal? Certainly not $14 or $32 or $38. At that price—calculated, I imagine, to hit that magical $50-per-check figure Messrs. Caiola and Salama need to survive—one expects more. 
Furthermore, the menu is scuttled by those blasted buzzwords, which if the menu was really organic, local or sustainable, would at least give it some buoyancy. Cynical falsehoods, they weigh it down. No one who cares about eating good food will go to Tavern, and because there is nothing outrageous to attract the kitsch-loving, no one who cares about bad taste will go either. Are there enough indiscriminate well-to-do diners to fill 600 seats every day for the next 20 years? Messrs. Caiola and Salama sure hope so. 
But even more than Tavern's pie-in-the-sky business projections, my real truck is with who the restaurant is meant to serve. Is a $55 brunch a sin? Of course not. I love the rich and hope to be among them someday. But for those with the means, the opportunities to exercise their wealth are all but endless. From Fifth Avenue fashion houses to gluten-free bakeries, the entire architecture of our society is canted toward the well-off. Central Park, as Mr. Olmsted himself wrote, was "a democratic development." Even as inequality metastasized around it, the park remained the open heart of the city. Perhaps the government could adjudge an individual's worth by metrics other than wealth on these public acres alone.
Of course, my objections are mitigated by history. Tavern has always been an elitist boondoggle. Originally meant as a $500,000 reproach to Jimmy Walker and his klepto-disco Central Park Casino, Robert Moses built the thing out of spite on top of the sheepfold that itself was a cash cow for Boss Tweed. True, Tavern is a shame, but it has been a shame for nigh on 80 years. Stare decisis. In the matter of Boondoggle v. the Public, Boondoggle has won.
But 50 blocks south, on the north end of Union Square, nothing had been decided until quite recently. For years, the grand limestone colonnade just below West 17th Street had been one of those pretty but vaguely purposed buildings dotting the city's parks. Originally built in 1929 (after the entire square was ripped up during subway construction), it had fallen into disuse. However, six years ago, Mayor Bloomberg announced a $20 million renovation of the north end of Union Square and suddenly the pavilion had potential. It could have been a cool indoor/outdoor playground, a community performance space (tango! samba! twerking!)—or an overpriced, mediocre restaurant. Because, Christ Almighty, Union Square doesn't have enough of those.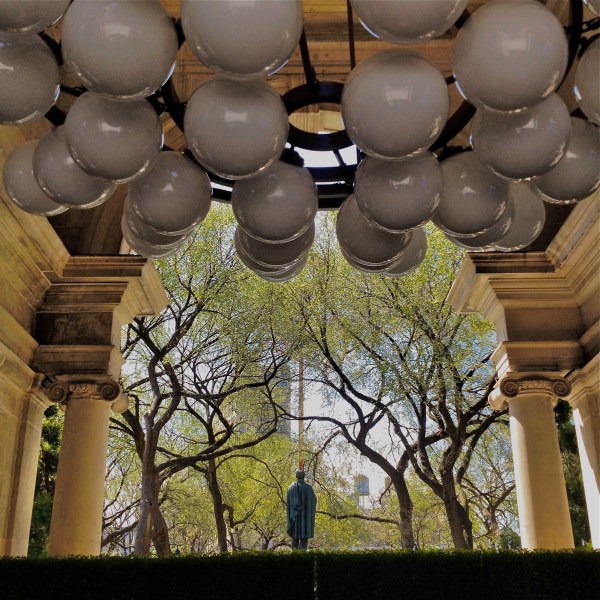 The project, like Tavern, sputtered along with starts and stops. Putt puff puttedy chuff. Predictably, the choice of a private, adults-only enterprise raised hackles among community activists such as Geoffrey Croft of the New York City Park Advocates, who says, "The area has the highest concentration of restaurants but least amount of playgrounds in the entire city. The last thing the park needs is a high-end eatery." A lawsuit was filed to block the concession, claiming it violated the Public Trust Doctrine, an ancient Roman (but also current and American) law that holds parkland must be used for park purposes. In January, a New York State judge agreed and issued an injunction against the project.  But in February, the New York State Court of Appeals ruled the Public Trust Doctrine didn't apply, since this was, after all, a revocable license, not a binding lease. So last month, Union Square welcomed the Pavilion, a restaurant operated by Simon Oren, of Five Napkin Burger fame.
When I visited on a recent rainy evening, the Pavilion was just another commuter bar. On the restaurant's southern flank, Mr. Oren had erected a seven-foot, ivy-covered barrier to prevent children in the adjacent playground from seeing drunken adults behave like idiots. Inside, the restaurant wasn't actually terrible; it felt a bit cozy, if transitory. Aside from a few tourists, the clientele mostly seemed to consist of commuters craving the sauce before the long ride home. 
However, it isn't about who was there but who wasn't. Much as Tavern blows off its calling to be affordable, the Pavilion pays lip service to community engagement. The concessionaire makes concessions to the public, such as providing two hours of community programming per week (two!) and offering at least one menu item at the price of $1.95, according to Deborah Brenner, a senior counsel for the Appeals Division at New York City Law Department. But the cheapest item on the menu I found was $5.50 for a summer berry popover, and the extent of the community programming is a two-hour slot on Tuesdays for "Baby Loves Disco." Preregistration is required. 
As for the food, my hanger steak ($25.95) with sauce bordelaise, wilted kale and chive mashed potatoes was perfectly serviceable. Nothing to complain about. The Pavilion serves pure middlebrow French cuisine, with nods to seasonality and the illustrious Union Square Greenmarket literally feet from its door. But these weren't nods of engagement – they were nods you make when you recognize somebody but forget their name.  
The Pavilion is explicitly meant to showcase the bounty of the green market, but clip art of radishes on the menu does not make a place sustainable. The only vaguely green market thing about the Tuscan fries ($7.50), for instance, is that the ceramic box they come in resembles a strawberry carton. My hanger steak, according to the restaurant's P.R. firm, "is not from anywhere notable." The roasted organic chicken ($23.50) is from Murray's. Did Murray's, I wonder, have a stall at the green market? No. But you know who did? Rising Sun Farm and Quattro's Farm, purveyors of fine steak and chicken, respectively. 
The lost opportunity is shameful. Here in the heart of the oldest and largest green market in Manhattan, in a park known for civic engagement, is an opportunity to show New Yorkers of every income level one can eat well affordably. Obesity and related diseases cost hundreds of thousands of Americans their lives, an epidemic that disproportionately affects low-income households. According to a recent report by the Trust for America's Health and the Robert Wood Johnson Foundation, "More than 31 percent of adults who earn less than $25,000 per year were obese, compared with 25.4  percent of those who earn at least $50,000 per year." Amid these crises, what message is sent by devoting a large chunk of public space to those who can pay $8.95 for a bowl of baby lettuce? 
As public advocate, Mayor Bill de Blasio was vehement in his opposition to the restaurant. Nevertheless, his parks commissioner, Mitchell Silver, has said there are no plans to pull the Pavilion's license. According to a spokesman for Mr. Silver, "While the de Blasio administration has authority to terminate license agreements 'at will,' that power over concessions has seldom if ever been exercised as a matter of policy rather than of law or performance and could deter other city concessionaires in the future." 
By the time I left the Pavilion, it was dark, or at least as dark as New York City gets. But the Pavilion was still in full swing. Men in slim jackets, jeans and fedoras stood by the bar holding cocktails in mason jars. Women sat on stools, sipping pastel drinks from martini glasses, pretending not to notice them. The beautiful hostess in all black stood at the top of the stairs, a stiletto'd sentry sizing up those who walked in or stumbled out. The noise and light spilled into the dark. It was a party on the inside, but from where I stood at the stairs to the subway station, the columns looked like prison bars, not keeping the revelers in but keeping the public out of what is rightfully theirs.