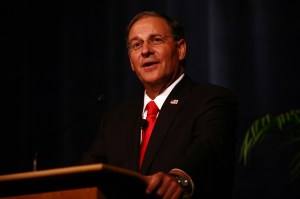 TRENTON – The accusations that Democrats are using a legislative committee investigating Gov. Chris Christie on the George Washington Bridge lane closures as a partisan attack tool are intensifying.
Declaring the Democratic-controlled panel committed an act of "political warfare," Assembly Minority Leader Jon Bramnick issued the strongest rebuke yet of the committee Thursday after lawmakers announced they subpoenaed Christie's chief political strategist.
"Mike DuHaime was not a state employee," Bramnick said in a statement. "He is the class of the field and in private business. An attack on Mike DuHaime is political warfare."
The intensified rhetoric comes after Republicans have hinted at for weeks withdrawing their participation with the committee led by Sen. Loretta Weinberg and Assemblyman John Wisniewski.
"The one-sided Wiz-gate panel continues to spend taxpayer dollars duplicating efforts by the U.S. attorney," Bramnick said. "When politicians investigate politicians, the process never ends."
However, Wisniewski says the committee is allowing the facts to dictate where the investigation leads to next and argues the decision to subpoena Christie's strategist was prompted by the administration's internal review of the lane closure controversy.
"How are we going after him? You can build a very good narrative by using charged words by creating the impression of something that doesn't exist," Wisniewski said by phone Thursday.
"The decision to issue the subpoena came after evidence surfaced … that showed Mr. DuHaime was in direct communication with individuals in the governor's administration [on the issue]," he said. "If Mr. Bramnick is suggesting that there are people who are 'off limits,' then he can provide a list of people who are off limits."
According to documents released as result of the administration's internal review of the lane closings, DuHaime was included in conversations centered on the closings in December and January.