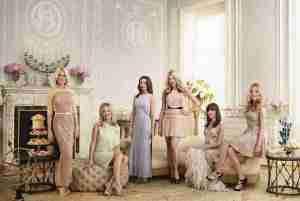 Get ready to be…MANZO'D WITH CHILDREN!
This press release for Bravo's new slate of summer programming might literally be the most excited I've ever been for reality TV. These shows are so insane sounding–just based on their title alone–but the pitches themselves are actually brilliant. I would watch half these shows, theoretically. Untying the Knot? Perfect. Whatever this…game show? (hopefully?)… is about, it's perfect. Oh wait, it's not about a love-lorn divorce attorney who can't seem to find her next ex-husband fast enough? Then what IS it about, pray tell?
Untying the Knot

When couples go from "I do" to "I don't," Vikki Ziegler is who they call to mediate, advise and divide their assets out of court.  Each episode features a different divorcing couple struggling to divvy up their belongings that range from dazzling diamonds to the family pets. Expert appraisers Michael and Mark Millea evaluate the items in question and help Vikki determine a fair division of assets. Why let a judge decide your fate when this "Divorce Diva" can cut through all the drama to determine who will get what?
So it's like Antiques Roadshow meets the opposite of Millionaire Matchmaker? Sold. And really, the lineup just gets better:
Extreme Guide to Parenting
From spoiling and severe punishments to helicopter and new age methods, this is parenting at its most extreme.  Each episode gives a candid look at two different households with very unique styles of raising their children – and each family strongly believes their methods are superior.
So like Doomsday Preppers meets Wife Swap? Also done. This one was a little misleading with its title, which I definitely assumed was about something involving a friend of Chris Christie. My bad!
Jersey Belle

A classic fish-out-of-water tale, this docu-series follows outspoken New Jersey native and Hollywood publicist, Jaime Primak Sullivan, as she navigates life in the upscale southern suburb of Mountain Brook, Alabama.  Jaime's life was turned upside down after she married the town's "most eligible" bachelor. Despite the help of her girlfriends, who are determined to sculpt Jaime into a southern darling, Jaime can't help but speak her mind – often to hilarious results. Can Jaime keep her Jersey cool in the Deep South, or will her southern-bred BFFs finally turn her into a true-blue Alabama belle?
That really is the classic fish-out-of-water tale. They nailed it. In all fairness, Sarah Devlin was able to correctly guess what this next one was about. I assumed it was going to be a hairstyling contest for the iron throne.
Game of Crowns

Six pageant wives compete on the "Mrs." pageant circuit to snatch the spotlight with their intense preparation from obsessing over the perfect swimsuit to honing their interview skills– all while being dedicated mothers and wives.  The cast includes Susanna Paliotta, Shelley Carbone, Lynne Diamante, Vanassa Sebastian, Leha Guilmette, and Lori-Ann Marchese.
Not Shelley Carbone! The rest of these are self-explanatory, but only if you can explain things to yourself on a bunch of psychedelic drugs and botox.
Euros of Hollywood

With personalities as big as their native countries, six successful European jetsetters are taking Los Angeles by storm. From an Albanian pop princess determined to conquer America her way, to a self-dubbed Italian Renaissance man whose personality screams "I'm a star," these men and women are stopping at nothing on their rise to the top. With their hearts on their sleeves, they have a few things in common— the pursuit of wealth, power, fame and the American dream.

Ladies of London

Set in the glittering, class-conscious city of London, the docu-series follows a group of elite British socialites, Annabelle Neilson and Caroline Stanbury along with American expats Juliet Angus, Caprice Bourret, Marissa Hermer and Noelle Reno who all run in similar social circles, but are worlds apart.  From weekend getaways in the English countryside, to high tea at one of London's exclusive polo-clubs, both groups adhere to strict unwritten rules of engagement where reputation is everything.

100 Dates (working title)

"100 Dates" follows a group of young, successful New York singles as they search for love and live it up in the city that never sleeps. Marking the network's first foray into real-time docu-drama production, each episode will be shot and aired within the same week. This addictive series takes transmedia to the next level as fans will be able to interact with the cast and affect the story in ways that have never been seen through social media.

Friends to Lovers?

A true social experiment exploring what happens when platonic friends leave the comfort of the 'friend zone' behind and transition into exclusive romantic relationships.  "Friends to Lovers?" attempts to answer the age old question, can friends really become lovers, as it follows multiple sets of friends who take a leap of faith and decide to take their relationships to the next level.

Manzo'd with Children

Caroline Manzo of "The Real Housewives of New Jersey" attempts to be the ring leader of her crazy Italian family. Her children are driving her more nuts than ever as Albie is single and ready to mingle, Chris is eager to come up with the best idea since the stripper/car wash, and Lauren has finally let Vito put a ring on it. Meanwhile, husband, Al Sr., has no tolerance for all these shenanigans. It's one crowded house filled with laughter and personality…and maybe a few rounds of the Ham Game.
The Real Housewives of Atlanta: Kandi's Wedding

You are cordially invited to celebrate the wedding of Kandi Burruss and Todd Tucker.  Against vocal family opposition that played out dramatically in season six of "The Real Housewives of Atlanta," Kandi and Todd have decided to move forward and tie the knot.  Each episode follows Kandi and Todd as they plan a larger-than-life "Coming to America" themed wedding ceremony, signifying the couple's initial introduction in Africa.
Also, Jill Kargman is getting a scripted series where she plays herself, called Odd Mom Out. I expect it to be like Louie for the UES mommy set. Good job, Bravo! Good job, everyone!