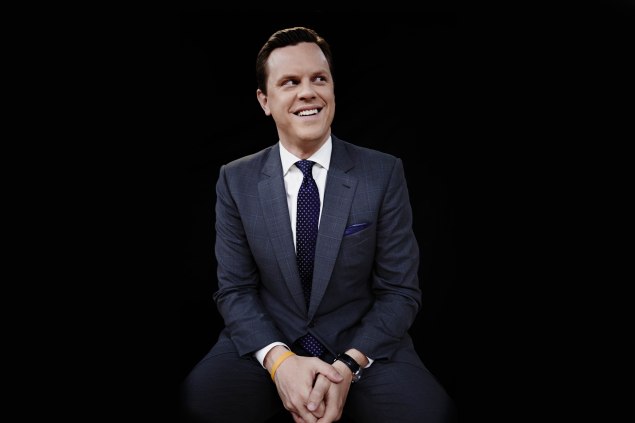 When Willie Geist was fresh from graduating from Tennessee's Vanderbilt University in May 1997, he had only one plan for the future. 
"I was driving a liquor delivery truck around New Jersey that summer and loved Conan O'Brien," Mr. Geist explains of the then-host of NBC's Late Night. "So I wrote a comedy sample for him and sent it to NBC Studios at 30 Rockefeller Plaza, figuring it would blow them away." 
What he received back in the mail wasn't exactly a job offer. "I got this form letter, which said that not only are they not using my material but that they never even read it," he recalls, laughing. "It does strike me that it kind of comes full circle that I was rejected and am now working in the very same building where I sent that sample."
Mr. Geist's current perch at 30 Rock is impressive considering he never set out to be a newsman, let alone an on-camera personality. In the building where elevator floors are carpeted with the network's iconic peacock logo and surrounding streets are crowded with tourists, Mr. Geist (who turned 39 last month) is currently a daily mainstay of MSNBC's Morning Joe, as well as a co-host of the 9 a.m. hour of The Today Show, where he is a favorite of both audiences and critics alike. 
'He fit in immediately
and seamlessly, since he's a true jack of all trades.
He can grill a politician or a flank steak, and both skills come in handy on a morning show.' 
Morning TV turns out to be the perfect forum for Mr. Geist. Whereas many morning television hosts have the humor of a goofy uncle or silly mom, Mr. Geist's humor has the witty bite of, well, a comedian. "From the first dinner I had with him, I thought he was one of the funniest people I had ever met," says Tucker Carlson, a co-host of Fox & Friends Weekend and a former host for MSNBC, where Mr. Geist got his start as a producer. "He's funny all the way through. Willie's not memorizing bits in the shower; he's just inherently funny, because he's smart and he's self-aware. It's humor that grows out of a genuine affection for other people and insight into the way they really are." 
"His mother's funny, and his uncles are funny; the whole family tree seems to be impregnated with humor," says his father, Bill Geist, the CBS News correspondent with whom Willie wrote a new book dubbed Good Talk, Dad, a comical reflection of their relationship that came out last week from Grand Central Publishing. "I think if he went full-tilt into the direction of comedy, he could have done well there." 
But things didn't go exactly that way. After striking out with Conan O'Brien and again with The Daily Show with Craig Kilborn, Mr. Geist, a high school football and basketball player, gave up the liquor delivery job (and, his father laments, that sweet 25 percent family discount) and moved to Atlanta for a production gig at CNN Sports Illustrated, a network that was supposed to rival ESPN. 
It didn't. After it folded in 2002, Mr. Geist found himself in New York, first working as a producer for Fox Sports Net and then sending out his own audition tapes to ESPN, as well as affiliates across the country. 
"The only bite I ever got was a weekend sports anchor job in Jackson, Tenn., for $19,000 a year," remembers Mr. Geist, who married Christina Sharkey, his high school girlfriend in 2003. "It wasn't an offer; it was like a 'we'll call you.' I needed a job at that point, so everything was crossing my mind. I even talked to my wife about going to law school, because it seemed like a thing people do. She was like, 'You're not going to law school.'" 
Even at his most desperate, Mr. Geist says he did not call in favors from Dad. "There was some pride involved," he recalls. "I didn't want to look back and think that I'm only here because of someone I know. And on TV, if you're not good on camera, you'll get exposed very quickly."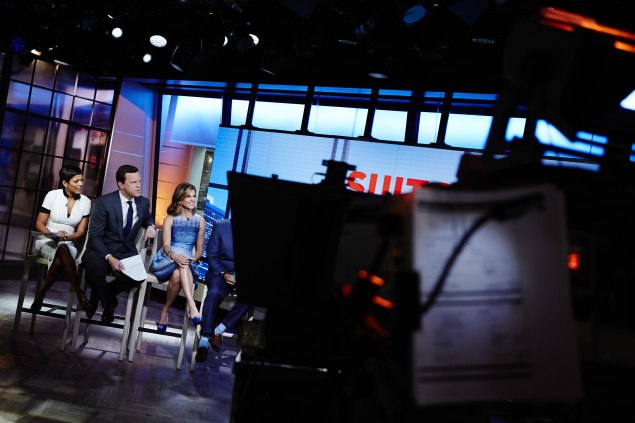 ***
As it turned out, Mr. Geist was good on camera, his ease becoming apparent soon after he landed a job as a senior producer for The Situation with Tucker Carlson. 
"I thought Willie was going to be a star from the first time I met him," remembers Mr. Carlson. "I'll never forget that first dinner I had with him and [MSNBC executive] Bill Wolfe. I thought he was so impressive that he should be on television; it was obvious."
Messrs. Carlson and Wolfe found a place for Mr. Geist in the last segment of the show, where he would walk out of the control room and onto the set to casually discuss the day's headlines. Industry watchers and the television audience immediately took notice of Mr. Geist's charm and nonchalance on camera. "There were most nights where I thought it was the best thing on the whole show," says Mr. Carlson says, who would frequently guffaw at Mr. Geist's on-air antics.
Today, Mr. Geist realizes what a lucky break it was. "At the time, I was just the guy in the control room," he says. "Like anything in life, it takes a few people to believe in you and fight for you, because why else would they put me on TV? But they did, and it was a way to ease into it. I always felt pretty calm and natural on camera, and I don't know where that comes from."
Another break came in April 2007, when Don Imus' derogatory comments about the Rutgers women's basketball team led MSNBC to yank his morning show, leaving a three-hour long gap every weekday morning. 
After trying a variety of combinations, that summer, the network settled on Florida politician-turned-TV host Joe Scarborough, NBC News correspondent Mika Brzezinski and Mr. Geist, dubbing the show that united them Morning Joe.  
Premiering right around the time of the birth of the first of Mr. Geist's two children, the show became the talk of TV news. "It was one of those things. You could tell that there was chemistry there, and that's the thing that has carried us," explains Mr. Geist. "Over the years, people have said explicitly that they want to do the Morning Joe model, but there's no secret. "It's really just people sitting around a table."
***
On the walls of Mr. Geist's office at MSNBC's 30 Rock headquarters are photos of Dwight Eisenhower and Jay Z (he's an unabashed fan of early hip-hop, particularly Big Daddy Kane and Hova himself), as well as a framed portrait of Keith Richards. (Mr. Geist says, "You just have to tip your cap to Keith for defying all we know about modern medicine; as it turns out, drinking, smoking, doing heroin and having promiscuous sex for a half century actually isn't that bad for you—it's the fountain of youth!") Also peppered around are various tchotchkes from Today, Morning Joe and Way Too Early, an appropriately titled 5:30 a.m. show Mr. Geist hosted for three years after Morning Joe took off. 
Despite the show's crack-of-dawn airtime, Mr. Geist's name slowly began to circulate as someone to watch on morning television. An article announcing the premiere of Way Too Early in The New York Times had the headline "Clown of Morning Joe Gets Show of His Own" and included a quote by MSNBC President Phil Griffin explaining he wanted to "give Willie his own platform." 
The stars were aligning quickly, and the 6-foot-4 Manhattan resident found that his laid-back demeanor and apparent lack of arrogance were becoming his biggest allies. "One thing about him is that his point of view is more of the common man's point of view, rather than being an expert on things," his father, Bill, theorizes. "I think people like that."
| | |
| --- | --- |
| | 'Some of these on-air guys, you wonder: Who did they murder to get that job? Or how many breakfasts at the Four Seasons with Satan did they have to sit through in order to seal that deal? That's the normal path to the summit, killing people and betraying old friends. Willie has never done any of that, nor is he capable of doing any of that.' |
It's that everyman quality that brought Geist to Today, first as a fill-in and then as a permanent host in October 2012. "You watched it growing up, and then you're sitting there hearing the music in your ear, and that's a big deal. No matter who you are or how cool you may be, those first couple of times, you get a charge," explains Mr. Geist, who says he doesn't fixate on any of the recent drama, whether it's Ann Curry's ouster or ABC's Good Morning America breaking the show's storied winning streak. 
"The truth is that, because I was new, I had no connection to what was going on at Today more broadly prior to that, so I never found myself in the middle of any controversy—yet," Mr. Geist carefully explains. "I didn't feel pressure in terms of the theater and interest of what's going on behind the scenes." 
His co-host Savannah Guthrie notes Mr. Geist's easy transition. "He fit in immediately and seamlessly, since he's a true jack of all trades. He can grill a politician or a flank steak, and both skills come in handy on a morning show."  
However, as Mr. Geist puts it, "both the microscope and audience are huge for Today," and speculation about anchor turnover has been a hot topic since the franchise premiered in 1952. Now, Mr. Geist has been finding himself the subject of rumors that he could be the heir apparent to Matt Lauer, if and when he chooses not to re-up the $25 million-per-year contract that expires early next year. 
"I think with respect to people who say that, it's just that—speculation. It's totally meaningless," says Mr. Geist. "It's fun for people to talk about, but I can tell you honestly that I never had one single conversation about that, ever.Matt is the host, and he's the best morning show host in the history of morning show hosts, and he'll be there as long as he wants to be there. So there's no point in me thinking about it. All I do is try to do a good job in our hour, and when they ask me to fill in for him, I fill in for him." 
And if the powers that be at NBC called him? "I would certainly take the phone calls from my superiors at work, but I've never received one like that. If it happens, I'll answer, and we'll see."
Industry observers see Geist as a solid choice to replace Mr. Lauer, considering he's well liked within NBC News and has a high Q rating (a measure of likeability). Mr. Geist's is 14, while Mr. Lauer's is 7, at last count.
He has Mr. Carlson's vote, for one. "It would reaffirm my faith in humanity," Mr. Carlson explains of a scenario in which Mr. Geist replaces Mr. Lauer "It's an obvious choice as far as I'm concerned. Leave it to TV executives to miss the obvious choice, though. He's so much better anybody than else in the running that I'm sure there are people furiously working to undermine him right now, and I'm sure he's ignoring it.
"Some of these on-air guys, you wonder: Who did they murder to get that job? Or how many breakfasts at the Four Seasons with Satan did they have to sit through in order to seal that deal? That's the normal path to the summit, killing people and betraying old friends. Willie has never done any of that, nor is he capable of doing any of that. The answer is that he's too good to be ignored."