Brooklyn has defeated Toronto in the NBA playoffs, and now it's time for the borough to collect its reward.
Borough President Eric Adams challenged embattled Toronto Mayor Rob Ford to a bet on the seven game Brooklyn Nets-Toronto Raptors series, and thanks to his team's victory-clenching game last night, he is now entitled to a prize.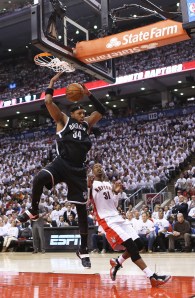 "It was one heck of a game. Those are the types of games you like," Mr. Adams told the Observer today, adding that he was "looking forward" to collecting a CD from the Toronto-based artist of Mr. Ford's choice, as per the bet's term–barring one featuring a certain Canadian pop star.
"I told him he can give me anything but Justin Bieber," Mr. Adams previously explained.
If the Nets had lost, Mr. Adams said he was planning to give a Jay-Z track to Mr. Ford. "And in the spirit of Jay-Z: 'On to the next one,'" he said today.
Mr. Adams had originally bet Mr. Ford a six-pack of Brooklyn Brewery beer, but the Toronto mayor, who recently admitted he has a substance abuse problem, demurred and wanted to bet something else. The two agreed on CDs as an alternative, alcohol-free wager.
Mr. Adams further credited the bet with helping motivated his borough's team. "It's clear that the major impetus for winning was us putting the energy into the air," he boasted.
The Nets will next face off against the Miami Heat and Mr. Adams said he's ready place another bet on the team's next round.
"Miami Beach is out. Brighton Beach is in," he declared. "Brooklyn is red hot."