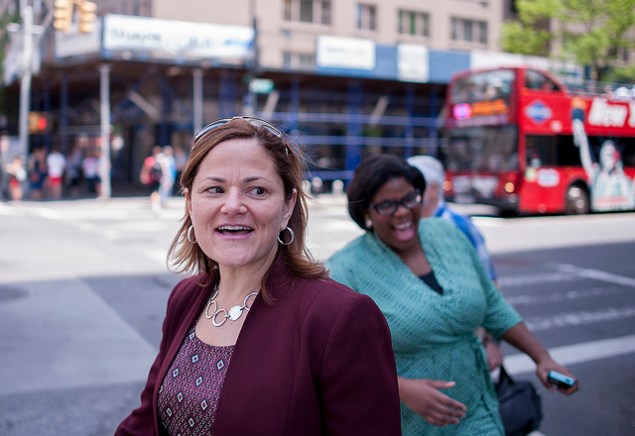 It seemed straightforward enough: the Brooklyn Democratic Party, with prodding from Mayor Bill de Blasio, delivered the necessary bloc of votes to help elect Melissa Mark-Viverito speaker of the City Council. In return, allies of the county machine would land coveted City Hall posts.
But the deal–perfected under the speakership of Ms. Mark-Viverito's predecessor, Christine Quin, with the Queens Democratic Party–has not gone according to plan, according to council sources familiar with Ms. Mark-Viverito's hiring process. Brooklyn Democratic leaders, including Chairman Frank Seddio, have seen few of the spoils of Ms. Mark-Viverito's decisive January win–and they're not pleased.
"Someone should remind Melissa Mark-Viverito that it's important to remember who brought her to the dance," groused a Brooklyn Democrat.
In December of last year, Ms. Mark-Viverito and her progressive faction were warring with Councilman Dan Garodnick, a fellow Manhattan Democrat backed by the more moderate-leaning Queens and Bronx Democratic organizations. Many observers of past council races expected the Brooklyn Democratic Party to join forces with the Bronx and Queens. In an 11th hour twist, Brooklyn broke with the other county organizations and backed Ms. Mark-Viverito, helping her win the race.
In return, those close to the Brooklyn Democratic Party expected jobs in the City Council, especially lucrative gigs on the central staff, housed across from City Hall at 250 Broadway. But unlike in 2006, when the Queens Democratic party helped propel Ms. Quinn to victory and was rewarded with numerous jobs, the Brooklyn patronage has not materialized.
Instead, sources say, those close to organized labor and left-leaning community groups have reaped the best council gigs.
"Typically to the victor goes the spoils. There are still several floors of Queens people left over from deals cut by Queens years ago for speakers past," explained a well-connected council source. "Brooklyn cut a deal to crown Melissa Mark-Viverito but so far no one is seeing the spoils. Lew Fidler got a job. That's about it."
Former Councilman Lew Fidler, a close Seddio ally, was hired this year as a favor to the Brooklyn Democrats, sources say. But jobs paying close to or north of six figures–like the new member services director or policy director–have gone to left-leaning political insiders. Many of the jobs have gone to those close to the labor-backed Working Families Party and influential liberal groups like New York Communities for Change and Make the Road New York. Ms. Mark-Viverito's senior adviser is Amelia Adams, for example, a NYCC veteran.
"The community outreach unit here is packed like sardines with many new hires, most close to unions, progressives and Mark-Viverito," explained another council source. "Seddio isn't happy."
When Ms. Quinn prevailed in 2006, her top hires included Queens ally Ramon Martinez, who now earns more than $200,000 and still works in the council. Various other posts in the community affairs unit, legislative services unit and contracts department went to friends of the Queens machine, too.
One potential reason is the fact that, unlike the Queens Democrats eight years ago, the Brooklyn organization was not the sole driver of Ms. Mark-Viverito's ascension. Behind the scenes, labor groups like 1199 and 32BJ SEIU strong-armed council members, along with the WFP, making the battle for the speakership more ideologically-motivated than in past cycles, sources say. Ms. Quinn also had a closer personal relationship with the Queens Democratic Party chair at the time, Thomas Manton, than Ms. Mark-Viverito had with Mr. Seddio.
Another key difference, some Democrats explained, is that Mr. Seddio lacks the aggressive nature of his predecessor, the scandal-scarred ex-Assemblyman Vito Lopez, or Mr. Manton. He has not been as persistent, Democrats argued, and some suggested he doesn't known exactly how to pursue rewards for his party.
A spokesman, however, dismissed suggestions that party members had been scorned.
"On behalf of the Democrats in Brooklyn we serve, we are elated that the City has a Speaker who cares about every borough equally," Brooklyn Democratic Party spokesman George Arzt said.
Ms. Mark-Viverito has not finished hiring and more posts, in theory, could await Brooklyn Democrats. But a source close to Ms. Mark-Viverito pushed back on the notion that patronage played a role in her office.
"Melissa's made hiring the best talent available a top priority, period," the source said.
A spokesman for the speaker declined to comment.