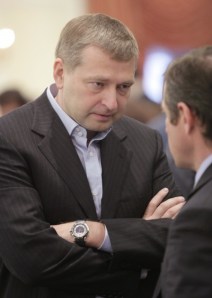 Russian billionaire fertilizer tycoon Dmitry Rybolovlev, the man widely credited with setting off Manhattan's trophy hunting craze with his $88 million buy at 15 Central Park West, has finally reached the end of his long, acrimonious divorce.
A Swiss court has ordered Mr. Rybolovlev to pay his wife Elena, whom he met when they were both college students, $4.5 billion—or roughly half the estimated value of his fortune—in what is likely the largest divorce settlement of history, Slate reported today. Though the decision, which Elena's lawyers have touted as "a complete victory," will almost certainly be appealed within 30 days.
The 15 CPW penthouse, which was bought under the name of the couple's 21-year-old daughter, Ekaterina, in what was widely viewed as an attempt to tie up assets during the divorce, will reportedly remain in the daughter's possession, who stays in the most expensive apartment in the city only "during her visits to New York," as Mr. Rybolovlev's attorney Tetiana Bersheda told the Observer in March. Nor does it have seemed to served much purpose in swaying the courts to allot Ms. Rybolovleva a smaller portion of the vast fertilizer fortune. (Or perhaps it did—earlier estimates put Mr. Rybolovlev on the hook for some $6 million.)
Ms. Rybolovleva also made out well in the property department, having been awarded approximately $146 million worth of property in Gstaad and Geneva Switzerland as well as an "Empire pedestal adorned with a Sèvres porcelain plate depicting 'The History of Love,'" according to the AP. The Geneva property was to have been the site of a full-scale replica of Marie Antoinette's Petite Trianon, but the couple's marriage dissolved before construction could begin and, according to Ms. Bersheda, the property is "a huge hole which is seen from the entire shore of the Geneva lake and which disturbs the neighbours, inhabitants and visitors of the city for more than five years now."
Among the couple's other real estate gems is a 18-bedroom Palm Beach mansion purchased from Donald Trump for $95 million. Though the home, which is also held in a trust of which the couple's daughters are the sole beneficiaries, is said to be in such decrepit condition that it must be torn down.
Whether divorce machinations or pure and simple real estate lust is behind for the 15 CPW purchase, evidence points to the former, as no other property has yet managed to top the $88 million record, though some of One57's penthouses are expected to surpass $90 million when the contracts finally close.