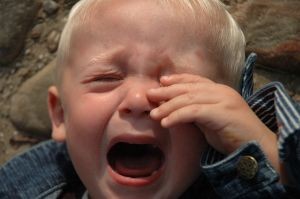 You ever heard the expression, "Like stealing an iPhone from a baby?" Yeah, us either. But this guy did.
A thief stole a woman's $400 iPhone 5 right out of her baby carriage as she was walking down Eighth Avenue around West 28th Street, DNAinfo reported.
Police say the suspect was a 5-foot-7 man with short black hair who was wearing dark blue jeans, white sneakers and a black T-shirt. We would also like to speculate that the suspect looks generally like a guy that would steal an iPhone from a baby.
Police have made no arrests as of Thursday. With that being said, the suspect better hope the police get to him first. The baby underground runs deep.