Wear shoes you like to the Carl Andre show that just opened at Dia:Beacon. You'll be looking at them a lot. From Mr. Andre's trademark checkerboard copper or steel floor pieces to less-familiar works like Sand-Lime Instar (1966), in which you walk through eight low arrangements of white bricks, the average height of works in the show is around 3 inches, and your gaze is often focused downward.
This vast, long-anticipated exhibition covers 50 years of Mr. Andre's career. It doesn't tell a chronological story, but rather curators Yasmil Raymond and Philippe Vergne have wisely placed Andre's works in arrangements suited in scale to the museum's galleries. (If anything, some sculptures seem uncharacteristically small in these huge spaces). In addition to 48 sculptures, there are about 100 text works.
Mr. Andre's sculpture firmly figures in the postwar art historical canon, and you've no doubt seen reproductions of some of the pieces at Dia. There is the iconic Lever (1966), Twelfth Copper Corner (1975) and Pyramid (Square Plan) (1959, remade 1970)—and that's just in the first gallery. What is different here is your presence. The weight of Mr. Andre's industrial materials, and the simple poetry of objects arranged in his Minimal, "one-thing-after-another" compositions, is brought out to great effect in the museum's building, a former factory. Walking across an Andre work, such as 46 Roaring Forties (1988), you hear the metal shift under your weight. Some pieces smell like wood in the humid upstate air. Walking through other pieces, made up of arrangements of concrete or blue limestone blocks, evokes docks and shipyards.
Dia also presents less-familiar works. The volume of recurrent nouns in Mr. Andre's text pieces of 1960-65 tell his life story—Quincy, Mass., 1950s America, Andover, Brancusi, Hollis Frampton, Frank Stella—which make the building blocks of increasingly radical formal reorderings of sentences and letters into pure geometries. A room of surprising early color copier experiments taken from his scrapbook pages shows the influence of new technologies, and there is a generous display of his photographs and artist's books.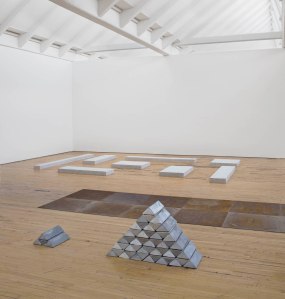 We often think of Mr. Andre's work as toolshop art, but tiny sculptures like Hour Rose (1959), a red stepped hourglass pyramid in pine, or Gold Field (1966), a tiny square of gold, test the limits of his project with bright color or valuable materials. In a basement-level gallery, Mr. Andre's rarely seen Dada Forgeries show his right brain at work. A telephone in a bowl of water, or a stale baguette in the form of a Rodin sculpture under a glass cheese dish cover, reveal turbulent intellectual wrestling with Duchamp's assisted readymade.
But the sculptures upstairs remain his most iconic works. A rusted pipe snakes along Dia's stripped factory floor. Malleable metal ribbons coil in fiddlehead shapes. Later works are more formal and use richer materials: 44 Carbon Copper Triads (2005) or 9 x 27 Napoli Rectangle (2010) extend, lake-like, in the space, the latter looking like a reflecting pool in a French garden. Mr. Andre stopped making new work in 2010, but for Dia, he recreated an ephemeral outdoor sculpture made of hay bales—its presence in the landscape evoked for me his wife, Ana Mendieta, her earth-body sculptures and her untimely death.
Dia's curators make a case for a political, egalitarian Andre—the man who scavenged his materials from the street, an artist whose projects were often destroyed and did not carry great material value. In their eyes, he is a radical who took a conceptual approach to sculpture that harked back to his own blue-collar roots. Yet Andre doesn't need to have great politics, or even a good personality, for his art to be significant. Given the moribund state of manufacturing in our once-thriving industrial cities, this retrospective could just as easily be seen as an elegy to American industry: steel, tin, aluminum, brick and concrete evoking factory fabrication and shipyard labor through a taciturn poetry of materials.
(Through March 2, 2015)