Congresswoman Carolyn Maloney, who represents the tony Upper East Side and parts of Queens and Brooklyn, is set to host a fund-raiser at her house for her colleague, veteran Congressman Charlie Rangel.
"Charlie Rangel is a devoted champion of women's rights. He's stood up for economic equality and equal rights in a Congress that is too often hostile to our issues," wrote Ms. Maloney, in a fund-raising email from the Rangel campaign titled "Women Can Count on Charlie."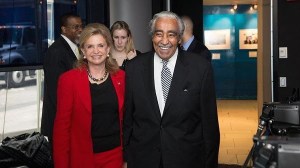 "In a time where women are paid $0.77 to every dollar a man earns, this struggle for economic equality hits close to home for all of us. It's something we've worked against for years, and I've been lucky enough to have my Uptown neighbor, Charlie Rangel, as an ally in that fight," she continued.
Mr. Rangel faces a "tense" primary, as Ms. Maloney describes the race in the email. State Senator Adriano Espaillat, a top challenger, has been racking up big-name local endorsements from both elected officials and labor unions. Two other candidates, Pastor Mike Walrond and Bronx activist Yolanda Garcia, are also trying to oust Mr. Rangel.
The May 22 fund-raiser, which will also feature Westchester County Congresswoman Nita Lowey and Alabama Congresswoman Terri Sewell, will likely tap into Mr. Maloney's affluent donor base at a time when Mr. Rangel needs every last dollar. Mr. Espaillat was neck-and-neck with Mr. Rangel in fund-raising a month ago.
While Mr. Espaillat has locked down the backing of major city elected officials like Council Speaker Melissa Mark-Viverito and Comptroller Scott Stringer, Mr. Rangel remains a darling of the Washington establishment. The city's congressional delegation is supporting Mr. Rangel, along with President Bill Clinton and both of New York's senators.