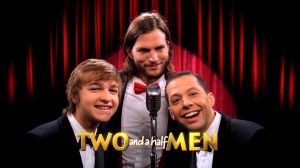 Somewhere in Sherman Oaks, surrounded by his Tiger Blood, Charlie Sheen is smoking twenty cigarettes at once and cackling manically. "Yessss," he wheezes, throwing another one of his Chuck Lorre voodoo dolls (made out of toothpicks!) onto the bonfire of his once-great living room. "Burn! Burn! You'll all burn!"
Two and a Half Men has officially been canceled by CBS. After its 12th season, the show will be no more, but at least it will go out with a bang, at a 9 p.m. time-slot:
"Chuck Lorre is creating a season-long event. We did very well last year with announcing final season ofHow I Met You Mother here, too. Chuck is very psyched about this; he's got some great ideas and very big surprises," CBS' Nina Tassler announced Wednesday during the network's pre-upfront press breakfast in New York. "We know fans and audiences respond to that and that should really give us a nice boost when we launch our new comedy."
First of all: "pre-upfront press breakfast" is exactly what is wrong with this whole upfronts shenanigans. Nothing should be announced at a pre-upfront, that is what the upfronts are for! Stop toying with our hearts, CBS!
The show, once the most watched on television, is the longest running comedy on broadcast TV, also paid out the most to its actors. Ashton Kutcher, the star, is the highest paid sitcom actor on television, pulling down $700,000 per episode. Last season, the show averaged 11.5 million viewers overall and  3.1 million in the 18-49 demographic, which, as the The Hollywood Reporter points out, is down from Sheen's best ratings!

The show may have also suffered from the loss of its "half" in Two and a Half Men when former child star Angus T. Jones broke ties with the program and called it "filth" in a promotional web video for the ForeRunner Christian Church.
But don't feel too bad for Mr. Lorre just yet. He still has Big Bang Theory, currently the most popular sitcom on television, to fall back on.