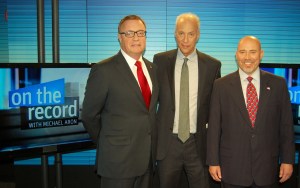 TRENTON – Republican congressional hopefuls vying for an opportunity to succeed outgoing U.S. Rep. Jon Runyan (R-3) in Congress debated for the second time in as many days ahead of the upcoming June 3 primary.
The men, "two long-time Republicans" who moved from their North Jersey residences "to their shore homes" to make a run for Congress, as NJTV host Michael Aron put it, traded barbs during a taping for the weekly news program slated to air Saturday.
"I believe our country is headed in the wrong direction," said MacArthur, former mayor of Randolph.
"I think we need people who can actually get things done," he said. "We need change."
The change MacArthur referred to appeared to partly take aim at partisan gridlock. It was a veiled swipe at Lonegan, who has a reputation of digging his heels in on issues.
"Voters are tired of the establishment Republicans going to Washington," Lonegan, former mayor of Bogota, shot back, adding he's the candidate with a "proven track record of bucking the system."
Lonegan's comment was a slap at MacArthur, who garnered endorsements from Runyan and various CD 3 officials, including the GOP establishment in Burlington and Ocean counties.
Both men touted their conservative bone fides before discussing lawsuits allegedly filed against the other candidate from various groups or individuals.
"That is a pure unadulterated lie," said Lonegan, following MacArthur's claim he was being sued by tenants living in apartment properties he rents in Bogota.
And the sparring didn't end once the cameras turned off.
"I want the docket number, pal," Lonegan sniped at MacArthur after walking out of the studio, referring to MacArthur's earlier comment about the lawsuit.
It was the second heated exchange between the candidates.
Both boasted on the Don Giordano Show on Wednesday their conservative bone fides. Lonegan and MacArthur, both former mayors, engaged in a fiery exchange in an effort tell listeners who would be the better conservative if elected to represent them in Washington D.C.
"His own assemblyman who covers his own town will endorse me," declared Lonegan, referring to an upcoming endorsement from Assemblyman Michael Patrick Carroll, who Lonegan announced will endorse him later today.
Carroll, who represents MacArthur's former hometown of Randolph, is supporting the true conservative in the CD 3 race, Lonegan declared.
"I'd rather have the endorsements of people right here," MacArthur shot back, referring to the numerous endorsements from elected officials in Burlington and Ocean counties and the district's GOP establishment.
On The Record airs Saturday at 6:30 p.m. and Sunday at 10 a.m.