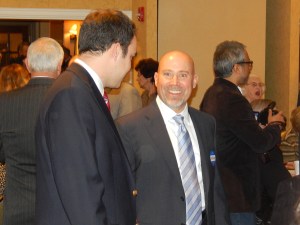 Republican hopefuls vying for a chance to succeed outgoing U.S. Rep. Jon Runyan (R-3) in Congress are continuing to tout their conservative bone fides as the upcoming primary nears.
Steve Lonegan and Tom MacArthur are boasting new ads and endorsements Monday that declare each GOP hopeful either the "conservative alternative" or the "conservative candidate." The former mayors are battling for a chance to win their party's nomination in June 3 primary.
"I intend to take on the [President Barack] Obama administration and repeal Obamacare," MacArthur says in a new ad. "I'm going to take the fight right to Nancy Pelosi."
Meanwhile, Lonegan announced garnering the endorsement of the Gun Owners of America.
"President Obama and Nancy Pelosi are determined to destroy your Second Amendment rights any way they can, and we need intelligent legislators like Steve fighting for New Jersey gun owners in the halls of Congress," Tim Macy, the group's vice chairman, told supporters in a letter.