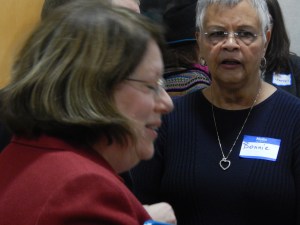 They came to the race with no apparent history of acrimony and for the most part it stayed civil – this excruciatingly competitive CD12 Democratic Primary where the prime veteran combatants encountered new challenges, not in each other so much but in the unique dimensions of a federal primary contest that tested them beyond their prior political lives.
Battle-tested, arguably the most battle-tested politician in New Jersey, state Senator Linda Greenstein (D-14) came into the CD12 contest on the back end of yet another tough re-election contest, this one against former Senator Pete Inverso, who threatened but was finally floored by Greenstein.
A former party chair and daughter of a political family with no record of ever turning the state in political junkie fascination toward her elections in the 15th District, Assemblywoman Bonnie Watson Coleman (D-15) gave no indication of raw, brutal campaign experience.
Associated with some of the most competitive campaigns of the last decade, by contrast, Greenstein looked like the favorite to succeed U.S. Rep. Rush Holt (D-12) mostly by virtue of her political resume.
After Watson Coleman, in an apparent effort to show a willing, sharp elbow side against the scrappy Greenstein, made an early comment about how the senator isn't a leader and a flabbergasted Greenstein called the comment "shameful," the contenders settled into a mild contest.
It was too competitive to get negative.
Any unnecessary attack would reveal weakness.
At debates, the pair took turns flailing away at the Tea Party instead of each other.
When a video of Greenstein surfaced revealing her in a bad moment and going nuclear on a roomful of Mercer County Democrats, insiders nursed images of Mike Pappas '98 while picturing TV ads looping Greenstein gone wild endlessly down the stretch of this contest.
It didn't happen.
When Watson Coleman finally released her only television ad of the cycle, set to go up on the air tomorrow, the assemblywoman savaged the Tea Party – not her adversary.
In agreement on the issues, the two women – one of whom next week will be the favorite to win a general election contest in the 12th and become the first Democratic congresswoman from NJ in recent memory – spent the first part of the campaign attempting to secure coveted organization lines in each of the four CD12 districts in question.
Greenstein won the party line in Middlesex, her home county, with 81% of the vote; while Watson Coleman won her home field of Mercer with 70%.
CD12's Middlesex portion is home to 55,777 registered Democrats, compared to Mercer's 57,175.
Mercer has a history of outperforming Middlesex in Democratic primaries.
A third candidate in the race, Assemblyman Upendra Chivikula (D-17), overwhelmingly won the less important line in Somerset, home to 16,799 Democrats.
In a hard outcome for Greenstein, Watson Coleman cinched the line in the fourth county in question, Union – home to 18,224 Democrats, and the portion of the 12th that contains the City of Plainfield.
The assemblywoman's victory in Union County occurred following intense backroom discussions between Union County Democratic Chairman Jerry Green and Middlesex County Democratic Chairman Kevin McCabe.
McCabe had pushed hard for Greenstein, as his county seeks representation in Congress for the first time in over two decades.
Green appeared pliable.
But the endorsement of Watson Coleman by the Carpenters dampened the Central Labor Council support enjoyed by Middlesex's Greenstein.
Moreover, Plainfield Mayor Adrian Mapp's decision to back Watson Coleman publicly before Green issued a statement one way or the other, forced the chairman to abandon any notion of partnering with McCabe and falling back on protecting his local, African-American majority base with a declaration of support for the African-American assemblywoman.
Middlesex insiders aligned with Greenstein absorbed the loss of Union County by committing to an aggressive vote-by-mail campaign to offset those advantages expected by Watson Coleman as a consequence of projected high voter turnout in Plainfield – and the edge Mercer has on Middlesex.
They argued that Greenstein scored better at the Mercer convention than Watson Coleman did in Middlesex, thereby positioning herself to pick off more loose strands of voter support outside her base.
But losing Union County was not the sole problem for Team Greenstein.
Their first ad proved less than auspicious, when a person caught on film in the background – a past supporter of the senator's and now with Watson Coleman in the Democratic Primary – complained.
The campaign had to take down the ad and edit a new version.
Then there was today's press conference arranged to burnish the support of two losing candidates for Trenton mayor, whose advocacy Team Greenstein hoped to use to demonstrate strength in the capital city – Watson Coleman's base.
The campaign cancelled the press conference without explanation.
Then there was the Chivukula factor.
As first reported by PolitickerNJ, the assemblyman felt bullied by McCabe when he toyed with the idea of entering the congressional race.
McCabe feared Chivukula's presence would impair Greenstein in Middlesex, where she needs strong numbers given the combination of Watson Coleman dominant in Mercer and also occupying the line in Union.
Even as insiders contend that the contest boils down to Greenstein v. Watson Coleman, what the well-funded Chivukula will do in the Middlesex portion of the district to slow the senator remains a going question in this contest.
Aiming to drill up more votes beyond Mercer and Union, Watson Coleman this weekend plans to attend a Sunday church service with the Rev. Pastor Buster Soaries in Somerset. She's also counting on the backing of former gubernatorial candidate Barbara Buono of Metuchen for some progressive love in Middlesex.
Her adversaries in this race argue that the Trenton mayoral runoff election complicates mechanics for Watson Coleman's campaign.
Endorsed by frontrunner Eric Jackson, who's trying to fend off a fierce head-to-head challenger in Paul Perez, the congressional candidate with deep roots in the state's capital city must get her supporters to the polls next Tuesday between the bookends of the May 13th mayor's race and its June 10th runoff.
Backers of Greenstein acknowledge some of their campaign's stumbles.
The Mercer County video didn't help, and the candidate posted early fundraising totals that didn't equal those of her chief rival.
Seemingly exhausted by last year's Inverso inferno and accumulation of political wear and tear, Greenstein appeared out of sync.
But insiders kept coming back to the X factor with the senator.
She has a reputation as the best pure retail politician in the state.
"Great," sneered a Watson Coleman supporter, "While Linda's out there running around grabbing people's hands, we'll be on the phones, out-raising her. This is a federal race now, it's different from a legislative contest."
For a decade, swing district denizen Greenstein has run in the toughest general elections in the State of New Jersey, every time outlasting serious Republican opponents and carving out differences on key issues, including gun control, abortion and support for public sector labor.
This time, she faces mostly her mirror image on the issues, with the exception of the death penalty, which, unlike her opponent, Greenstein does not oppose.
And while this campaign intruded into a field of time Greenstein has traditionally used to recharge for general election season and came up suddenly in the aftermath of her bruising 2013 re-election victory, Greenstein nevertheless has the history of finding a way to win.
The Carpenters' backing of Watson Coleman notwithstanding, establishment Democratic Party forces aligned with Senate President Steve Sweeney (D-3) prefer a Greenstein victory.
It sets up the possibility of advancing Assemblyman Wayne DeAngelo (D-14) of the Mercer County Central Labor Council into the senate as a replacement for the departing South Jersey Central Labor council leader state Sen. Donald Norcross (D-5), who's running in Tuesday's CD1 Democratic Primary.
The party also has plans for the centrally located McCabe.
Insiders still see the race as too tight.
PolitickerNJ today talked to numerous people close to CD12 who wouldn't even speculate off the record about the outcome of Greenstein v. Watson Coleman.
Back chamber campaign drama is not new to the former, whose competitive streak has carried her to victory through any number of traumas, including outside groups forcing her to go to rescue campaign funds in 2007.
But now, in a tight race by every expert's reckoning, Greenstein has the challenge of gritting through several notable stumbles against a candidate in Watson Coleman, whose relative lack of tough campaign experience did not prevent her from putting together a campaign with fewer visible wrinkles to this point on the verge of Tuesday, June 3rd.